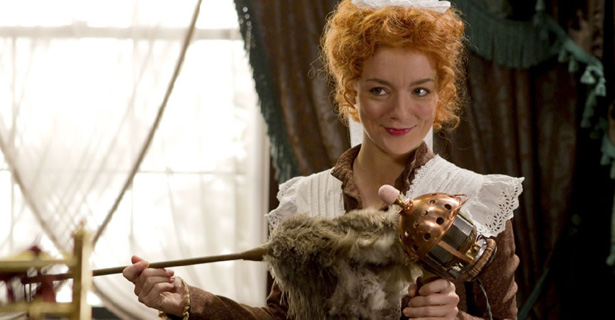 Web Only// Culture » May 31, 2012
Remain Calm About "Hysteria"
Silly and uneven, the new film touches on just how crazy our thinking is about women.
The movie aspires to be a fun, sexy, frothy, silly period comedy. But it turns out to be silly in more ways than one.
The sad part of all this is, I really wanted to like Hysteria. The film, now in limited release, has impeccable feminist credentials. It's directed by a woman, Tanya Wexler. It's about a trendy, sex-positive subject—the invention of the vibrator! We like those!—and about the vibrator's origins as a treatment for "female hysteria." It's a movie about a mild-mannered, good-hearted doctor who must choose between the sweet, passive Victorian "ideal" and her sister, a fiery feminist who gets into public fights and runs around ranting about the day when women will be allowed into universities. In practice, this should be the ideal feel-good ladies' film. Especially given that it's about, you know, ladies feeling good. All this, and a fairly subversive theme, to boot: A movie about how medical institutions define women's lives, their bodies, and their ideas of themselves.
And yet, all that said, it's just not great. The movie aspires to be a fun, sexy, frothy, silly period comedy. But it turns out to be silly in more ways than one. The instant we're introduced to Dr. Mortimer Granville (Hugh Dancy, who is in fact quite charming), he's telling everyone about how wounds need to be kept clean, and disease is caused by germs. And, wouldn't you know it? Nobody believes him! Silly, benighted Victorians. And the instant we're introduced to feminist Charlotte Dalrymple (Maggie Gyllenhaal, who is in fact Maggie Gyllenhaal, with a British accent) she's running around a doctor's office, going off about women and universities at top volume. And, wouldn't you know it? Nobody believes her! Silly, benighted Victorians. By the time we've figured out that these two ahead-of-their-time attractive people will probably wind up kissing each other, we've been through more faked orgasms than a college freshman.
In fact, "female hysteria" is the classic case study for how women's lives and bodies are pathologized. To be diagnosed with it, one only had to be female, available to doctors, and causing some sort of trouble. Legitimate illnesses went into the box: Schizophrenics went in, people with anxiety attacks went in, anorexics went in, people with epilepsy went in. But being moody, or difficult, or unlikable: Well, that was "hysterical" too. In her history of the vibrator, Rachel P. Maines points out that, according to some, "as many as three-quarters of the female population were 'out of health.'"
Yes: It's funny that the cure for all this was "having an orgasm." But take a closer look, and you'll see that the basic equation—to be female is to have something wrong, to be female is to need fixing—has not actually gone away. And, though we might package it as a comedy, it's not all that funny. Hysteria was released on the same weekend as What To Expect When You're Expecting, one of several recent movies adapted, not from novels, but from advice books. (The list includes Think Like A Man, from Steve Harvey's book about how women should do that, and He's Just Not That Into You, from Greg Behrendt's book about how mean people would be nicer if they liked you more; it's not a distinguished list, is what I'm saying.) And What To Expect, the book series, has been taken to task for promoting a paranoid, antiquated notion of women's bodies that wouldn't displease a Victorian doctor; it's said to promote unhealthy eating, instill panic over normal processes, and overall, make anyone within a 100-yard radius of a pregnant person fear for her life. Some physicians specifically warn people: "*WE * DO * NOT * RECOMMEND * 'What to Expect When You're Expecting.'"
And so, though it's a silly and uneven film, Hysteria is actually cutting to the core of something true—and hardly only relevant to the Victorians. The basics of female autonomy, of being a person, depend on one's ability to decide what's wrong (or right) with oneself. And we do, in fact, live in a culture that pathologizes femininity, that keeps women insecure in order to keep them manageable. Every woman, everywhere, has been told that there's something fundamentally wrong with her, something that needs an expert fix: PMS, cellulite, pregnancy, stretch marks, an inability to Think Like A Man or acknowledge that he's Not Into Her, or just the fact that she gets so darn hysterical.
Hysteria may not be the best artistic showing of the year. But in the moments when it works, it says things that few people are prepared to say about our culture. Namely: What if there was nothing wrong with you, after all? What if you weren't sick, or stupid, or ugly, or unloveable? What if the whole problem is just that you are a girl?
ABOUT THIS AUTHOR
Sady Doyle is an In These Times Staff Writer. She also contributes regularly to Rookie Magazine, and was the founder of the blog Tiger Beatdown. She's the winner of the first Women's Media Center Social Media Award. She's interested in women in pop culture, women creating pop culture, reproductive rights, and women's relationship to the Internet and the Left. You can follow her on Twitter at @sadydoyle, or e-mail her at sady inthesetimes.com.