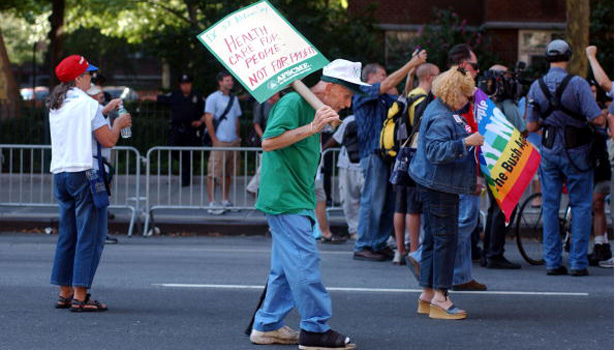 Web Only / Features » June 20, 2012
AFSCME Searches For New Leader In Heated Election
AFSCME delegates vote Thursday in the union's most heated election in 30 years.
After the loss in Wisconsin, many union members are debating what needs to be done to counteract corporate money and politicians bent on destroying public-sector unions. The latest flashpoint for this debate comes Thursday, when the American Federation of State, County and Municipal Employees (AFSCME) elect a new president.
Vying for the position are current AFSCME Secretary Treasurer Lee Saunders—who is endorsed by outgoing AFSCME President Gerald McEntee—and Danny Donohue, president of the 265,000-member New York state Civil Service Employees Association (CSEA) President, who claims that AFSCME needs to be reformed.
Some say a change in leadership at the top of AFSCME is what's needed to defend public sector workers. "I have seen the work Danny has done with child care workers New York and I think his approach is what we need for this union," says Anneliese Sheehan, a Wisconsin home care provider. "We really need someone who is going to come and make this a bottom-up union like Danny would do."
Donohue supporters like Sheehan say AFSCME's lack of a bottom-up approach is part of what led to less than half of AFSCME's members in Wisconsin to renew their membership after the law outlawing automatic dues deduction for union members went into effect. Membership in AFSCME declined from 62,818 in March 2011 to less than half of that with 28,745 in February of 2012. (Saunders was very critical of the leak of internal information by Donohue supporters about the decline of AFSCME union membership in Wisconsin saying they "knowingly gave ammunition to the union's enemies at a time when the right-wing media want nothing more than to destroy the labor movement.")
Wisconsin Council 40 field representative Ed A. Sadlowski, who also supports Donohue, argues that AFSCME failed to pump the necessary money into Wisconsin when dues declined, which resulted in half of AFSCME's Wisconsin organizers being laid off. Yet according to Sadlowski, the national office at the same time pledged to spend $100 million to elect President Obama and Democratic legislators.
Others disagree. "When Walker passed his so-called 'Budget Repair' bill last year, Lee [Saunders] stood with AFSCME members in Wisconsin and he remains standing with us," says Wisconsin Council 40 Executive Director Rick Badger in a testimonial issued earlier this year in support of Saunders.
Supporters of Sanders say that this $100 million will be well spent and that, like it or not, a Romney election would be disastrous for both the country and organized labor.
One of the big areas of perceived difference between the candidates centers on how AFSCME should approach politics. When interviewed by In These Times at the National Press Club in March, Donohue favored putting more political action resources into state and local level fights, while focusing less on Congress and the White House. Donohue also insisted he would be more critical of the Democratic Party's indifferent and sometimes hostile treatment of organized labor. As an example, he said he would refuse to attend or help finance the Democratic National Convention in North Carolina later this summer, because it's being held in an open-shop state.
"Why should we spend millions dollars going down to this convention when they money could be better spent in the field?" said Donohue.
That focus on local and state issues is why former AFSCME Secretary-Treasurer Bill Lucy, who criticizes McEntee for acting as "the DNC's Representative on the AFL-CIO Executive Committee," is supporting Danny Donohue.
"Many folks who talk to me within the union, at the state and local level, say there is too great of an emphasis within AFSCME on national politics," Lucy says. "State and local politics were not as big a part of the equation as it could have been. I think the fact that that we have to marshal large amounts of funds in order to beat back a governor like [Republican John] Kasich [in Ohio] is not good. If our councils were strong enough at the local level, we would be able to fight those elections ahead of time."
Echoing concerned rank-and-filers in Wisconsin, AFSCME Vice-President and Illinois Council Leader Henry Bayer accuses McEntee—and, by extension, his endorsed successor, Saunders—of failing "to give affiliates more capacity to organize, on their own, strong legislative and political programs that would protect the interests of their members" against GOP enemies like Walker.
However, Saunders' supporters, like Pennsylvania AFSCME Council President Michael Fox, argue that the union has always empowered its state and local bodies to do just that.
"The template that has been forged in Ohio and Wisconsin is something we need to be looking at nationwide," Fox says. "We have always believed that our union is structured from the lowest level of government up."
Saunders says "nearly two-thirds" of AFSCME's political spending already goes to local and state struggles. Saunders supporters also claim that Donohue's attack on AFSCME's political spending is disingenuous since as a member of the international union's Executive Council, he voted for every single AFSCME's political budget for the last 27 years.
Beyond questions of campaign spending, there have been fierce debates over Donohue's claim that he is the real change-agent in the race. Saunders' supporters accuse Donohue of being out of touch with his membership, failing to organize new members and not aggressively resisting contract concessions sought by New York Governor Andrew Cuomo. Last year, CSEA passed a concessionary contract that New York's second-largest public employee union, Public Employees Federation, voted down.
In a sign of Donohue's weak support in his home turf, all of the other five local unions in New York State are supporting Lee Saunders over Donohue.
"Its been all about him and not about New York collectively. There has no been support or cooperation from him in the last ten years that I have been dealing with him," says James Lyman, Executive Director of Council 82 New York State Law Enforcement Officers Union. "He takes a deal first and then we have to live with it. He won't even allow law enforcement unions to shift over to our council. He would rather have them decertify than leave his council."
"A reformer Danny Donohue is not. I think Danny's track record clearly shows that," Saunders says.
Donohue has said he would reduce wasteful spending in the union so that he could focus more resources on organizing. Emblematic is his call to reduce the salary of the presidency to $295,000 a year, a move that Lee Saunders supports as well. (In 2011, McEntee made $387,671 in salary.) But even with that reduction, Donohue would still be receiving a huge pay raise from his current salary of $187,688. And $295,000 is still more than $100,000 larger than what the presidents of the United Steel Workers and the CWA each make. And it is nearly five times larger than the salary of the president of UE, who makes around $65,000.
In a repeat from when these two candidates faced off for Secretary-Treasurer at AFSCME in Boston two years ago, the rules surrounding the election have been as contested as the election itself. Donohue still claims there weren't clear rules about how debate could be held on the floor, that many Donohue supporters were cut off by McEntee, who was backing Saunders, and that there weren't clear procedures on how to count the votes.
"I think that there were things that were done wrong," Donohue says. "When we asked for the rules, we couldn't find a set of written rules on how to do an election. We couldn't even find them. When questions were asked on the floor of convention, it almost turned into a small riot. … If any review of the election results had been done, who knows what may have happened?"
That's "garbage," retorts AFSCME District Council 89 Director Michael Fox, a Saunders supporter, who notes that "nobody filed any complaints about voting irregularities with the Department of Labor" after the 2010 convention. "I think that is more sour grapes than anything else," Fox says.
This time around, Donohue fears there will not be a sufficient number of election observers. He also wants individual delegates to be released from their local's "bloc voting"— where all of a local's delegate's votes go to a single candidate—if they would prefer to cast their single vote for a different candidate.
Donohue has voiced many objections to a report issued by AFSCME's Election Rules and Procedures Committee in March. But Saunders supporters say Donohue's criticisms are based more on brandishing his image as a radical than on substantial disagreements.
"These accusations are disappointing and irritating [because] we generated the report based on many of Danny's recommendations," says Joe Rugola, executive director of the Ohio Association of Public School Employees, an AFSCME affiliate, who chaired the election rules committee. According to Rugola, Donohue was in favor of the report and AFSCME adopted many of his recommendations, but Donohue later realized it would be more politically advantageous to come out against the report.
Both sides are also charging the other with circumventing the democratic delegate selection process in order to get delegates loyal to their candidate appointed. In May, a New York state court judge removed the head of a District Council 37 local with 8,000 members on the grounds that the local's constitution bars anyone convicted of a crime involving dishonesty from serving as local president. This provision was introduced when Saunders was acting as a McEntee-appointed trustee over the council after a massive financial corruption and ratification vote fraud scandal in the late 1990s. In this case, however, the rule disadvantaged a would-be Saunders delegate—who will now be replaced by a pro-Donohue representative of Local 375. To prevent that from happening, Saunders' sympathizers on the AFSCME Judicial Panel tried to ignore the rule—until they lost in court.
Meanwhile, in New Jersey, Cynthia Glove, a home daycare provider and president of Local 2779 and her co-worker Victoria Martin tried to get elected as delegates for Donohue. But the two AFSCME staffers ruled Glove and Martin couldn't go to Los Angeles because they weren't members in good standing—a decision unsupported by dues records (and inconsistent with Glove's status as local president!) Without even taking a vote, the staffers then declared the election over when two Saunders supporters were nominated instead, making them delegates by acclamation.
Donohue has also had complaints that his supporters are bending the rules to get loyal delegates appointed. In New England, for example, the Harvard Union of Clerical and Technical Workers (HUCTW)—a campus-based AFSCME affiliate—are supporting Donohue. Longtime HUCTW activists like Jeffrey Booth say their local union has kept its 4,000 members in the dark about the current AFSCME presidential race and never even bothered to hold elections for its convention delegates, which by rule are open to all members.
On Thursday, those convention delegates will vote for the candidate they favor at the biennial gathering in Los Angeles. With their vote, they are making an enormous decision not just for their union, but for the labor movement as a whole, since both Republican and Democratic politicians are now attacking public sectors workers. Both Saunders and Donohue claim they can strengthen the union to fight these battles, but neither has clearly explained how to reform AFSCME. What is clear, though, is that many members are thirsty for something to be done so that a loss like Wisconsin never happens again.
(Full disclosure: AFSCME is an In These Times sponsor.)
---

Mike Elk
Mike Elk wrote for In These Times and its labor blog, Working In These Times, from 2010 to 2014. He is currently a labor reporter at Politico.
View Comments