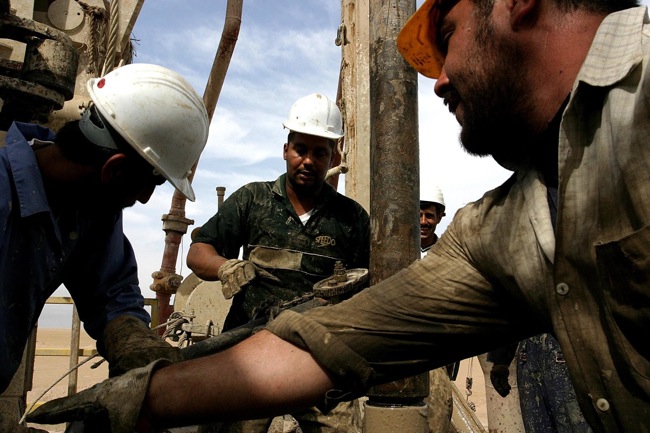 Web Only / Features » April 2, 2013
For Unionists, Iraq's Oil War Rages On
The leader of Iraq's oil union is being threatened with prison–again.
Foreign corporations operating in Iraq have a long history of trying to bring in a workforce from outside the country. The oil union has led many fights since 2003 to force them to keep the native Iraqi workforce.
Many Iraqi oil workers thought the fall of Saddam Hussein would mean they would finally be free to organize unions, and that their nationally owned industry would be devoted to financing the reconstruction of the country. But the reality could not have been more different. Earlier this month, the head of the Iraqi Federation of Oil Unions, Hassan Juma'a (below right), was hauled into a Basra courtroom and accused of organizing strikes, a charge for which he could face prison time. The union he heads is still technically illegal: Saddam's ban on public-sector unions was the sole Saddam-era dictate kept in place under the U.S. occupation, and Iraqi Prime Minister Nouri Maliki hasn't shown any interest in changing it since most U.S. troops left.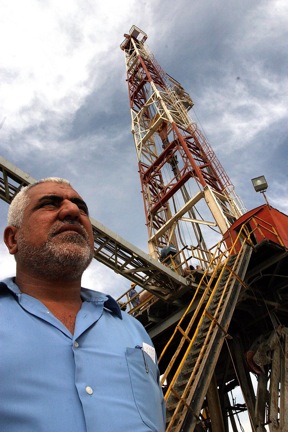 And the oil industry? The big multinational petroleum giants now run the nation's fields. Between 2009 and 2010, the Maliki government granted contracts for developing existing fields and exploring new ones to 18 companies, including ExxonMobil, Royal Dutch Shell, the Italian Eni, Russia's Gazprom and Lukoil, Malaysia's Petronas and a partnership between BP and the Chinese National Petroleum Corporation. When they started, the U.S. military provided the initial security umbrella protecting all of their field operations.
The Ministry of Oil technically still owns the oil, but functions more as the multinationals' adjunct, while stripping workers of their rights. Since 2003 the ministry has denied the union its right to exist and retaliated against its leaders and activists. As the oil corporations rush in to lay claim to developing fields, ministry spokesman Assam Jihad told the Iraq Oil Report in 2010, "Unionists instigate the public against the plans of the oil ministry to develop [Iraq's] oil riches using foreign development."
In 2011, Hassan Juma'a and Falih Abood, president and general secretary of the Federation of Oil Employees of Iraq, were first subject to legal action by the ministry and threatened with arrest. Many of the union's elected officers have been transferred from jobs they'd held for years to remote locations far from their families, in an effort to break up its structure and punish activists. "The government doesn't want workers to have rights, because it wants people to be weak and at the mercy of employers," said Juma'a.
The repression has been unsuccessful in stifling dissent, however. This year has seen escalations in both workers protesting broken promises of better wages and treatment, and in local farmers objecting to the seizure of their land and the lack of jobs to replace their lost income.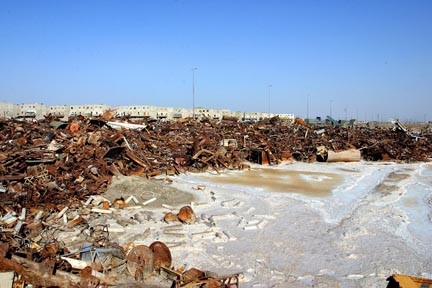 In February hundreds of workers demonstrated on three separate occasions outside the building of the government-run South Oil Company in Basra, calling for its director and his aides to resign. The company, managed by the national oil ministry, promised to build housing for workers, an urgent necessity in a province still recovering from war. Workers said they hadn't been paid their normal bonuses for two years and accused the company of hiring temporary workers, and then keeping them in that status indefinitely instead of giving them permanent jobs. They also demanded better medical care, especially for those suffering the effects of exposure to depleted uranium. This heavy metal was used extensively in shells and other munitions by U.S. forces, and war remnants are still piled high in neighborhoods and across the countryside.
In one of the largest protests, union members joined farmers in a demonstration at the West Qurna 1 field, operated by ExxonMobil. They demanded higher payment for land taken to develop the field, and for jobs created by oil development. Mohammed al-Traim, the sheikh of the Beni Mansour tribe, told the Iraq Oil Report, "We have become farmers without land."
A desperate situation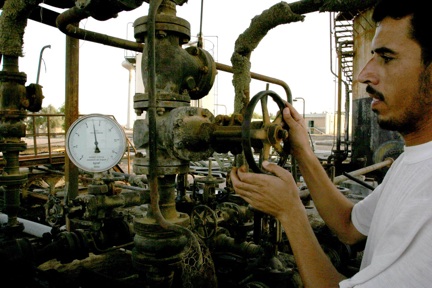 Farming is the traditional occupation for most families in southern Iraq, who have been cultivating the soil there for hundreds of years. The Iraqi government set up a committee to compensate them when oil companies moved in, but farmers accuse it of grossly undervaluing their land. "Compensation for one donum (six-tenths of an acre) is about one million Iraqi dinars ($833)," Abdul Sheikh told the Iraqi Oil Report. "But if we had the chance to grow tomatoes in that one donum, we could make more than 5 million dinars." Others were offered compensation in a range from $80 to $1,250 per donum.
Meanwhile, ExxonMobil pumps 450,000 barrels a day from a field with reserves estimated at 8.7 billion. Current crude oil prices hover at around $100 per barrel, giving the value of a day's production at the field of $45 million.
The compensation levels might keep a family fed and alive for a few months. But then what? That dilemma fuels the demand for jobs, the source of ongoing conflict since the occupation started–pitting workers and farmers against the government and the oil companies. Foreign corporations operating in Iraq have a long history of trying to bring in a workforce from outside the country. The oil union has led many fights since 2003 to force them to keep the native Iraqi workforce, and to hire from the local population.
Yet unemployment in Iraq continues at level unimaginable in the United States. "There has basically been no change in the unemployment situation since the occupation started," said Qasim Hadi, who organized Iraq's Union of the Unemployed when the occupation began, in a 2011 interview. "There are more than 10 million unemployed people in Iraq–about 60-70 percent of the workforce." According to the unemployed union, government unemployment statistics are artificially low because they don't count many people. "Women aren't counted," Hadi says, citing just one example, "because the government says their husbands or fathers are responsible for supporting them."
The Iraqi government only admits to an unemployment rate of 16 percent, and pays unemployment benefits to a quarter of them. Benefits are low, about $110 a month, and if there's more than one unemployed person in the family, benefits are reduced.
International outcry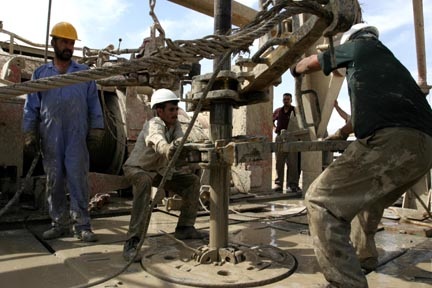 At first, government authorities denied rumors that they would punish workers involved in this February's demonstrations. "We will not punish any protesters and all their demands will be fulfilled," announced Basra provincial council head Sabah al-Bezzouni. But after the largest of the Basra demonstrations this spring, on February 27, the Ministry of Oil took action against the union organizers. The Basra court issued charges against Juma'a and gave him until April 7 to find a lawyer. Meanwhile, al-Bezzouni sought to take over the union's role as the workers' representative in their grievances against the South Oil Company.
Labor unions in Europe and the United States are protesting the threats against Juma'a and his union. In a letter to Maliki, they noted that eight other union protesters had also been summoned to the oil ministry "to investigate their role in recent demonstrations in Basra, where workers engaged in peaceful protest to express their legitimate demands." The letter reviewed the long history of the denial of workers rights since the beginning of the occupation, especially the enforcement of Law 150, which bans unions in the public sector.
"The Iraqi government's continued repression of freedom of association and worker rights, based on laws issued under a dictatorship, is in direct contradiction with the principals of democracy and justice that the Iraqi government promises its people," the unions wrote. "The government of Iraq should immediately cancel the orders issued by the Ministry of Oil to union activists, including all transfer orders, reprimands and arbitrary penalties against union activists. Charges against Hassan Juma'a Awad, and any other workers who have had retaliatory legal action taken against them, should be dropped."
Signed by (among others) Britain's huge public sector union UNITE; the CGIL, Italy's biggest labor federation; the AFL-CIO and U.S. Labor Against the War in the United States, the letter is still open for other organizations to sign at the website U.S. Labor Against the War.
---
Help Support Our Fall Fundraising Drive
Here's a sobering fact: Over the past 20 years, journalism has lost jobs at a faster rate than the coal mining industry. Far too many excellent publications have disappeared completely.
But because of supporters like you, In These Times has been able to walk a different path. We are not managed by a corporate parent company, nor are we dependent on one benevolent philanthropist. Instead, we are supported by individual donations from you and thousands of other readers like you.
This is our promise to you: We'll keep publishing as long as you keep supporting In These Times. Please, make a tax-deductible donation today to help keep In These Times going strong.

David Bacon
David Bacon is a writer, photographer and former union organizer. He is the author of The Right to Stay Home: How US Policy Drives Mexican Migration (2013), Illegal People: How Globalization Creates Migration and Criminalizes Immigrants (2008), Communities Without Borders (2006), and The Children of NAFTA: Labor Wars on the US/Mexico Border (2004). His website is at dbacon.igc.org.
View Comments