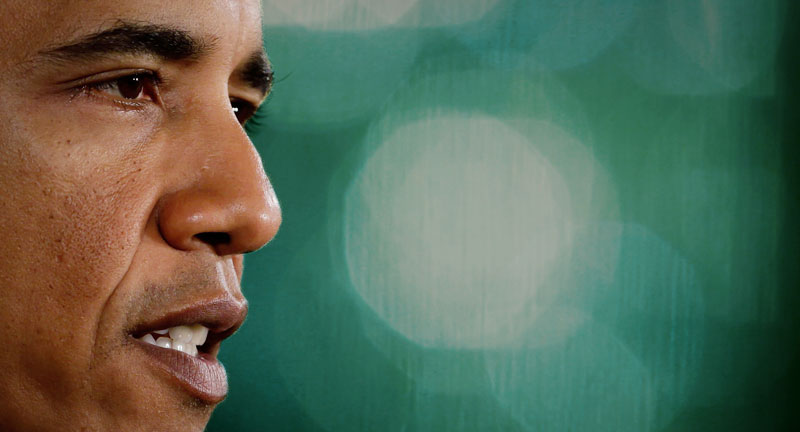 Features » June 17, 2013
How Obamacare Could Flatline
Employers are doing their best to exploit loopholes in the ACA, and that's just one of many perils.
Employers will be tempted to use ACA guidelines as an excuse to shift as much as 30 percent of current healthcare insurance costs from the company to the employee.
Since it was signed into law in 2010, the Patient Protection and Affordable Care Act (ACA) has survived a constitutional challenge before the Supreme Court and 37 attempts by congressional Republicans to kill it. Now, as the deadline for implementation of the legislation looms, "Obamacare" faces another hurdle: making the ambitious, byzantine plan actually work.
By October 1, the Obama administration must have the people and procedures in place to administer the vast new program mandated by the ACA. That could turn into a "train wreck," warns Sen. Max Baucus (D-Mont.)—who, as chair of one of the committees writing the legislation, made a wreck hard to avoid. The plan then needs to sign up as many of the 49 million uninsured Americans as quickly as possible, especially the young and healthy, to make the new system financially viable.
Even if the agencies involved clear the initial hurdle of enrollment, a host of other problems loom. Fundamentally, the ACA could fall short of its goal of providing better and more affordable healthcare for most Americans. And at the same time that the new plan provides insurance for millions of uninsured Americans, for many others its implementation could spell trouble: slashed work hours, a proliferation of burdensome insurance plans with expensive deductibles, and the dissolution of the multi-employer health plans that provide stable insurance to many union members.
Obstacles to Obamacare's successful launch stem from five sources: how Congress wrote the law, continued Republican sabotage attempts, employers using the law's provisions to cut costs (and hurt workers), the regulations the federal government is writing to implement it, and concessions the administration made to opponents. Republicans have stridently opposed Obamacare, and employers have focused on maximizing their own advantage, but even some stalwart defenders—especially labor unions—are now criticizing the implementation of the ACA as falling far short of its limited promise.
Holes in the safety net
The effort to string together a healthcare program around existing insurance coverage has resulted in a safety net full of gaping holes. The ACA could have provided much better insurance if it had included a public option, as progressives advocated. Even so, many of the glitches in the law could be fixed under normal political circumstances, but today Democrats do not dare introduce revisions when most Republicans would seize any opportunity to kill the ACA.
Consider how the law deals with affordability.
The ACA requires businesses with 50 or more employees to offer "affordable" insurance to anyone working 30 or more hours per week—which must cost no more than 9.5 percent of the worker's household income. In addition, businesses must also provide insurance for dependents, though potentially at an additional cost to the employee.
Employers who fail to provide any insurance will have to pay a fine of $2,000 a year for each qualified employee (beyond the first 30). If they provide insurance that is not "affordable," they pay a fine of $3,000 a year for each employee who then obtains subsidized insurance from the exchange. (Under the ACA, workers who decline their employer's policy as unaffordable must buy other insurance or pay a penalty.)
The problem is the definition of "affordable." A median middle-class family of four with private insurance earns about $81,000 a year and spends 9 percent of its income on premiums, co-pays and deductibles, according to the White House Task Force on Middle-Class Working Families. This means that, under the ACA, a worker's policy could be deemed affordable despite costing more than her current family policy.
More insidiously, the 9.5 percent threshold applies only to the price of the individual worker's insurance. Insuring children or other dependents could raise the cost far beyond 9.5 percent. This would make the so-called affordable plan untenable for some families. And that could become a big problem. If the worker rejects this plan as too expensive, he will be ineligible for the subsidies for children's insurance through the new ACA state insurance marketplaces. (Some children in poor families might get insurance through the existing state Children's Health Insurance Programs, even if their parents opt out of their employers' plans.)
Similarly complicated rules apply to spouses, but that story starts differently: Employers do not have to offer spousal insurance, but if they do, the spouse cannot receive subsidized insurance on the state marketplace.
The net effect? With the ACA, a family of modest means could gain, on paper, affordable access to health insurance, yet be unable to afford it.
Political sabotage
Even with the ACA's shortcomings, if it is implemented as written, millions of people without health insurance—from those with low to moderate incomes who can't afford insurance to others with pre-existing illnesses that insurance companies will not cover—would stand to gain more affordable healthcare. But continued Republican efforts to sabotage the law, largely for political purposes, will greatly narrow the ACA's benefits.
The ACA will expand Medicaid to cover all individuals and families with incomes up to 138 percent of the poverty line. That could cover 21.3 million U.S. citizens who now lack insurance. (Adjusting for the poorer health of its clients, Medicaid is more efficient and comprehensive than private alternatives, according to the Urban Institute.) But Republicans who want the ACA to fail have seized upon a Supreme Court ruling that allows states to opt out of this expansion of Medicaid.
In a spiteful act that Steve Kreisberg, a health expert with the public employee union AFSCME, calls "pure political theater," governors or legislatures in some 20 states are likely to block this expansion for as many as 9 million needy Americans. And they are doing so even though the federal government has agreed to pay the full cost for the first three years and a gradually declining share thereafter, leveling off at 90 percent in 2020.
After failing to push for the ACA to include a Medicare-like public option (let alone consider a more rational single-payer solution), the Obama administration continues to retreat on the public role of health insurance. It recently allowed Arkansas to privatize the operation of its expanded Medicaid. In a similar retreat, unrelated to the ACA, the administration increased its subsidies to give a $71.5 billion windfall over a decade to the for-profit Medicare Advantage plans, even though candidate Obama pledged to cut these subsidies as wasteful spending.
Employer loopholes
Ever since union collective bargaining during and after World War II made employers the primary providers of health insurance in the United States, businesses have been of two minds about their role. Some think good benefit plans help to retain excellent employees, but most want to minimize or eliminate the cost of employee health insurance. And, under the ACA, many analysts expect some businesses to drop the insurance they now offer and simply pay a fine if that proves cheaper.
Small businesses (with fewer than 50 employees), as well as qualified individuals, can buy insurance through the ACA mandated exchanges and receive subsidies. If employers paid workers higher wages in place of providing insurance (an unlikely scenario), some of those workers might even fare better buying the subsidized insurance.
But it appears certain there will be employers who both exploit quirks of the law and continue their existing strategy of shifting the cost of healthcare to their employees (or the public) whenever possible.
Employers have several ways to game the system set up by the ACA. First, if paying the federal government fine costs less than paying for employee insurance, corporations may opt to pay the penalty instead of provide insurance. Although only 5.4 percent of employers took the penalty option in 2011 instead of offering employees insurance under Massachusetts' "Romneycare," the model for the ACA, the political climate in the state is more supportive of near-universal health insurance than in most states. Romneycare, after all, was based on conservative proposals and introduced by a finance-sector executive-turned-politician. ModernHealthCare.com reported in February that, according to a survey, only 6 percent of a group of large to moderate-sized corporations said they planned to stop providing insurance over the next three to five years (and presumably pay the penalty). But if some businesses gain an advantage by dropping insurance, their competitors are likely to quickly follow.
Second, many employers—such as the Regal Entertainment Group movie theaters, Sutter Hospitals, the city of Long Beach, Calif., and the government of Virginia—have already taken steps to restrict some employees to fewer than 30 hours a week to avoid offering ACA-mandated insurance for full- and three-quarter-time employees. The Berkeley Center for Labor Research and Education projects that industries employing workers at slightly more than 30 hours a week are most likely to cut hours. These industries include restaurants, accommodations, nursing homes, building services, retail, healthcare and varied services. Most of the 2.3 million workers who the center estimates will suffer cutbacks in hours also earn low wages.
But it is colleges and universities that have so far clamped down most aggressively, focusing on the ill-paid adjuncts who teach roughly half of all higher education classes nationally. Lindsey Hewitt, an adjunct lecturer at Oakton (Illinois) Community College, estimates she could lose half her modest income if Oakton pursues its plan to reduce her course load to the equivalent of fewer than 30 hours a week. In February, administrators told department chairs that they should restrict adjuncts to teaching two classes next fall (half of what many previously taught).
Both adjuncts and full-time faculty—each of whom is organized in separate National Education Association locals—fought back at college governance meetings, and the administration and unions reached a tentative compromise to create a new category of adjuncts eligible for both longer hours and insurance. But many adjuncts will still end up with neither. "The whole patchwork was put together to use extremely low-paid labor and transfer costs to individuals and the public," says Hollace Graff, co-chair of humanities and philosophy at Oakton.
Now protests are erupting across the country, reports long-time contingent faculty organizer Joe Berry, led by the various teacher unions and the broad-based New Faculty Movement (see "Mad Professors").
Many big private employers appear poised to restrict work hours as well—if there's no backlash. In response to hostile publicity, Darden Corporation, operator of the Olive Garden and Red Lobster restaurants, has (for now) backed off from its plan to limit hours, but other companies are likely to endure criticism or act surreptitiously.
"Nobody wants to be the first employer to do it, but everybody wants to be second," says Ida Hellander, director of Physicians for a National Health Program.
---
What do you want to see from our coverage of the 2020 presidential candidates?
As our editorial team finalizes plans for our coverage of the 2020 Democratic primary, we want to hear from you:
What do you want to see from our campaign coverage, and which candidates are you most interested in?
It only takes a minute to answer this short, three-question survey, but your input will help shape our coverage in the months to come. That's why we want to make sure you have a chance to share your thoughts.

David Moberg
David Moberg, a senior editor of In These Times, has been on the staff of the magazine since it began publishing in 1976. Before joining In These Times, he completed his work for a Ph.D. in anthropology at the University of Chicago and worked for Newsweek. He has received fellowships from the John D. and Catherine T. MacArthur Foundation and the Nation Institute for research on the new global economy. He can be reached at davidmoberg@inthesetimes.com.
if you like this, check out:
View Comments