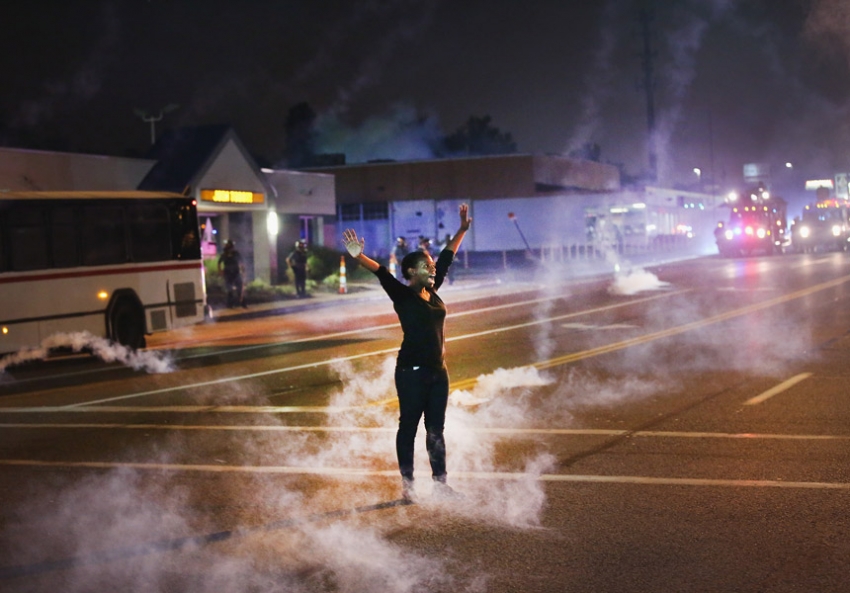 Web Only / Features » August 19, 2014
Scenes From Ferguson We Must Not Overlook
As Ferguson's story continues to unfold, the images from those on the ground paint a haunting picture.
'78 were arrested overnight in Ferguson, more than double the total reported by authorities.'
After teenager Michael Brown is fatally shot by a police officer on August 9, eyewitness accounts report that he had his hands raised in a gesture of surrender.
The police arrive at a candelight vigil in Brown's honor on August 10, prompting violence and destruction that spills over into the next week. (AntonioFrench)
After tear-gassing an Al-Jazeera America news team attempting to cover the protests, the police dismantle their equipment. (KSDK)
Happening now in #Ferguson https://t.co/qg6vDs916H

— Antonio French (@AntonioFrench) August 14, 2014
St. Louis Alderman Antonio French is arrested just after capturing footage of protesters around the city. (AntonioFrench)
Ferguson police fire rubber bullets into a crowd of peaceful protesters. (PolarbearProductions)
Powerful picture we took today at Howard University #Ferguson #MikeBrown #MyaWhite #DONTSHOOT pic.twitter.com/ttdVg33n5w

— Megan Sims (@The_Blackness48) August 14, 2014
Around the country, activists and allies implore "Hands up, don't shoot," echoing Mike Brown's alleged gesture before he died.
Though the marchers are largely peaceful, a faction begins breaking into and attempting to loot stores around Ferguson, prompting many of the original protesters to guard the buildings themselves. (AntonioFrench)
Yahoo News verified this is Ofc #DarrenWilson, the #FergusonPD killer of #MichaelBrown pic.twitter.com/7M91MlXebC

— Copwatch (@Copwatch) August 17, 2014
On August 16, after a week of demands, Ferguson police release the name of Brown's killer, Darren Wilson, to the public.
#Ferguson "This is my Mike Brown" say Jamille Thompson about her 18 month old son Carter Ramey at QT protest pic.twitter.com/ROiWeF1Yqa

— David Carson (@PDPJ) August 17, 2014
This is too real. #Ferguson #MikeBrown pic.twitter.com/A9ruEUwEFr

— Anonymous (@occupythemob) August 18, 2014
Protesters return tear gas canisters at police in #Ferguson pic.twitter.com/cHNU2LD3Ev

— Alex Wroblewski (@alexwroblewski) August 18, 2014
So @CNN reported that protesters "overran a McDonalds" but what they don't show is why. Milk helps w/tear gas pic.twitter.com/qWGoFD5A69

— Joshua Bent〽️ (@TheBentEffect) August 18, 2014
Nearly every night, protesters are met with tear gas and rubber bullets, provoking mixed narratives from national media coverage.
ICYMI: Cops lock up 90-year-old Holocaust survivor during Michael Brown protest http://t.co/A4N7ryO4fR pic.twitter.com/QG3uGSCdEK

— HuffPost Canada (@HuffPostCanada) August 19, 2014
On August 18, police arrest 90-year-old Hedy Epstein during the day.
#BREAKING: Police advancing on crowd. Guns drawn. Media ordered to stay in taped off area. #Ferguson #MikeBrown pic.twitter.com/dYm16HNksR

— Eli Rosenberg (@EliKMBC) August 19, 2014
That night, dozens of people are arrested.
78 were arrested overnight in Ferguson, more than double the total reported by authorities http://t.co/lQXivckQcQ pic.twitter.com/yXsAfeUdqk

— Emmanuelle (@_esaliba) August 19, 2014
In an early-morning press conference, Missouri Highway Patrol Captain Ron Johnson advises residents to protest before nightfall.
Teacher providing activities for #Ferguson kids whose school is closed. "Need to do something positive" pic.twitter.com/dAd0f7afnt

— Sarah Kendzior (@sarahkendzior) August 19, 2014
Janeatha and Shaila Evans checking out books at #Ferguson library with a day off school. #voicesofferguson pic.twitter.com/WnshTaPqnW

— Matt Flener KMBC (@MattFlenerKMBC) August 19, 2014
Families around Ferguson keep their kids entertained and content amidst school closures and continued unrest.
St. Louis police shot and killed a man on Tuesday afternoon, protesters later gathered at the scene #Fergurson pic.twitter.com/yEEFxxhqtt

— Alex Wroblewski (@alexwroblewski) August 19, 2014
On Tuesday, police fatally shoot a man in St. Louis. Protesters gather into Clayton, where Alderman French assures them that they will not be met with the same level of aggression.
This is not #Ferguson over here. We've got your back. We'll make sure it's done right here. https://t.co/btwdB9zpDV

— Antonio French (@AntonioFrench) August 19, 2014
View Comments