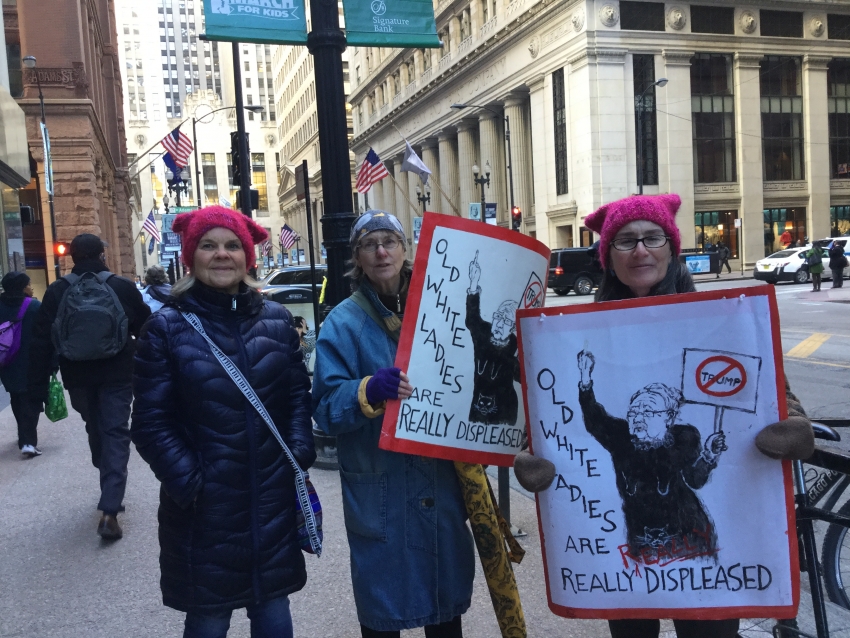 Web Only / Features » March 22, 2017
Eight Arrested as Activists March in Chicago To Protest Trump's Budget
The president's budget calls for deep cuts to a wide range of federal programs and departments.
'We are witnessing a number of people being arrested because they are disturbed, fearful and angry about the cuts that the Heritage Foundation and by proxy, President Trump, hope to impose on our communities.'
Blowback from Donald Trump's federal budget proposal swept through the streets of downtown Chicago on Tuesday, as a group of about 200 activists marched to the Bank of America building where a trustee of the Heritage Foundation, Anthony Saliba, has offices.
Heritage was a key player in creating Trump's first budget, released early last week. It calls for deep cuts to, or the elimination of, a wide range of federal programs and departments. For example, it would cut the Environmental Protection Agency by nearly a third, and it would gut federal funding for the arts. In These Times spotlights the Trump budget, and the role of the Heritage Foundation in creating it, in the current issue.
Eight people were arrested and charged with criminal trespassing at the rally, which focused on proposed cuts to the Housing and Urban Development agency. Its budget would be cut by 13 percent, meaning "a loss of over $190 million in funding that helps prevent people from living on the streets," according to Fair Economy Illinois, a statewide alliance that works to limit the power of corporations, promote the common good and advance environmental justice. The group estimates that the cuts would push more than 10,000 low-income, elderly households to lose their homes in Illinois, alone. The cuts would also mean a loss of more than 6,000 jobs in the state and nearly 124,000 jobs nationwide.
"We are witnessing a number of people being arrested because they are disturbed, fearful and angry about the cuts that the Heritage Foundation and by proxy, President Trump, hope to impose on our communities," said Kevin McLemore, pastor of Epiphany United Church of Christ in Chicago, who spoke at the rally. "Anthony Saliba, as a board member of the Heritage Foundation, we are calling on you to stop advancing these destructive proposals, which will increase homelessness across our city, state and country."
Saliba is a Chicago-based options trader and the founder of Saliba Venture Management. The rally, which was one in a series of weekly "Resist Trump Tuesday" marches, was organized by Fair Economy Illinois and the Jane Addams Senior Caucus—a multiracial organization that works to foster economic, racial, and social justice for seniors and their communities.
Most of Trump's more radical proposals have little chance of being enacted, but the budget signals his priorities and reflects the influence of hard-right conservatives within his administration. For decades, Heritage has been at the forefront of pushing for deep cuts to federal spending, especially in the realms of environmental and worker protections and programs that assist the poor.
"This blueprint [Heritage's Blueprint for Balance] almost completely mirrors Trump's proposed $6 billion cuts to HUD in his budget proposal," said Don Bell, a member of the Jane Addams Senior Caucus. "Cuts that will make people homeless, deny people important services and continue to line developers' pockets. We are here because we know that Trump is a puppet of the Heritage Foundation's corporate agenda."
"They gather millions of dollars to support millionaires making more money at our expense," said Susan Friedman, who marches every Tuesday with two friends she met at the first rally in January. Friedman said that they plan to continue doing their part to expose Trump's agenda and shame the administration's allies.
"When people don't listen to you, sometimes you have to take action," she said. "But the other thing is, when you do take action and a minister gets arrested, or whatever, and people don't pay attention, you go: 'What other action do I need to take?'"
---
Help Support Our Fall Fundraising Drive
Here's a sobering fact: Over the past 20 years, journalism has lost jobs at a faster rate than the coal mining industry. Far too many excellent publications have disappeared completely.
But because of supporters like you, In These Times has been able to walk a different path. We are not managed by a corporate parent company, nor are we dependent on one benevolent philanthropist. Instead, we are supported by individual donations from you and thousands of other readers like you.
This is our promise to you: We'll keep publishing as long as you keep supporting In These Times. Please, make a tax-deductible donation today to help keep In These Times going strong.
Theo Anderson
Theo Anderson is an In These Times contributing writer. He has a Ph.D. in modern U.S. history from Yale and writes on the intellectual and religious history of conservatism and progressivism in the United States. Follow him on Twitter @Theoanderson7.
View Comments