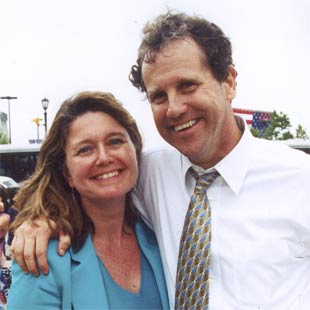 Features » November 21, 2005
Who is Sherrod Brown?
An unabashed progressive takes aim at a Senate seat in Ohio
There are two small but revealing items affixed to Ohio's 13th District congressman Sherrod Brown. On his lapel, he wears not an American flag, but a pin of a yellow bird in a cage. On a Thursday morning in October, as we leave his office to walk to the Capitol for a committee meeting, Brown hands me a bookmark-sized slip of paper that explains: "The canary represents the struggle for economic and social justice." It recounts how miners once took canaries into the mines so that when the birds died, they knew the air was too toxic to breathe. "Miners were forced to provide for their own protection. No mine safety laws. No trade unions able to help. No real support from their government. … It has been a 100-year battle between the privileged and the rest of us."
Clipped to Brown's belt is a small blue pedometer, one of a pair worn by him and his wife Connie Schultz, a Pulitzer-Prize winning columnist at the Cleveland Plain Dealer. He walks, or perhaps more accurately, stalks all over Capitol Hill, leading with his chest pitched forward just slightly in a gait that is halfway between a bounce and a prowl. "He never takes the elevator," his spokesperson Joanna Kuebler tells me as we wait for Brown to emerge from a meeting with a group of scientists advocating for nuclear disarmament. When it's time for a vote on the Hill, he eschews the underground subway that whisks members from their office buildings to the Capitol.
Handsome, with a slightly weathered face, curly hair and a deep, warm voice, Brown is universally described as "down to earth." In person he's as unposed as any politician I've ever met. "Those are the columns my wife wrote that won the Pulitzer," he says, dumping a pile of papers into the lap of Rep. Sherwood Boehlert, who's waiting for the underground shuttle as we trot past. "He's a Republican," Brown whispers as we walk away, "but I like him. How could I not? He represents Cooperstown."
Brown, a huge baseball fan and an avid athlete, will to need to marshal every last bit of his considerable energy in the next year as he seeks to be become the first Democratic senator from the state of Ohio since John Glenn retired in 1998. He faces a primary challenge from Iraq war veteran and Internet darling Paul Hackett; if he wins the primary, he'll face Republican incumbent Mike DeWine, a senator with some of the lowest approval ratings in the country, but a seat that the Republicans will zealously defend. With Ohio still the nation's premier political battlefield, the race will be one of next year's most-watched campaigns: If a bedrock economic populist like Brown can win in a red state, it will explode the post-Clinton conventional wisdom that anything resembling "class warfare" is a non-starter for the Democrats.
But Brown's decision to enter the race after first saying he wouldn't prompted paroxysms of recrimination and anger in the blogosphere. "Brown's indecision created an ugly and totally unnecessary scene," wrote blogger Lindsay Beyerstein, one of Hackett's most prominent online supporters. "If he'd declared in the first place, Hackett probably wouldn't have challenged him for the nomination. Now, there's probably going to be a nasty little primary and lasting bad blood amongst Ohio Democrats. These are very real costs that Brown chose to inflict on his party."
Hackett, whom many bloggers treat like the local boy made good, and who was recently the subject of a glowing profile in Mother Jones titled "The Democrat Who Fought," provides the blogosphere an opportunity to prove, unequivocally, its own influence. "The reason to support Hackett over Brown is simple," wrote Beyerstein, "if Hackett wins (and he can win), the progressive blogosphere makes history."
Blog opinion on the race is by no means uniform. Many support Brown, but it's a strange feature of the blogosphere that a newcomer to politics like Hackett is widely considered a known quantity, while Brown, who's spent his entire adult life in public office, is a mystery. One skeptical blogger on the Web site Swing State Project summed up his reservations with a post titled: "Who is Sherrod Brown?"
Brown lacks the national profile of colleagues like Dennis Kucinich and Bernie Sanders, but for the duration of his six-and-a-half terms in office, he has been one of Congress's most stalwart progressives. "I've known him for many years," says Sanders. "What's very clear is that Sherrod Brown knows which side of the struggle he is on." And when Brown's friend John Ryan, executive secretary of the Cleveland AFL-CIO, says, "Sherrod Brown is one of us," he means it in the literal, familial sense. Brown's older daughter Emily is a union organizer for SEIU. When I met Brown, Emily had just lost a union election in a New Jersey nursing home. "She was crushed," Brown told me. "I mean, it's horrible. Have you ever sat and watched an election? They count the votes publicly and you can tell within 15 votes what's going to happen, and the workers are scared. … It's pretty depressing for the organizer but it's more depressing for the workers."
If Brown had announced a decision to enter the U.S. Senate race over the summer when he was being recruited by the Democratic Senate Campaign Committee, he likely wouldn't be facing a primary challenger and the "netroots," as progressive bloggers have taken to calling themselves, would be four-square behind him. But Brown demurred. His first marriage had ended in divorce, and he was aware of the strain that a campaign can place on a relationship, particularly a new one. After spending most of his first year of marriage in D.C. organizing against the Central American Free Trade Agreement (CAFTA), he and Schultz had not even moved in together. Brown was preparing for Emily's wedding and sending Schultz's daughter Caitlin off to college. And there were also questions about how a Senate candidacy would affect Schultz's job at the Plain Dealer.
Some Democrats, frustrated with Brown's dithering, are convinced that he was reluctant simply because he wasn't sure he could win. "I think he's cautious," says one Democratic Hill staffer who knows Ohio politics well and supports Brown. "I think that's the real reason. He values the seat he has and he's only willing to give it up if he's got a really good shot at winning."
On August 17, Brown posted a letter on his Web site GrowOhio.org, announcing he wouldn't run for Senate, and since 17th District Congressman Tim Ryan had also declined to run, it looked like the Democrats might have trouble finding a candidate. That's when Hackett stepped in. The 43-year-old attorney gained national attention this summer when he returned from a tour of duty in Iraq to his suburban Cincinnati home and ran in a special election to replace the 2nd District's Congressman, Rob Portman, who'd been appointed United States Trade Representative.
At first Hackett, who'd never held an office higher than city council in a small suburb, escaped the attention of the national media and the Democratic Congressional Campaign Committee. But his campaign was followed avidly by blogs, and Democracy for America, which together raised more than $500,000 and pushed him into the national spotlight. Hackett's credibility to talk about the mistakes in Iraq, coupled with his tough-talking demeanor (he called Bush a "son of a bitch" and Rush Limbaugh a "fatass drug addict") made the netroots swoon. It was like Howard Dean in uniform. Hackett ultimately lost the August 2 election in an overwhelmingly Republican district by just four points. A star, of sorts, was born.
In mid-September, Hackett started to lay the groundwork for a Senate run and paid Brown a call at his D.C. office. Brown had supported Hackett during the special election, paying the salary of online organizer Tim Tagaris and loaning Hackett his trusted political organizer Dan Lucas. Hackett says that in the meeting Brown spoke "in a general way" about supporting him in the Senate race; Brown says it was clear that he gave no endorsement. In either case, the take-away was that Brown wasn't getting in the race.
But three weeks later, Brown changed his mind. Schultz was able to make sure his candidacy wouldn't jeopardize her job at the Plain Dealer; Emily was married; Caitlin had gone off to college; friends and colleagues kept urging Brown to run; and as Schultz put it, "We moved into a really new house where we could open a window without a hammer, and we both said, 'There is a real danger here of getting too comfortable, and we didn't work this hard to get too comfortable.'"
In early October, Brown called both Hackett and DeWine to let them know he was in. "Telling those two guys," he says, "it wasn't the most fun day of my life."
Born to run
Sherrod Brown was born in Mansfield, Ohio in 1952, the youngest of three sons. His father Charles was a physician. His mother Emily hailed from Georgia and was an early supporter of the civil rights movement, introducing her boys to political activism at an young age. Sherrod was elected president of his high school student council. "He caused people a lot of headaches because he was such an activist," says his mother. "The principal didn't really care for him at all."
In 1970, he and his friends organized a march in Mansfield for the first Earth Day. "We did this really cool march and we had a really big crowd," says Brown with pride. "But we get down to the square and none of us had thought about what you do when you get down there. We didn't have any speakers, and it was like, 'Oh, shit.' So we just disbanded."
Brown enrolled at Yale, where he split his time between Russian Studies and campaign work for liberal candidates, including George McGovern. He so impressed Don Kindt, his local Democratic County Chairman, that the next spring, when Brown was back at Yale finishing up his senior year, Kindt called Brown and asked him to run for state representative. "I remember him calling me," says Sherrod's older brother Charles, who was in Yale Law School at the time. "'You just can't believe this, this is the most exciting news. Don Kindt wants me to run!'"
---
Help In These Times Continue Publishing
Progressive journalism is needed now more than ever, and In These Times needs you.
Like many nonprofits, we expect In These Times to struggle financially as a result of this crisis. But in a moment like this, we can't afford to scale back or be silent, not when so much is at stake. If it is within your means, please consider making an emergency donation to help fund our coverage during this critical time.
Christopher Hayes
Christopher Hayes is the host of MSNBC's All In with Chris Hayes. He is an editor at large at the Nation and a former senior editor of In These Times.
View Comments