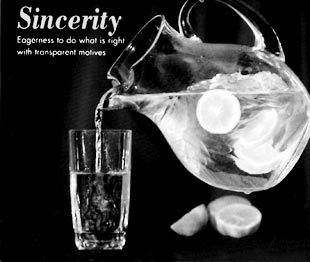 Features » January 9, 2006
Cult of Character
How the 'secular' Character Training Institute is working to build evangelist Bill Gothard's vision of a First-Century Kingdom of God–one city, one state, one school board, one police force and one mind at a time.
Research support for this article was provided by the Investigative Fund of The Nation Institute.
From the outside the bland, unmarked exterior of the Character Training Institute's headquarters blends remarkably well into its immediate surroundings. This is a section of Oklahoma City that hasn't yet benefited from the nearby, upscale urban development intended to draw both tourism and business to the area. Both the downtown Greyhound Station and the county jail are situated a few blocks from here, which explains the number of forlorn, transient men and women wandering down West Main Street. For the
most part these folks seem to have more immediate priorities than paying attention to the dozens of foreign-looking visitors entering and exiting the 10-story Character Training Institute (CTI), which also serves as the headquarters of the International Association of Character Cities (IACC).
But one elderly woman wearing mismatched clothing and a weathered plastic visor ambles across the street to get a closer look. She leans against the wall and tries to peer inside, but the heavy double doors, darkened windows and drawn shades make it nearly impossible to do so.
"What's going on in there?" she asks a young man with a military-style haircut walking toward the door. He takes a polite moment to explain that this is a very important "Building Cities of Character" conference, sponsored by the IACC. Many people, he adds, have come from all over the world to be here. And with that, he disappears into the building. The woman tries, one last and unsuccessful time, to see what's going on inside.
"The sin of witchcraft"
Inside the institute, Arizona state treasurer David Petersen takes to the conference podium to tell how his state's Family Services Committee passed "Character Education Legislation."
"All schools now have it implemented," he says proudly. "We're fighting for the soul of this nation." Petersen is not being hyperbolic. He attributes his passion for "character" to a personal meeting with evangelist Bill Gothard.
Gothard, the 74-year-old, unmarried man at the head of the Oak-Brook, Illinois-based Institute in Basic Life Principles (IBLP)–which brings in an estimated profit of at least $63 million annually–has been in the evangelism business since 1964. Originally named the Institute in Basic Youth Conflicts, IBLP changed its name in 1990. All totaled, IBLP boasts that at least 2.5 million people have attended the organization's seminars and ministries in the United States and other countries, including Russia, Mongolia, Romania and Taiwan.
Although legally and fiscally independent, the CTI is for all intents and purposes a "secular" front group for Gothard's IBLP. In the last decade, the CTI has quietly gained entry into hundreds of elementary, middle and high schools, state and city offices, corporations, police departments and jails.
Though he never uses the term, Gothard's ideology fits into the framework of the burgeoning "Christian Reconstructionist" movement, which aims to rebuild society according to biblical mandates. Within the Christian Reconstructionist worldview, modern-day chaos is directly attributable to the division of church and state and the consequent degradation of individual character.
For Gothard, the solution is restoring the United States–and then the rest of the world–to something that he calls "The Sevenfold Power of First-Century Churches and Homes."
The concept of obeying God-granted authority runs through virtually all IBLP-published materials. "The key to understanding authority is identifying four areas of God-ordained jurisdiction: parents, government, church leaders, and employers," reads an introductory passage to Basic Life Principles Seminar. "When a decision is to be made, we must ask, 'Whose jurisdiction is this under?' God gives direction, protection, and provision through human authorities. If we rebel against them, we expose ourselves to the destruction of evil principalities. … This is why 'rebellion is the sin of witchcraft.' "
According to Gothard's interpretation, first century Roman Centurions were admirable figures of authority who followed their orders without question–the prototypes for the kinds of police officers that CTI instructor Ray Nash, the sheriff of Dorchester County, South Carolina, wants to create in his state and elsewhere.
Nash has conducted "Police Dynamics" training for numerous U.S. and international police departments.
"Really, what Police Dynamics is, in a nutshell, is biblical wisdom that's been packaged into a law enforcement message," Nash told Rev. Mark Creech in a November 2004 article for Alan Keyes' RenewAmerica Web site.
Character Cities Conference
"Leaders around the world are increasingly concerned by the decline in society's standards," CTI founder Thomas A. Hill writes in his introduction to the brochure inviting people to the IACC conference. "As you reflect on the past, you may ask yourself, 'Where did the good old days go?' and 'How did we get to this point?' The answer is rooted in a growing lack of personal character."
Anyone wanting to explore such questions and willing to fork over $360 for this annual three-day conference would be buzzed in through the double doors into an oddly serene and well-ordered environment.
Decorated in a faux-Victorian style, the lobby is spotless and dust-free, complete with displays of fake flowers in vases, rows of couches and psalm-quilted pillows. Low-level classical and hymnal music is piped in, but there are no television sets, radios or wall clocks to be seen. A busy group of young, unadorned women in ankle-length tan skirts, flats and dark polo shirts–and their adolescent male counterparts in pressed shirts and slacks–seem to make sure that everything runs on schedule. It doesn't take long to notice that the female roles are rigidly secretarial and/or service-oriented.
When they arrive at the lobby desk, registrants are handed their Character First! plastic binders. The cover announces "a new paradigm for personal growth," while the introductory letter from IACC Director Steven Menzel thanks attendees for their "commitment and determination to revitalize your community based upon the timeless attributes of character."
Over the course of the next three days, attendees will come to learn that absolutely everything bad happening in our society–from crime to divorce, from drug use to school shootings–can be explained by lack of character.
Instilling character
The CTI was founded in 1996 by Kimray Oil and Gas tycoon Thomas A. Hill. A tax exempt, nonprofit educational organization, the institute's mission is to instill 49 "Character Qualities" into four major civil institutions: family, business, education and law enforcement. In 1998 the CTI spread its wings and established the IACC, which aimed to make local governments "commit to develop character."
The Character Cities concept has caught on quickly: 160 cities ranging from Compton, California, to Hamburg, New York, 31 counties, and seven states–Alabama, Arkansas, Delaware, Georgia, Ohio, Oklahoma and South Carolina–have now passed "character" resolutions and proclamations based on CTI's teachings and materials.
Nor has the CTI's influence been limited by American borders. Forty-seven international cities have already declared themselves Cities of Character, and at least one-third of the approximately 100 people attending the IACC conference arrived from foreign countries, including Romania, Mexico, Guatemala, Peru, Argentina, the Philippines and Sri Lanka.
Many have gone so far as to brand their localities with Character First! symbols, plaques, flags, pins, posters, brochures, books, mouse pads and calendars.
Understandably, the Character Training Institute tries to obfuscate the links between its work and Gothard's reconstructionist Christian vision.
"This is not religion, these are character traits," says John Thomas, vice president for global infrastructure services for Perot Systems Corporation, during one of three successive business-oriented presentations at the IACC conference.
Speakers emphatically and repeatedly stress that Character First! training has nothing to do with promulgating religion. Instead, attendees are told, the training promotes great character and, as a side benefit, drives up corporate profit margins. The Character First! DVD is chock-full of tales of incredible savings to businesses: Kimray's Hill, for instance, talks of workers' compensation dropping from $24,000 per month to a mere $2,000 to $4,000, while Todd Anderson, the vice president of C.P. Morgan, a home construction firm, brags about a tenfold increase in profitability attributable directly to CTI training.
The list of Character First! seminar attendees already reads like a who's who of top corporations and government institutions: McDonald's, Burger King, Aflac, Costco, Coca Cola, the Correctional Corporation of America, the Better Business Bureau, Tyson Foods, the U.S. Air Force, U.S. Navy, U.S. Marine Corps, U.S. Coast Guard, U.S. Bureau of Prisons, the Arkansas Prison System and the U.S. District Attorney's office are all mentioned, in addition to more than a dozen school districts (including Denver, Memphis and Ft. Lauderdale), and eight healthcare companies and hospitals.
At the conference, attendees are told that the IACC exists "to support government and community leaders who want to develop character in themselves and encourage it in their families and communities."
Oklahoma City–and the state of Oklahoma in general–seems to have truly taken this to heart. Here, even the local county jail's elevators feature Character First! posters in Plexiglass displays, and juvenile detainees study character concepts with the jail chaplains. Each employee receives a Character Bulletin with his or her paycheck, explains Chaplain Argyle Dick. "We hire for character, and we fire, most of the time, for lack of character. … We are always looking for new ways to saturate even more of our employees with character."
The Character Council of Central Oklahoma has even entered into a "covenant" with the regional career tech programs, covering 12 campuses. "That's our plan for getting character qualities into the hearts and minds of all students," explains Dr. Earlene Smith, the Education Committee chairman for the council.
Other examples abound throughout the conference: McDonough, Georgia, flies a City of Character flag outside of city hall; Owasso, Oklahoma, police squad cars sport a "City of Character" emblem on each vehicle; and the Character Council of Florida has ensured that all elementary schools will incorporate CTI training by 2006, and expand from there to higher grades.
Sign of the eagle
On the surface it does not appear as though Gothard is at all involved in the "secular" character training that the CTI provides to countless schools, city councils, state agencies, corporations and law enforcement agencies across the world. Hundreds of cities have also passed their own character resolutions, modeled on the IACC's materials. None of the CTI/IACC materials mention Gothard's name, but the more obvious attempts to hide the connections end there.
CTI founder Thomas Hill is also the board chairman for the IBLP–alongside other influential board members, such as Rep. Sam Johnson (R-Texas).
---
Help In These Times Continue Publishing
Progressive journalism is needed now more than ever, and In These Times needs you.
Like many nonprofits, we expect In These Times to struggle financially as a result of this crisis. But in a moment like this, we can't afford to scale back or be silent, not when so much is at stake. If it is within your means, please consider making an emergency donation to help fund our coverage during this critical time.

Silja J.A. Talvi
Silja J.A. Talvi, a senior editor at In These Times, is an investigative journalist and essayist with credits in many dozens of newspapers and magazines nationwide, including The Nation, Salon, Santa Fe Reporter, Utne, and the Christian Science Monitor.
View Comments