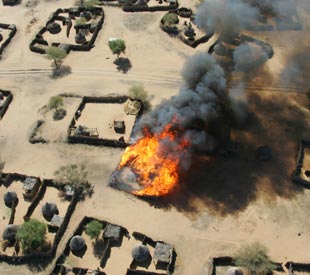 Web Only / Features » March 15, 2006
Raising a Million Voices for Darfur
Right now, hundreds of thousands of people who have fled the Sudanese government's genocide in Darfur are packed into camps along both sides of the border with Chad. Mortality rates inside the camps are already shockingly high, since the Sudanese government restricts the amount of food aid groups can bring in. Recent reports indicate that the Janjaweed–the Arab militias who have carried out much of the genocide in the region–are now crossing into Chad along with Sudanese troops to attack the camps and villages. All this comes despite the presence of 7,000 African Union troops and a putative ceasefire.
As part of the Million Voices For Darfur campaign, ex-Marine Brian Stiedle is criss-crossing the United States talking to student groups, churches and nonprofits. Voices plans to send a million postcards to senators and congressmen urging them to support an international intervention to protect the people who have been herded off their land, watched their loved ones murdered and now wait for whatever comes next.
Stiedle first arrived in Sudan in 2003 as part of an E.U. mission to monitor the North-South ceasefire. After seven months he transferred to the Darfur region to join the African Union's monitoring mission, and from September 2004 to February 2005 he watched the daily attacks on villages by Janjaweed, troops and helicopters. He created a stir last year when he released aerial photos documenting the destruction. (The photos can be viewed here.)
In between speaking engagements, Steidle spoke to In These Times by cell phone:
One of things that I think confuses people about Darfur is the origin of the conflict. Is this an attempt by the government to brutally punish a region with separatist aspirations, like Chechnya, or is it a campaign of ethnic cleansing similar to, say, Rwanda?
It's a bit of both. The African population isn't allowed to hold land or run businesses or become officers in the military.
There's a distinction between African and Arab?
It's a perceived distinction. They're all African–they all live in Africa–but tribes who come from an Arab background, who are mainly nomadic, consider themselves better than the African populations, who are mostly farmers.
And there's institutionalized, legally-sanctioned racism against the "African" tribes.
Exactly. For years "African" rebel leaders organized resistance groups in Darfur, and finally launched attacks against the Sudanese government in 2003, taking control of an airport and destroying some Sudanese aircraft. Since then, the government has armed, trained and paid Arab militias called Janjaweed to rid Darfur of the African tribes. The Janjaweed come from nomadic Arab tribes, and also happen to be the natural enemy of the African tribes; they've competed over land and resources for thousands of years.
Where would villagers go?
They'd flee from village to village to village until they would end up in a refugee camp. The Kalma camp outside of Nyala is the largest camp, with around 100,000 living in it. It's a large city. People flock there because they feel safety in numbers.
Remember, during this whole time there was supposedly a cease-fire, but it was a joke. The government knew exactly what it was doing. They were clearing roads, pushing rebel movements into certain areas where they could destroy them.
What did you and the Africa Union monitors do when you saw this happening?
We didn't do anything but stand there and watch. That's all we were allowed to do. We'd tell aid organizations where people went, what they needed in terms of food, water and medicine. Then we'd write a report and move onto the next one. We all hoped the reports would influence international policy to stop this from happening, but in the end they didn't. We wrote close to 80 reports, and through official channels, I was told that only four of them even reached the U.S. embassy. The rest lay buried.
Why do you think that was?
The African Union operates in Sudan because the government allows them to be there. If the Sudanese government said tomorrow, "Get out of our country," the African Union doesn't really have the capability to say, "No, we're staying here, and by the way, we're going to have a peacekeeping mission to stop you from killing these people." That's why they got pretty upset when after I got back to the states, and I started releasing these photographs. They said, "What do you think you're doing? You're going to jeopardize our entire mission."
Just to put this in terms as stark as possible: Since 2003 the Sudanese government has carried out a strategic campaign to either destroy or herd the residents of the region into as compact an area as possible so they can be exterminated.
Absolutely. It's not necessarily extermination through direct means. It's a slow process of surrender or starve. They put them in refugee camps where they know diseases are rampant, where they know they're not going to get enough aid or food, and then they restrict the aid organizations from them so they slowly, slowly die off. We're seeing the majority of people dying in these camps where they can't survive. I've heard reports that they were getting 1,000 calories a day in Kalma and last year they had to cut back to 800 calories per person, per day because they couldn't bring in enough food aid for all of them. That's not enough to survive.
I can only speculate on the amount of fear that these people live in: not knowing whether you are going to be killed at any moment; not knowing when you leave your camp to go get firewood if you're going to be raped; not knowing if there's going to be a helicopter gunship that's going to swoop down over you at any time and mow you and your family down. They're living crammed on top of each other in rinky-dink tents or grass mounds. A lot of them don't even have tents. They have sticks that shield them from the wind, the sandstorms, the rain, the sun.
Who's administering the camps?
Each one is administered by a different organization. The United Nations High Commission on Refugees is heavily involved in the operations as well. But each camp is on Sudanese territory and is subject to the Sudanese government telling them what they can do.
If the NGOs speak out, they could be kicked out of the country and not able to provide aid to these individuals.
So what has to be done to protect the refugees?
---

In These Times has been selected to participate in NewsMatch—the largest grassroots fundraising campaign for nonprofit news organizations.
For a limited time, when you make a tax-deductible donation to support our reporting, it will be matched dollar-for-dollar by the NewsMatch fund, doubling your impact.
Christopher Hayes
Christopher Hayes is the host of MSNBC's All In with Chris Hayes. He is an editor at large at the Nation and a former senior editor of In These Times.
if you like this, check out:
View Comments