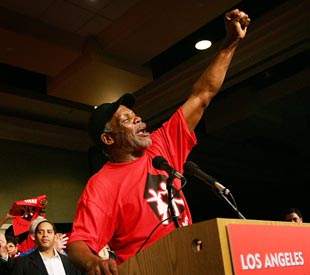 Features » April 19, 2006
Hotel Workers Rising Tide
A "Movement for Equality" tops UNITE HERE's agenda
Call him Eduardo. A legal immigrant from Mexico in his early twenties, Eduardo lives in a basement bungalow apartment in a modest blue-collar suburb of Chicago. He works full time in one big, city-center hotel as a houseman, supporting the women who clean the rooms, and part-time in another as a banquet waiter. He doesn't want his real name used, not because he's done anything wrong, but because he would like to have a union at work. And a few months ago when some co-workers at his hotel began organizing publicly, the leaders were fired.
"The bosses don't respect us," he says, explaining why he secretly continues to help organize. "They treat us like slaves. We have our integrity. We have to get paid better, get better benefits. Also, they don't have consideration for nobody. Every time, they expect you to do more than yesterday."
Eddie Sims would understand. He's a houseman at the Chicago Hilton and Towers, where as a shop steward in the union he regularly files grievances over management efforts to increase the workloads of housekeepers and cut back on staff. Nearly four years ago, after the Chicago local had undergone two years of reform, it won a 37 percent pay increase for room attendants, lifting wages to $12 an hour this spring and greatly reducing what workers had to pay for their health insurance. That victory prompted most big non-union hotels, such as Eduardo's, to raise their pay–though not to unionized levels–just to keep the union out.
This year, the Chicago Hilton contract is up for renewal, as are contracts at other major cities including Toronto, New York, Los Angeles, Honolulu, Boston and San Francisco where UNITE HERE represents a large share of hotel workers. Hotel workers in those cities have gone without a contract for more than a year and a half. Like the rest of the 60,000 UNITE HERE members at more than 400 hotels, Sims hopes the results of this year's negotiations will improve his life.
"We need more pay," he says, as he explains how staff cutbacks have increased his workload. "We're not getting enough for the work we're doing. We not only do our job but everybody else's job, too."
But Sims also hopes that negotiations this year can help bring people like Eduardo into the union. "It's very important to me," he says. "We've got a lot of people in the hotels that are non-union, and that makes it tough on people in the union to make the work better if we go out on strike."
He also wants other hotel workers like Eduardo to share some of the less tangible, but equally important, benefits of being in a union. "I feel I can't be touched by management when the union is behind me," Sims says. "When I face them, I have no fear. I'm fighting for my rights and my people, trying to make a better world."
———————
Eduardo and Eddie are two faces of one of the most ambitious union campaigns in recent decades to make that better world, an effort by UNITE HERE to campaign simultaneously for hotel workers who are in the union and those who are not–or at least not yet. Under the slogan "Hotel Workers Rising," the union is trying to create a "movement for equality" that will make the quality and rewards of work in the vast, low-paid ranks of the service sector a central issue of public morality in American politics.
"It's not just about these workers, but the kind of America we live in," former Sen. John Edwards told the 2,000 hotel workers and allies gathered at Chicago's luxurious Drake Hotel for one of the campaign's opening rallies on Feb. 17. "I don't know about you, but I don't want to live in an America where we have a few rich people and everyone else. So we are joined together in a just, moral and righteous cause."
With this campaign, UNITE HERE is also trying to adapt itself to better confront a dramatically restructured hotel industry. In the past, hotels were mostly owned and operated by local investors, and contracts were negotiated for local urban markets. But today, most hotels are part of large global chains with complex relationships between the hotel operator, franchisor and owner. Whatever the structure, control of the industry has shifted to global corporations, leaving the union stuck with local contracts.
Starting four years ago, UNITE HERE began bargaining so that as many of its contracts as possible would expire this year. Although the union will still negotiate contracts city by city, the local unions and the international are working together to plan contract demands and strategy. UNITE HERE will also be appealing for special support from its partners in Change To Win, the labor federation that broke away from the AFL-CIO last year.
If, in the coming months, the companies put up stiff opposition, more and more city contracts could expire and remain open. The San Francisco contract has remained open since 2004, following a strike, a lockout and a boycott of many hotels that continues today. If hotel management continues its resistance until this fall, the result could be worker actions in many cities simultaneously–the potential equivalent of a full-blown national strike.
But at the moment, John Wilhelm, president of the hospitality division of UNITE HERE, is offering the industry an olive branch. "Our challenge to the American hotel industry is to join with their employees and our union to take advantage of a wonderful opportunity to figure out how to make service sector jobs, particularly service sector jobs that cannot be exported, into jobs that can rekindle the middle class dream in our society," Wihlem says.
Manufacturing jobs in the steel and auto industries were only good jobs after they were unionized, Wilhelm argues. Global economic forces are either moving those jobs out of the country or making them worse, but hotel jobs can't be moved.
Despite a downturn after 9/11, which the industry used to slash its workforce, the hotel industry is now quite profitable. But hotel workers aren't sharing the bounty. Hotel work has never been easy. The injury rates for hotel workers are among the highest in the service sector. More than three-fourths of housekeepers report work-related pain, most of it serious enough to see a doctor or take time off, and two-thirds regularly take medication for pain caused by stress and overexertion at work.
In recent years, the stress of hotel work has increased with the "amenity war" among luxury hotels. Starwood, the proprietor of Sheraton, Westin, W and other brands, kicked off the competition with its "heavenly beds," made of far heavier mattresses and more pillows and bedding for workers to handle every day. As the number of items in the room grows and the attention to detail becomes more persnickety, the workload increases for housekeepers.
"They say, 'We are changing the rooms to make them more nice, more beautiful for the guests,'" says Elena Ortega, a housekeeper at W Hotel in Chicago. "Yes, it's more beautiful, but they don't think, 'It takes more time to clean the rooms.' It's fine for the companies, but it's too much work. We don't take breaks. We don't take lunch. If we don't finish, maybe they fire us."
The pay hardly compensates for the pain. Some tipped workers in big hotels, like banquet servers, doormen, waiters and bartenders, can make comfortable incomes, but the average hotel housekeeper in the United States makes $7.85 an hour, not enough for a full-time worker to rise above the understated official poverty level for a family of four, now set at $18,850 a year.
———————
The nation's full-service hotels represent a microcosm of the growing inequality in the United States. With their amenity wars, these luxury hotels cater to the top 10 percent of the population, which has captured half of all income gains over the past 35 years, according to a recent study by Northwestern University economists Ian Dew-Becker and Robert Gordon. On the other hand, workers in non-union hotels are part of the population that over the past quarter century has seen almost no increase in after-tax income.

David Moberg
David Moberg, a senior editor of In These Times, has been on the staff of the magazine since it began publishing in 1976. Before joining In These Times, he completed his work for a Ph.D. in anthropology at the University of Chicago and worked for Newsweek. He has received fellowships from the John D. and Catherine T. MacArthur Foundation and the Nation Institute for research on the new global economy. He can be reached at [email protected]
if you like this, check out:
View Comments