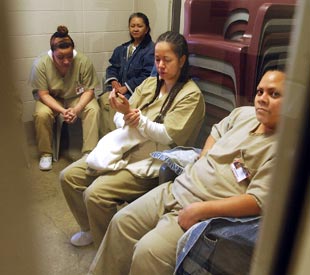 Features » May 10, 2006
No Room in Prison? Ship Em Off
Prisoners have become unwitting pawns in a lowest-bidder-gets-the-convict shuffle game
It has been an arduous, surreal journey for eight Hawaiian female prisoners sent to do their time on the mainland.
The plight of this group of women housed, most recently, in a prison in the small eastern Kentucky town of Wheelwright, would have escaped unnoticed, had it not been for the death of 43-year-old Sarah Ah Mau, on New Year's Eve 2005. Mau, serving a life sentence for second-degree murder, had been incarcerated since 1993 and had a shot at parole eligibility in August 2008.
She never got that chance. Instead she died of as-yet-unexplained "natural causes" after two days in critical condition–and a month after first complaining of severe gastrointestinal distress. Family members and fellow prisoners say that Ah Mau's pleas for medical care were ridiculed, downplayed or ignored by prison employees. As her stomach distended–and other body parts began to swell visibly–prisoners say that Ah Mau was fed castor oil and told to stop complaining unless she wanted to face disciplinary action.
What was Hawaiian resident Ah Mau doing in Kentucky in the first place? She was a commodity in an increasingly common practice: interstate prison transfers. Prison transfers, while not unusual, have a profound effect on inmates and family members alike. Children and spouses of "shipped" prisoners have little, if any, opportunity to see their loved ones. And due to special contracts with phone companies, telephone calls are prohibitively expensive. Prisoners themselves are sent to culturally unfamiliar facilities where they are supposed to be treated according to the laws and regulations granted by their home states–but rarely are. Home state law and prison regulation books are rarely available, making the prisoners' appeals or grievance requests even more difficult to file.
Most of the prisoners transferred out of their home states (which include but are not limited to Alabama, Colorado, North Dakota, Vermont, Washington and Wyoming) end up in privately run facilities in rural communities. Many of the guards hired for such prisons are under-trained, ill-prepared for their stressful work environments, and are paid "fast-food restaurant wages," according to Ken Kopczynski, executive director of Private Corrections Institute (PCI), a prison watchdog group.
"This is a major issue," says Kopczynski. "The private prison companies have found a real niche for themselves."
————————-
Hawaii represents the most extreme example of these practices because all of its transferred prisoners are sent to the mainland, and because all of those prisoners are sent to facilities run by just one private prison operator: Corrections Corporation of America (CCA).
Today, Hawaii leads the nation in interstate prisoner transfers. Nearly 2,000 prisoners–roughly half of the state's adults convicted of felonies–are serving out their sentences in CCA-run prisons in Arizona, Kentucky, Mississippi and Oklahoma. Notably, 41 percent of the "shipped" prisoners have been native Hawaiian, although they represent only 20 percent of the state's prison demographic.
Such prisoners have few recourses. A 1983 U.S. Supreme Court ruling based on a Hawaiian prisoner's lawsuit protesting out-of-state relocation, Olim v. Wakinekona, held that prisoners have no right to be confined in a particular prison, region or state. More recently, a 7th Circuit Court of Appeals ruling reinforced and enhanced the Supreme Court decision by deciding that parents in prison had no right to insist on staying in their home state for the sake of their children. All subsequent legal challenges to out-of-state prison transfers have failed.
"These transfers are very problematic for a number of reasons," notes David Fathi of the ACLU's National Prison Project in Washington, D.C. "Visitation is all but impossible, and visitations are very important to prisoner mental health. [Visits] are usually correlated with positive prison adjustment behavior as well as decreased recidivism rates."
A 1993 study focused on the recidivism rates of Hawaiian prisoners found that 90 percent of inmates sent to other states to do their time eventually returned to prison. Those incarcerated in their home state had recidivism rates ranging from 47 to 57 percent.
Studies like these notwithstanding, the situation in Kentucky isn't likely to change in the near future. In fact, most of the Hawaiian women incarcerated in Kentucky have already experienced four transfers within the continental United States.
————————-
Sarah Ah Mau was one of the 62 Hawaiian women who first arrived in Southern Texas in May 1997, at the Crystal City Correctional Center, 40 miles from the Mexico border. The facility was in dire shape, and the heat extremes were completely unfamiliar to the prisoners, according to local news reports. But the prisoners, including Mau, seemed to do what they could to fit in. There, Mau gained the trust of the guards and facility officials, and was even allowed outside of facility walls on work detail.
In August 1998, 64 Hawaiian women were moved to the Central Oklahoma Correctional Facility (COCF) in McLoud, newly built by the Correctional Services Corporation. The women seemed to accept the situation because, at least, the living conditions were acceptable. That is, until February 2003, when the Oklahoma Department of Corrections announced its intent to purchase that facility. By late summer of that year, the Hawaiian women reported to the Hawaii Department of Public Safety (DPS) that the overall operations and security of COCF had gone downhill. According to reports received by Kat Brady, coordinator of the Community Alliance on Prisons in Honolulu, the situation involved disgruntled unionized staff, lack of programs, sick leave abuse and "staff having sexual relationships with inmates."
The Hawaii DPS decided to move the women to another facility. On Aug. 1, 2004, the 64 Hawaiian women were transferred to the Brush Correctional Facility (BCF) in Colorado. There, according to Brady, things went from bad to worse. At BCF, the women were discouraged by leaky rooftops, broken plumbing, lack of drug treatment programs and inadequate medical care.
BCF prison employees were hired quickly and, as it turned out, without the requisite background checks. Allegations of sexual harassment and abuse were soon to follow. Initially dismissed by GRW internal investigators, many of the charges turned out to be true. Not only had five convicted felons been hired as staff members, but four prison employees were ultimately charged and convicted of criminal offenses ranging from running a cigarette smuggling ring to sexually abusing female prisoners. BCF's prison warden resigned and was later indicted as an accomplice in one of the sexual misconduct cases.
It was time to send the women somewhere else. That is, anywhere but back home, where the state's sole female prison was packing three women into cells designed to accommodate one to two prisoners.
---

Silja J.A. Talvi
Silja J.A. Talvi, a senior editor at In These Times, is an investigative journalist and essayist with credits in many dozens of newspapers and magazines nationwide, including The Nation, Salon, Santa Fe Reporter, Utne, and the Christian Science Monitor.
if you like this, check out:
View Comments