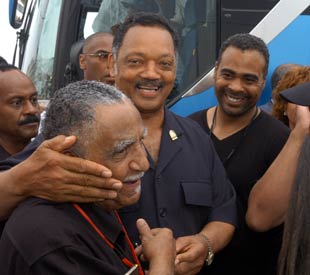 Features » September 5, 2006
Bigger Than Hip Hop
A look at the state of black political leadership
"It's bigger!" roared T.J. Crawford. "It's bigger!" the crowd shouted back, in traditional call-and-response fashion. "It's bigger than hip hop!"
Crawford, chairman of the National Hip Hop Political Convention (NHHPC), deployed the hook of a song by hip hop's iconic "conscious" group, dead prez, to bring home the point: Members of what marketers have labeled the "hip-hop generation" are concerned with much more than just nodding their heads to the beat. Politics is more important–bigger!–than music for activists who have felt swept aside and demobilized by black elders whose outlook was forged in the crucible of civil rights organizing. These young crews, along with the elders who hang with them on political issues, aim to seize leadership of what's left of the movement–although they're not quite sure how to do it.
Hip-hop politics emerged from the musical movement launched in the South Bronx in the late '70s–itself a reaction to the unfinished business, the arrested development, of black politics. The late-'60s demise of segregation allowed black professionals to escape the inner city, to climb corporate ladders and achieve elected offices. However, budding corporate executives and elected officials have little use for mass movements, except on election days or when corporate careers are threatened by institutional racism. As a class, these "New Negroes" left the rest of the African American population still locked in the ghetto, to their own devices.
"The birth of hip hop, the environment, grew out of the early '70s, police brutality, poverty, unemployment–all these social ills that were affecting marginalized and oppressed people," says Angelica Salazar, an ethnic studies major at University of California, Berkeley, and an activist in the Coalition for Black-Brown Unity and the NHHPC movement. "One of the reasons that hip hop has been so globally successful–so critical in reaching our people and crossing borders–is that every marginalized people who have been oppressed and put into 'reservations' can relate to that experience. You are trying to recreate what was stolen from you."
Looking to put black politics back on track, 4,000 people from across the nation, mostly but not entirely African American, flocked to multiple venues on Chicago's South Side for the convention. They hoped to build on the work of the first NHHPC, which took place in Newark, New Jersey in 2004.
The Chicago affair, like its Newark predecessor, strained to tackle the two fundamental questions that are constantly posed to younger blacks: Is there a generational divide among African American activists, or are the fissures more complicated? And how can the cultural force of hip hop be directed to affect social change?
The old school
Despite the gains that African Americans have made since segregation, social change is still very much needed. But a mass black movement has floundered. According to NAACP chairman Julian Bond, there were 10,000 separate anti-racist actions in the year 1963 alone. In the current era, one is hard-pressed to name a significant anti-racist demonstration in any given year.
While the older generation of civil rights activists is marching on, they're no longer at the front of the action. Last year, 20,000 braved Atlanta's August heat to demand reauthorization of the Voting Rights Act in a march organized by the NAACP, the Southern Christian Leadership Conference, Rainbow/PUSH Coalition, black churches and civic groups, and a strong union contingent. But considerably less than half the participants could reasonably be called youthful. "It was a significantly older crowd," says Bruce Dixon, Atlanta-based editor of BlackCommentator.com (of which I am executive editor) and longtime activist. "Back in the days when a real movement existed, the crowd would have been nine-tenths youth."
On the speakers' platform, among a cast that included Rev. Jesse Jackson, Harry Belafonte, and U.S. Reps. John Lewis (D-Ga.) and Maxine Waters (D-Calif.), the youngest notables were singer Stevie Wonder, age 55, and TV's Judge Greg Mathis, 45.
Similar demographics dominated the throng that attended the Millions More rally on Washington's Capitol Mall in October 2005. The seemingly endless list of speakers, although representing virtually every political tendency in Black America, included very few below age 50–and these tended to be entertainers. Despite the presence of a vocal Howard University contingent, the atmosphere was more picnic-like than militant–a Saturday gathering of mainly middle-aged folks.
Clearly, black movement politics has entered the geriatric stage–if, indeed, anything worthy of the term "movement" still exists.
The NAACP's youth and college councils number about 100,000 people–one-fifth of the claimed half-million overall membership of the only real mass organization in Black America. The Southern Christian Leadership Conference is no longer a mass organization, and has nothing like the Student Nonviolent Coordinating Committee (defunct since 1970) under its umbrella. The National Urban League has never been a mass grouping. Operation PUSH/Rainbow Coalition is Rev. Jackson's vehicle, and functions as he wishes. PUSH has not developed an independent youth group, or anything else independent of Rev. Jackson.
All too often, critics dismiss the lack of younger activists at the podium as a function of a black "generational divide." Could it be that simple?
Divided we fall
Not according to Rev. Lennox Yearwood, the 36-year-old head of the D.C.-based Hip Hop Caucus. Instead of a generational schism, he sees a "cultural and geographic divide" that developed after the death of Jim Crow provided an opening for spatial and economic mobility to those blacks positioned to take advantage of it.
Traditional black organizations were most concerned with servicing the goals of these aspiring populations, according to Rev. Yearwood. "The church and other institutions have gone from being usable institutions for the community to being institutionalized"–upholding rather that rattling the status quo. In contrast, he says, "Hip hop emerges out of the Black Power Movement, as a voice for the urban community."
Yearwood has been involved in an extraordinary range of political activities under the hip-hop umbrella, from Russell Simmons' Hip-Hop Summit Action Network to the AFL-CIO-affiliated Hip Hop Voices to Hip Hop U.N., "a coalition of all the hip-hop political organizations throughout the world." His organization describes itself as "a national and international coalition of hip hop, pop-culture, social and political organizations, community-based organizations, youth leadership organizations, and individuals who believe in the collective power of persons born after 1964."
In Jersey City, N.J., 25-year-old Hassan Salaam helps public school kids with their homework and teaches chess to youngsters through a National Urban League program. He's also a hip-hop activist with the Grassroots Artist Movement, which secures healthcare services for artists. Salaam is confident that his cadre of artists is in tune with the black political/cultural continuum.
"There's no difference to me," says Salaam, who equates Grandmaster Flash's classic "The Message" with the works of Duke Ellington and John Coltrane. "Within hip hop, we're talking about the same things the older people talk about."
Glen Ford
Glen Ford is executive editor of BlackCommentator.com. He is also the former owner and host of Rap It Up, the first nationally syndicated radio Hip Hop music show.
View Comments