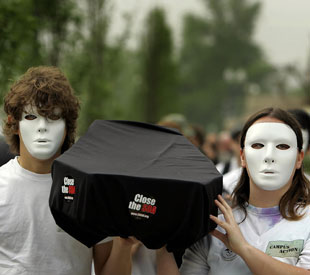 Act Locally » January 24, 2007
The End of the School of the Americas?
The annual protests against the School of the Americas–the U.S. Army's training institute for Latin American military leaders–are unlike any in the United States. Choreographed by Catholic activists, they eschew the militant rhetoric, providing a moving experience for both religious and secular activists.
The protests began in 1990 with some 10 people, and grew to their largest in 2006. Now, with a Democratic Congress and a changing political climate in Latin America, they have an opportunity to close the School of the Americas for good.
On November 19, some 22,000 people took part in the 16th annual protest in front of the gates of Fort Benning in Georgia. On a stage, organizers from School of the Americas Watch (SOAW) read off the names of most revered "saints"–victims of repression in Latin America whose tormenters had been trained by the School of the Americas (now called the Western Hemisphere Institute of Security Cooperation–WHINSEC). First on the list were some of those killed in El Salvador in the '80s: Archbishop Oscar Romero, the four American religious women, and six Jesuits, their housekeeper and her daughter.
This year, only 16 protesters committed civil disobedience by "crossing the line"–that is, crawling under or through the wire mesh fence that encircles the base to face immediate arrest for trespassing and a likely three-month sentence. Last year, 32 were arrested and served time in jail as "prisoners of conscience." (I was one of them and served three months at Danbury Prison Camp in Connecticut.)
Organizers and participants believe that the school's days are numbered. Recently elected leaders like Evo Morales and Michelle Bachelet, both former activists, have intimate knowledge of the repressive tendencies of the U.S.-trained militaries in their countries.
Maryknoll priest Roy Bourgeois, founder of SOAW, crisscrossed South America last year, asking leaders and human rights groups to urge their governments to stop sending soldiers to the school. "There is no need to explain the atrocities of the SOA, as the people of Uruguay are fully aware of this reality, having experienced first hand the horrors of the tortures, detentions, imprisonments and 'disappearances' caused by its graduates," Azucena Berrutti, the newly appointed Defense Minister of Uruguay and a former human rights lawyer said recently.
So far, Venezuela, Uruguay and Argentina officials have said that none of their military personnel will be sent to the school. But according to the Center for International Policy Web site, those countries accounted for only 2 percent of the students last year. Countries with continuing human rights abuses and a culture of impunity are the major participants: Colombia (42 percent), Honduras (15 percent) and Peru (11 percent).
On the home front, efforts to close the school through congressional action look brighter. Last June, an amendment sponsored by Reps. Jim McGovern (D-Mass.) and John Lewis (D-Ga.) that would cut funding for the SOA/WHINSEC was defeated by a 15-vote margin. Pat Bowman, legislative coordinator for SOAW, was elated as the November election returns came in. "It's fantastic," she wrote in an e-mail. "Thirty-five of our opponents lost their seats in Congress, 23 of which were replaced by Democrats. This is about double the margin of victory we need next year!" McGovern will reintroduce legislation in the 110th Congress.
---
Help Support Our Fall Fundraising Drive
Here's a sobering fact: Over the past 20 years, journalism has lost jobs at a faster rate than the coal mining industry. Far too many excellent publications have disappeared completely.
But because of supporters like you, In These Times has been able to walk a different path. We are not managed by a corporate parent company, nor are we dependent on one benevolent philanthropist. Instead, we are supported by individual donations from you and thousands of other readers like you.
This is our promise to you: We'll keep publishing as long as you keep supporting In These Times. Please, make a tax-deductible donation today to help keep In These Times going strong.
Robin Lloyd
Robin Lloyd is a filmmaker and activist who "crossed the line" last year and served three months in the Danbury Prison Camp.
if you like this, check out:
View Comments