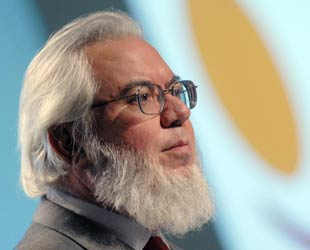 Features » February 7, 2007
Solidarity Without Borders
Confronted with multinationals and business-friendly trade agreements, unions have begun to act globally
With John Lennon's "Imagine" playing in the background, more than 1,000 leaders of service and technology unions from around the world gathered in Chicago in the fall of 2005. As delegates at the Union Network International (UNI) convention, they represented about 15 million workers in 140 countries. The challenge they faced was laid out in bold by the banner before them: "Global companies require global organizing, global unions."
It's an idea that's as old as it is new. Back in 1848, Marx and Engels exhorted the workers of the world to unite, and in the late 19th century, during an earlier wave of globalization, confederations of unions in similar industries–like metalworking–began to form across borders. But in the United States and elsewhere, the idea remains new and alien to many labor leaders, even as those same international union groupings–now called Global Union Federations (GUFs)–confront a seemingly borderless economy dominated by transnational corporations.
Despite the long history of global federations, no real global union exists. "For a union to exist at any place and any time, there are many preconditions," says Ron Oswald, general secretary of the International Union of Foodworkers (IUF), one of the most imaginative global union federations. "First workers [must] know there's a union, and employers [must] know there's a union. I'm not sure any worker or employer knows there's a global union. It's a brand, not a reality. International companies are clearly a reality. International unions have yet to become so."
There are signs that global unions may become more than mere brands. Alexandra Figus is one of the small indicators of progress. Twenty-seven years ago, Figus, 51, emigrated from Poland to Chicago, where she became a janitor and leader in her Service Employees International Union (SEIU) local. Last September, she flew to Warsaw to help organize security guards as part of a multinational security industry unionizing campaign.
"I was so inspired that so many people they want solidarity to take care of their problems," Figus says. "They know a single worker cannot do nothing. They were very interested what was my experience. They listened to me. These are kids of those who created Solidarity. We told them what you can get if stick together."
The long detour
Workers have been acting together across borders for a long time. The eight-hour day movement of the late 19th century was international, and the Haymarket incident in Chicago was commemorated as May Day, the international workers' holiday. But two world wars, a global Depression and the Cold War disrupted globalization of both capital and the labor movement. Unions in richer countries often scored their political gains by creating national welfare states and using national governments to reinforce trade union power.
International solidarity was often a one-way affair, from rich countries to poorer ones, including expressions of solidarity to jailed unionists. U.S. unions often subordinated their work to their country's anti-communist foreign policy. International labor elites focused on groups such as the 88-year old International Labor Organization (ILO)–a Geneva-based United Nations institution composed of government, business and labor representatives who establish rights and standards for workers globally, but can do little to enforce their directives.
The contemporary global economy presents labor with a double challenge in regards to global solidarity. On the one hand, corporations push workers into competition over who gets jobs and investment, especially in highly mobile manufacturing or digitized services. At the same time, unions, even in rich countries, realize that they can–and often must–work together to confront those corporations and to lift the standards of working conditions everywhere.
Last November, the 57-year old International Confederation of Free Trade Unions–the world's largest organization of national union federations–merged with a smaller world federation of unions aligned with Christian Democratic political parties, as well as several independent federations, such as the communist-oriented GGT of France. Stan Gacek, AFL-CIO assistant director of international affairs, calls it a "major quantum leap, in terms of organization of the labor movement on a global basis."
Guy Ryder, general secretary of the newly expanded federation, now called the International Trade Union Confederation (ITUC), says that the politics of the merger were as important as its size, roughly 168 million workers. "This would have been almost unimaginable even four years ago," Ryder says. "Unions saw the Cold War as an element of division in the labor movement, even 15 years after the end of the Cold War."
The merger also created a closer alliance between the ITUC and the GUFs. As a result, the GUFs will focus more on organizing and bargaining by industry and corporation, leaving broader political work to the ITUC.
"The key on global work is to figure out ways to do global grassroots action, not meetings," says Larry Cohen, president of the Communications Workers of America. "For a hundred years, too much has been about sending leaders to meet and dine together, which is great for building relationships, but we're looking for global events, ways for people to act together."
The revolutions in communications and transportation that enabled corporate globalization–such as cheaper airfares and the Internet–make it easier for workers around the world to connect. Korean workers can send videos of their participation at a Haymarket rally in Chicago over their cell phones back to a rally of co-workers in Korea. "We couldn't even begin to think about doing the work we do without the Internet," says Christy Hoffman, an SEIU official who serves as the European-based organizing director for UNI's property services division.
Eric Lee, founder of the LabourStart Web site, which mobilizes labor supporters around global causes, says that the Internet greatly increases the speed and numbers of activists responding to a crisis–like a successful campaign to reverse the firing of an Irish union shop steward for wearing her union pin. It has also increased the involvement of grassroots activists. "International solidarity work has penetrated to the shop floor level," he says, "and hundreds of times as many people are involved in global solidarity work."
A cold splash of reality
Unions are seeking other ways to meet global capital on a more level playing field. In January, several unions–Amicus and the Transport and General Workers Union (T&G), two of Britain's largest unions; IG Metall (the giant German metalworkers union); and the Steelworker and Machinist unions in the United States–announced plans for a new "super union." The proposal is still just a "theoretical concept," says Steelworkers' International Affairs Director Gerald Fernandez, but other unions are also talking about forming joint cross-border unions. And the Farm Labor Organizing Committee already organizes in both Mexico and the United States to represent largely migrant workers in North Carolina and Ohio.
Yet a cold splash of reality is needed. Easier communication and the consolidating forces of global capital may help unite unions, but language, institutional structures, levels of economic development, national identity, strategic differences, and national labor laws and traditions all act as dividers. At a time when the former "international unions" covering neighboring countries like Canada and the United States continue to separate into national unions, creating global unions will not be easy. For the foreseeable future, the challenge will simply be to increase global cooperation and coordination.
Part of the problem is the weakness of what passes for global governance and labor law. Today, the most powerful global governance of the world economy comes from institutions like the World Trade Organization and the International Monetary Fund, which tilt against labor. Although it often appears that corporations write the rules of the new global economy, they still rely on governments to do their bidding. By using their economic and political power to change governments and laws, global unions can change those rules.
Labor unions around the world have agreed that international trade and economic agreements must include protection of labor rights. When no such protections exist, U.S. unions have increasingly used legal avenues to challenge corporations and both the U.S. and foreign governments. The AFL-CIO has taken cases to the ILO contesting the Bush administration's National Labor Relations Board decisions that restrict the right to organize. And Mexican and U.S. unions have filed NAFTA complaints about U.S. violations of the rights of Washington apple pickers and North Carolina state employees. The AFL-CIO also has used trade law to challenge labor rights violations in China and Jordan, but new free trade agreements have removed the threat of suspending trade preferences for violations of worker rights. And some unions have employed a powerful but controversial legal tool, the Alien Tort Claims Act. Used mainly by the International Labor Rights Fund–successfully against Chevron's slave labor practices in Burma–this law permits workers victimized overseas by U.S. corporations to sue in U.S. federal courts.
---

In These Times has been selected to participate in NewsMatch—the largest grassroots fundraising campaign for nonprofit news organizations.
For a limited time, when you make a tax-deductible donation to support our reporting, it will be matched dollar-for-dollar by the NewsMatch fund, doubling your impact.

David Moberg
David Moberg, a senior editor of In These Times, has been on the staff of the magazine since it began publishing in 1976. Before joining In These Times, he completed his work for a Ph.D. in anthropology at the University of Chicago and worked for Newsweek. He has received fellowships from the John D. and Catherine T. MacArthur Foundation and the Nation Institute for research on the new global economy. He can be reached at davidmoberg@inthesetimes.com.
View Comments