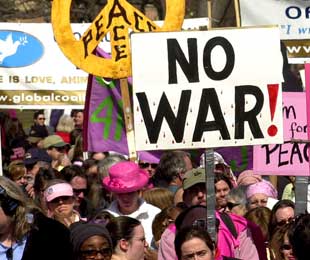 Features » May 23, 2007
Dancing Into the Majority
Once alienated, grassroots activists are finding ways to work with the Democratic Party establishment
When Michael Heaney served as a special guest to the Brookings Institution's Governance Studies Program in the fall of 2002, he couldn't ignore the growing anxiety surrounding the invasion of Iraq. After marching to the White House with a local CodePink chapter and attending larger rallies in D.C. that year, the budding political scientist–now an assistant professor at the University of Florida–took an interest in the makeup of the antiwar movement. "I just started noticing all of the organizational diversity of people there," he says, "and I got very interested in understanding the differences between these organizations, how they mobilize people, what they wanted and how they framed their arguments."
This curiosity led him to team up with Indiana University sociologist Fabio Rojas, and together they coined the term "Party in the Street" to describe a "set of individuals and organizations that are both part of a grassroots social movement and that identify and work with a political party."
Their research, to be published in July in American Politics Research, found that many left-leaning Americans navigate between social movements and the Democratic Party. In surveys distributed at large rallies and conventions in 2004 and 2005, Heaney and Rojas discovered that a plurality of antiwar activists identified as Democrats (40 percent) or articulated some willingness to work with or vote for the party (39 percent). On the other hand, 20 percent of participants identified as members of a third party, which implies that they think organizing under the Democratic tent is counterproductive. From this data, Heaney and Rojas conclude that many social movement activists are beginning to embrace the opportunities the Democratic Party provides in order to achieve their loftier movement goals.
Radio host Laura Flanders, who explores grassroots insurgencies across the country in her new book Blue Grit: True Democrats Take Back Politics from the Politicians (excerpted on page 18), recognizes this phenomenon as well. "Organizations that for years would have defined themselves as movement groups that eschewed electoral politics and never expected to get anything from politicians are deciding to get involved," she says.
Swelling the ranks
Numerous factors contribute to the recent surge in grassroots political organizing, but popular frustration with the Bush administration is central. Heaney points to "a deep dissatisfaction with the direction of our country, especially with the way President Bush responded to 9/11 and the way that the Iraq war [has gone] and all the mistakes that were made and lies that were told." The political momentum created by war protesters also helps activate people to fight other injustices perpetuated by Bush and his Republican cohorts, as shown by the immigrant-rights marches held in cities across the country.
But it's not only anger with Bush that is causing movement-partisan organizations to expand. Lackluster leadership from establishment Democrats, many of whom remain timid on economic and social issues and hawkish on the war, has galvanized disillusioned Democrats and outside activists alike to seek another political path.
"We've learned from issue after issue, going back to the Clinton era and earlier, that electing Democrats is just not enough to move our society forward," says Jeff Cohen, founder of Fairness and Accuracy In Reporting and a media adviser to the Progressive Democrats of America (PDA), a progressive political organization and a grassroots PAC operating inside the Democratic Party. "You need to elect Democrats with backbone and with principles."
Indeed, more and more progressives who refused to support spineless Democrats and instead backed unsuccessful third-party candidates have come to understand the pragmatic necessity of working within the Democratic Party.
In an electoral system based on winning a plurality of votes, rather than some form of proportional representation, Democrats hold a striking advantage over outside challengers. "In a study of the percentage of Socialist or Social Democratic party members in national legislatures across the world, only South Africa had less–zero–than the two who made it to the [U.S.] House of Representatives a few times in the first quarter of the twentieth century," G. William Domhoff, a sociologist at the University of California, Santa Cruz, notes on his website. "More leftists were elected to Congress in the '30s and early '40s as Democrats … than were ever earlier elected as socialists." The only way for progressives to beat Democrats, then, is to join them.
PDA's innovative approach
That's the goal of PDA, perhaps the national organization that most closely reflects the model posited by Heaney and Rojas. Founded in Roxbury, Mass., during the 2004 Democratic National Convention–primarily by delegates and activists from the campaigns of Howard Dean and Rep. Dennis Kucinich (D-Ohio)–PDA is attempting to carve out a space for progressives in the Democratic Party.
The members of this grassroots association are going about that task using a strategy they call "Inside/Outside," meaning PDA runs candidates and lobbies members inside the Democratic Party while allying themselves outside the electoral arena with organizations that work to promote its five stated priorities: ending the Iraq war, universal health care, fair and clean elections, economic justice and environmental sustainability.
"I see Inside/Outside as absolutely essential," says Bill Honigman, PDA's California state coordinator. "There are going to be times when the party needs to be shook up a little, and the only way to do that is from the outside. By the same token, you can't do it all from the outside. You have to be involved in the party to change things when it's going the wrong way."
Dean's influence on PDA's structure is hard to ignore. At the local level, PDA hopes to set up individual chapters in all 435 congressional districts. This tactic is similar to the "50 State Strategy" Dean has employed as DNC chairman, which focuses on organizing Democrats in every voting precinct at all levels of government. So far, PDA National Director Tim Carpenter says that the group has established chapters in 120 districts, which he describes as at least "five folks coming together, pulling papers and meeting at least once a month." As in all substantial bottom-up organizing, their progress is slow, as evidenced by the dearth of local councils in less populated states like Delaware and Wyoming. But residents elsewhere are expressing great interest. Florida has 13 chapters and California now boasts 23 locals along with close allies in the state assembly's Progressive Caucus.
PDA also follows the fundraising model of the 2004 Dean campaign, relying almost entirely on sustainer donations that average $22 a month. These local chapters are where the action occurs, allowing PDA to organize in support of congressional actions or in response to lackluster representation. "We're trying to develop the grassroots so that we build up all of our communities and not just focus on ones that classify as swing districts," says Honigman.
In many ways, PDA has assumed the role of a party within a party by coordinating collective efforts of like-minded activists while at the same time running or endorsing candidates in certain circumstances. However, unlike the national Democratic Party, the goal is not nominal electoral majorities; PDA aims to transform the party into one dominated by progressive politicians, not corporate interests.
Through its willingness to apply more public forms of pressure like press conferences and teach-ins, PDA has earned national recognition. It was one of the first groups to publicize the infamous Downing Street Memo, which exposed another layer of White House deception in the run-up to the war, and it rallied activists around Ohio's voting irregularities in 2004. Members also pushed in early 2007 for a congressional debate on a fully funded withdrawal of all troops and military contractors from Iraq.
On the inside, PDA was active this past election season in various Democratic campaigns, including John Hall's victory in New York's 19th District. The local PDA chapter raised awareness of John Hall's progressivism by organizing events throughout northern Westchester County. Hall's press secretary Tom Staudter later credited PDA with generating vital momentum. While other PDA-endorsed candidates were not as successful, such as Christine Cegelis in Illinois' 6th District (who lost the Democratic primary by four percentage points to Tammy Duckworth, the favorite of the party establishment), PDA organizers think their local electoral organizing is laying the groundwork for sustainable influence down the road. "Chapters were organized prior to the campaign," says Carpenter, "they endorsed that candidate and at the end of that race they were stronger and more chapters came out of them."
Other movement organizing
PDA is not alone in its efforts. A variety of national organizations are simultaneously engaging in electoral work and standard movement organizing.
One prominent group is CodePink, the feminist antiwar group that was founded in 2002. Named with the Department of Homeland Security's color-coded alert system in mind, CodePink is known for its non-violent direct action campaigns. For example, in November 2002, CodePink members began a four-month vigil in front of the White House to oppose the Iraq invasion and have since repeatedly protested at high-profile political hearings and fundraisers.
---
What do you want to see from our coverage of the 2020 presidential candidates?
As our editorial team finalizes plans for our coverage of the 2020 Democratic primary, we want to hear from you:
What do you want to see from our campaign coverage, and which candidates are you most interested in?
It only takes a minute to answer this short, three-question survey, but your input will help shape our coverage in the months to come. That's why we want to make sure you have a chance to share your thoughts.
Adam Doster
Adam Doster, a contributing editor at In These Times, is a Chicago-based freelance writer and former reporter-blogger for Progress Illinois.
if you like this, check out:
View Comments