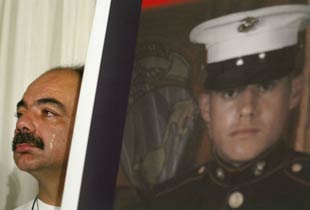 Features » July 25, 2007
Illegal Immigrants: Uncle Sam Wants You
Latino teenagers, including illegal immigrants are being recruited into the military with false promises.
In 1996, Jesus Alberto Suarez del Solar was a 13-year-old boy, up from Tijuana on a family shopping trip, when he stopped at a Marine Corps recruiting table at an open-air mall in Chula Vista, Calif.
Jesus had been an easy mark for the recruiter–a boy who fantasized that by joining the powerful, heroic U.S. Marines, he could help his own country fight drug lords. He gave the recruiter his address and phone number in Mexico, and the recruiter called him twice a week for the next two years, until he had talked Jesus into convincing his parents to move to California. Fernando and Rose Suarez sold their home and their laundry business and immigrated with their children to Escondido, where Jesus enrolled at a high school known for academic achievement. But the recruiter wanted him to transfer to a school for problem teenagers, since its requirements for graduation were lower and Jesus would be able to finish sooner. He was 17 and a half when he graduated from that school, still too young to enlist on his own, so his father co-signed the enlistment form, as the military requires for underage recruits.
Three years later, at the age of 20, his body was torn apart in Iraq by an American-made fragmentation grenade during the first week of the invasion. In the Pentagon's official Iraq casualty database, his death is number 74.
Now Jesus is in a cemetery in Escondido, and his parents, who blame each other for his death, are painfully and bitterly divorced. While his mother bears her loss as a private tragedy, Fernando, who has dual Mexican and American citizenship, is working tirelessly to protect other young immigrants from being manipulated by U.S. military recruiters–the way he wishes he had protected his son.
In the Iraq war, citizenship is being used as a recruiting tool aimed specifically at young immigrants, who are told that by enlisting, they will be able to quickly get citizenship for themselves (sometimes true, depending on what the Immigration and Customs Enforcement (ICE) branch of the Department of Homeland Security finds) and their entire families (not true; each family member has to go through a separate application process). Nevertheless, with the political pressures on Latino families growing daily under this administration, many young Latinos are unable to resist the offer, which immigrants' rights activists see as blatant exploitation of a vulnerable population.
From African American to Latino
Jesus, like the large majority of new military recruits, was signed up through the Delayed Entry Program (DEP), which operates in high schools, GED programs and home-schooling networks across the nation. The well-crafted messages on the DEP website have been in development ever since the draft ended and the all-volunteer military was initiated after Vietnam. The DEP's persuasion campaigns originally targeted black teenagers with the message that military service equaled jobs that promised equal treatment regardless of race. DEP recruiters were able to easily meet their quotas until the early '80s, when enlistment rates of young African Americans began to decline and the rates for Latinos began to rise for reasons the military did not understand. A 1995 article in Marketing Science, "The Navy Enlistment Marketing Experiment," noted that "a surprising development was the emergence of the Hispanic population as an important variable contributing to the pool of … contracts. Further investigation of the phenomenon is warranted."
Over the next decade, the military commissioned a number of studies on the relationship between race and ethnicity and the "propensity to enlist." For example, the Youth Attitude Tracking Survey, conducted between 1975 and 1999 and published by the Defense Technical Information Center, found a correlation between the rising educational achievement of blacks and lower enlistment rates; and between the low educational achievement of Latinos (particularly if their first language was not English) and rising enlistment rates. As Latinos became a more important source of recruits, the Pentagon hired market research firms to design advertising campaigns that addressed the issues they cared most about–pride in family, children in school and citizenship.
Today, the Navy, Marine Corps and Air Force recruitment campaigns focus largely on education and benefits to families. The Army's campaign, created by Cartel Impacto, a cutting-edge firm from San Antonio, uses the firm's proprietary "barrio anthropology" and grassroots "viral and guerilla marketing" techniques to "go deep into the neighborhoods and barrios" in order to tell Latino families how the military can help them have the kind of life they want in America. "We address the core issues of why they left their country in the first place," says a Cartel Impacto spokesperson, who did not want her name published. "You have to conduct your outreach carefully," she says, "using PTAs as an entry point," as well as "local Hispanic groups that the newly arrived would look to."
Recruit friends, earn bucks
These marketing campaigns support the work of recruiters who–as mandated by the No Child Left Behind Act–must have free access to students in every one of the country's public schools. Recruiters operating in high schools try to get children as young as 14 to sign up for the military's DEP, which allows them to finish high school before going on active duty. Under the program, these young "men and women," as recruiters are trained to call them, are targeted, tested, gifted, video-gamed, recruitment-faired and career-counseled into enlisting before they turn 18. They are also paid $2,000 for every friend they talk into signing up with them, and, until recently, were paid $50 for every name they brought in to a recruiter. The DEP website provides tips on how students can assist recruiters in signing up their friends. The student can:
· Provide your recruiter with names and numbers of anyone you know who is considering joining the military.
· Obtain the names and numbers of people who work with you or attend places you frequent and the best time to talk to them.
· Obtain the names and numbers of friends or acquaintances who sit with you in classes.
· Help your recruiter by screening his/her lists.
· Accompany your recruiter to places your friends normally hang out and make introductions.
In addition to cash, students who help recruiters to enlist their friends are promoted to a higher military rank, from Private E-1 to Private E-2, even before they are out of high school. The rewards are commensurate with the quality of the friends they recruit, as measured by their friends' ASVAB (Armed Services Vocational Aptitude Battery) scores. "You will get promoted to Private E-2," promises the DEP website, if your referrals lead to the enlistment of "one soldier who scores 50 or higher on the ASVAB," or "two soldiers who score 31-49." Private E-1s are paid $1,301 a month, while E-2s earn $1,458 per month. Further, getting a second high-scoring friend or two more low-scoring friends to enlist earns the student another promotion, to Private E-3, and kicks the entry pay up to $1,534 per month.
Another way DEPs can earn extra money is to volunteer for hazardous duty. Students who sign up to be in a combat unit, or to dismantle explosives, or to handle toxic chemicals, get an additional $150 per month on top of their basic pay. Volunteering for hazardous duty, however, is a relative concept. Since DEP recruits do not, by definition, have a college education, there are few other military occupations open to them, except if their ASVAB scores are high enough for them to qualify for advanced training. But with the greatest need in this war being combat soldiers–so much so that even highly trained Air Force personnel are being sent to work with Army ground troop units–the chances of any DEP recruit getting out of combat duty and its attendant hazards are slim. The ASVAB is also administered only in English; and any job requiring even a security clearance cannot be held by a non-citizen. The implications of these conditions for young immigrants can be deadly.
The Department of Defense's casualty database (http://icasualties.org) doesn't publicly break down the dead and injured by ethnic group, but a tally of Latino surnames found that between January 10 when the surge began and July 1, 20 percent of the 174 young people (aged 18-21) who died were likely to have been Latino (the military does not keep public data on the race or ethnicity of casualties). With the intensification of DEP recruiting efforts in largely Latino high schools since the invasion began, this is no surprise.
Legal illegals vs. illegal illegals
How many of these young Latino recruits are illegal immigrants? "Nobody knows," says Flavia Jimenez, an immigration policy analyst at the National Council of La Raza. "But what we do know is that recruiters may not be up to speed on everybody's legal status. … We also know that a significant number of [illegals] have died in Iraq." The recruitment of illegal immigrants is particularly intense in Los Angeles, where 75 percent of the high school students are Latino. "A lot of our students are undocumented," says Arlene Inouye, a teacher at Garfield High School in East Los Angeles, "and it's common knowledge that recruiters offer green cards." Inouye is the coordinator and founder of the Coalition Against Militarism in Our Schools (CAMS), a counter-recruitment organization that educates teenagers about deceptive recruiting practices. "The practice is pretty widespread all over the nation," she says, "especially in California and Texas. … The recruiters tell them, 'you'll be helping your family.' "
---

In These Times has been selected to participate in NewsMatch—the largest grassroots fundraising campaign for nonprofit news organizations.
For a limited time, when you make a tax-deductible donation to support our reporting, it will be matched dollar-for-dollar by the NewsMatch fund, doubling your impact.

Deborah Davis
View Comments