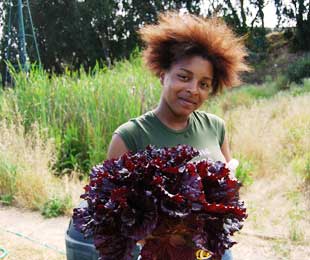 Features » August 24, 2007
Farming the Concrete Jungle
In cities across the country urban farmers are growing communities, greening the landscape and revolutionizing food politics.
At 9 a.m. on a cool, bright Saturday in mid-June, Robert Burns and Diana Baldelomar set up a farm stand outside the YMCA in Boston's Dorchester neighborhood. The stand is simple: a tent to keep out the sun, two folding tables set in an L-shape and a handful of zinc washtubs filled with two inches of water. In the tubs stand heads of green and red lettuce, greens, broccoli, and bunches of mint and basil.
When two women approach and ask the price of the greens, Baldelomar tells them that the turnip, mustard and collard greens are a dollar a bunch. "Honey," the woman says, "in this neighborhood, if someone asks you for greens, they are only talking about the collards." Her companion asks, "Did you ship it in from the country?"
"No ma'am. These are from right around the corner, West Cottage and Brook. We went out and harvested them this morning. You should stop by sometime."
Burns and Baldelomar work with the Food Project, a community-based urban agriculture program founded in 1991 to get Boston's youth involved in food production. Their West Cottage plot is one of four farms on vacant lots in the Dorchester neighborhood.
The Food Project is part of a growing urban agriculture movement to improve access to quality food in cities by creating local sources of fresh produce. The movement is showing that sustainable, local food systems are not only a way to ensure food security but also a means of addressing social justice issues.
And the movement is getting stronger. Community urban agriculture programs are gaining support from city governments desperate to increase green space and capitalize on public interest in environmental responsibility. As In These Times went to press, the 2007 farm bill had passed in the House of Representatives with a $30 million appropriation for community food projects.
"The biggest crisis in our food system is the lack of access to good, healthy, fresh food, for people living in cities, particularly in low-income communities," says Anna Lappé, co-founder with her mother Frances Moore Lappé of the Small Planet Institute. "Urban agriculture work is one of the most powerful solutions, because it brings food directly into the communities."
Not just another garden
In her book, City Bountiful: A Century of Community Gardening In America, Laura Lawson charts a movement that stretches back to the 1880s. Lawson, a professor of landscape architecture at the University of Illinois, Urbana-Champaign, says that urban gardening programs have had three missions: bringing nature to the city, offering educational opportunities to low-income and immigrant children, and cultivating a self-help ethos in a democratic space. "The garden itself," she writes, "is rarely the end goal but rather facilitates agendas that reach beyond the scope of gardening."
The Community Food Security Coalition (CFSC), a food policy organization with more than 200 member groups, defines urban agriculture as "the growing, processing, and distribution of food and other products through intensive plant cultivation and animal husbandry in and around cities." It divides urban agriculture into commercial farms, community gardens and backyard gardens. But programs like Boston's Food Project have begun to collapse such distinctions. They run commercial farms, but they also invest in their communities and create local supply networks.
According to the 2000 Census, 80 percent of the U.S. population lives in cities or suburbs. Food travels 25 percent farther that it did in 1980, and fruits and vegetables spend up to 14 days in transit. The CFSC notes, "Most fruit and vegetable varieties sold in supermarkets are chosen for their ability to withstand industrial harvesting equipment and extended travel, not for their taste or nutritional quality."
The Food Project began on Ward Cheney's farm in Lincoln, Mass., about 24 miles west of Boston, with the goal of strengthening young people's connection to the land. They started by busing city kids out to the country, but the group now farms five urban plots–a total of 2.5 acres. Each summer the Food Project employs 60 kids to work on both the urban and rural farms. After the summer, the youth can return as interns to learn how to run the project's farmers' markets and commercial kitchen.
In the Midwest, Growing Power runs three farms in Chicago, youth employment and education programs and a world famous vermiculture (worm compost) project.
In Oakland, Calif., People's Grocery operates five urban gardens in the largely black and Latino communities of West and North Oakland, as well as a youth nutrition program staffed by young people.
In Brooklyn, Added Value has turned an old asphalt baseball diamond into a full-functioning farm. And in Philadelphia, Mill Creek Farm is using storm runoff to irrigate its urban farm. Indeed, community agriculture projects are sprouting up in cities across the country–in San Francisco (Alemany Farm), Buffalo (Massachusetts Avenue Project), Birmingham, Ala. (Jones Valley Urban Farm), and Houston (Urban Harvest). According to the USDA, the number of farmers' markets has grown by 50 percent since 1994, and the federal Community Food Projects Competitive Grant Program is funding more than twice as many groups as it did a decade ago.
Beyond organic
The organic food movement is rapidly changing how America eats and grows its food. Between 1997 and 2001, farmers added a million acres of certified organic land, doubling the amount of organic pasture and more than doubling organic cropland. This reflects not just a rise of specialty retailers like Whole Foods. By 2003 organic products could be found in 73 percent of conventional grocery stores according to a USDA study, and last summer, the retail giant Wal-Mart began selling organics. But Erika Allen, development director of Growing Power, says the organic label doesn't tell the whole story. "There are organic farmers on the walls of Whole Foods who have some atrocious labor practices–atrocious. They're just like plantation owners. People don't know that."
Moreover, organic food is still largely inaccessible to low-income communities and communities of color. And the costs associated with being certified organic have led many urban agriculture programs to shy away from being certified. "We are what most folks would consider organic, but we're not certified," the Food Project's Burns says. "That's not as important to us. We're in the community; folks can just come by and see our practices. It's about transparency."
Accessibility is at the heart of what these groups call food security. "It's about everyone having access to culturally appropriate and nutritional food at all times," says Danielle Andrews, who heads up farming for Food Project's Dorchester plots.
"We're using food to make social connections," says Growing Power's Allen. "It's not just about growing food–it's about practices and how people form relationships, get comfortable with each other and learn to communicate through really owning the food system."
Forming such sustainable relationships inherently requires addressing issues of privilege. Growing Power manages a farm on the edge of Cabrini Green, Chicago's most notorious housing project. The site is owned by Fourth Presbyterian Church, the wealthiest congregations in the city. "The work that we're doing is social justice work," says Allen, who is bi-racial. "For white folks to support and ally with people of color and communities that are struggling, they have to understand that it's not just about knowing how to grow lettuce. It's important that people doing these projects are very transparent about why they're there."
Oases in the food desert
In West Oakland, home to City Slickers and People's Grocery, liquor stores outnumber grocery stores 40 to one. The most readily available food is fried. On the other side of the country, in Added Value's Brooklyn neighborhood, the last grocery store shut its doors in 2001. Federal studies classify such communities as "food insecure," but they are popularly known as "food deserts." A study in the June 2001 Journal of Nutrition found that women living in "food insecure" areas were more likely to be overweight and thus at risk for obesity-related illnesses like diabetes and heart disease.
To counter the harm caused by food deserts, urban agriculture focuses on high-density food production–optimizing the amount of food grown on the least amount of land. City Slicker grew 6,500 pounds of produce last year on less than one acre of land. "If the average person eats three to four hundred pounds of produce per year, that doesn't feed that many people," says City Slicker's Rosenthal. "But I'm not saying it's insignificant, because those couple dozen people improved their diet."
These projects also help people sustain themselves. Both City Slicker and Food Project run backyard gardening programs that provide lead testing to determine the safety of soil, wooden planters, seeds, seedlings and ongoing assistance for the life of the garden.
"Our backyard garden program fits with the idea that the human resources are here, what's lacking are the materials," says Willow Rosenthal, founder of City Slicker. "There are folks coming to us in their 20s and 40s saying, 'I really want to know how to do this. I remember farming when I was five with my grandmother.'"
Since the program's inception in 2005, City Slicker has helped build 50 backyard gardens and has set a goal of 50 per year in the future. "We're building a whole community of urban gardeners," says Rosenthal.
---
Help In These Times Continue Publishing
Progressive journalism is needed now more than ever, and In These Times needs you.
Like many nonprofits, we expect In These Times to struggle financially as a result of this crisis. But in a moment like this, we can't afford to scale back or be silent, not when so much is at stake. If it is within your means, please consider making an emergency donation to help fund our coverage during this critical time.
View Comments