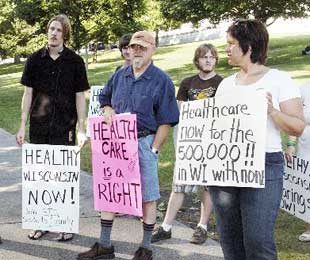 Act Locally » August 20, 2007
Universal Health Care for Wisconsin?
In late June, the Wisconsin state senate ratified "Healthy Wisconsin," a plan that is "the boldest and most comprehensive health care reform from any state," according to the Progressive States Network
With health care ranking near the top of voters' concerns nationally, state politicians around the country have been taking action to provide better health insurance coverage. Some states have expanded existing plans, such as Medicaid and the State Children's Health Insurance Program (SCHIP), despite the Bush administration's resistance to both. Others, like Vermont, Maine and Massachusetts, have recently launched plans that combine both requiring and subsidizing insurance.
Then in late June, the Wisconsin state senate ratified "Healthy Wisconsin," a plan that is "the boldest and most comprehensive health care reform from any state," according to the Progressive States Network, which monitors state legislation. It may become a model for other states or national universal health care.
Combining features of "single-payer" proposals that make a public plan the universal insurer with elements of market-oriented "managed competition" proposals, Healthy Wisconsin would cover virtually every state resident not insured under a public program, like Medicare. According to projections by the Lewin Group, a prominent health care consulting firm, it would also save individuals, employers and governments an estimated $13.8 billion on health insurance over the next decade.
A payroll tax of 10.5 percent on employers and 4 percent on employees collected by a new state commission would pay for the insurance. Wisconsin residents could choose between a statewide fee-for-service plan or regional health delivery systems made up of health care providers that meet strict standards, such as offering coverage for everyone regardless of pre-existing conditions and dedicating at least 92 percent of revenue to patient care. Everyone would be guaranteed an expanded version of the coverage state employees now receive, but unions and employers could enhance the insurance by offering additions, such as adult dental insurance.
A median income household, earning about $45,000 a year, would pay about $750 less per year for insurance, and employers who now provide employee health insurance would on average pay 15 percent less than they do now, allowing for workers to negotiate pay increases.
"The plan combines health security and choice, single payer and competitive choices," says Robert Kraig, communications and program director for Citizen Action of Wisconsin, a leading grassroots advocate of Healthy Wisconsin. Although insurance companies could still play a role, the law "redefines how insurance companies would operate," Kraig says. "It requires provider-driven networks, put together to encourage prevention and chronic disease management. Most insurance companies would have to completely reinvent the way they do business."
The tough regulations on the provider networks helped win a compromise between single-payer advocates and proponents of managed competition, says David Riemer, director of the Wisconsin Health Project, which has advocated managed competition.
On a party-line vote, Senate Democrats included Healthy Wisconsin in the state's budget, but the Republican-dominated Assembly did not, shifting the political struggle to a conference committee. Democratic Gov. Jim Doyle, who promoted an expansion of the state Medicaid program as more realistic, has not endorsed Healthy Wisconsin. With state business groups and national conservative organizations, like Club for Growth, attacking the plan, advocates may find it difficult to find enough Republican support in the Assembly to pass the legislation.
But advocates of universal health care got this far because of a long campaign of local forums, political organizing (including the ousting of four Republican senators last year by Democrats advocating universal health care), coalition-building, and painstaking forging of consensus of left and center. Some Republicans, including a former top aide to Tommy Thompson, the former governor and secretary of health and human services under Bush, have publicly supported the plan, as have many small business owners. In a survey by Celinda Lake taken before the plan was approved, even a majority of Wisconsin Republicans backed its features. More striking, after the same poll presented the strongest right-wing attacks on the proposal–a job-killing tax increase that would bloat government bureaucracy and attract illegal immigrants and welfare recipients to Wisconsin–67 percent of Wisconsinites surveyed still supported it.
With such strong grassroots support, advocates believe that, even if the plan doesn't pass this session, Democrats will be able to prevail next year.
"At the end of the day," Riemer says, "if it doesn't happen this year, it will happen."
---

David Moberg
David Moberg, a senior editor of In These Times, has been on the staff of the magazine since it began publishing in 1976. Before joining In These Times, he completed his work for a Ph.D. in anthropology at the University of Chicago and worked for Newsweek. He has received fellowships from the John D. and Catherine T. MacArthur Foundation and the Nation Institute for research on the new global economy. He can be reached at davidmoberg@inthesetimes.com.
View Comments