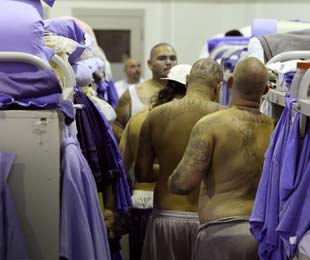 Features » October 22, 2007
Prison Breakdown
Overcrowding has pushed California's prison system to the brink
Halfway between Sacramento and San Francisco is Solano Correctional Facility, nestled against a series of rolling hills, on the outskirts of the small city of Vacaville.
From the prison's guard towers, the view is fairly beautiful: a Mediterranean-type vista of sun-browned grass and squat trees covering green hills, underneath the endlessly deep California sky. But from the windows of the dorms and cellblocks where the inmates live, all they can see is a slender patch of sky.
Inside some of the housing units at Solano, inmates take showers in rooms open to the entire dorm–including guards, both male and female. As naked men soap themselves off, other inmates go about their business in front of them. Hundreds of men share a handful of toilets, as well as the mildew-and-mold-infested open shower area. "There's maybe 10 operable toilets for 200 guys. You come back from chow in the morning, you stand in line 10-to-20 minutes to use the toilet," says 47-year-old Michael Donoho, a heavily tattooed repeat offender (drugs, robbery, spousal abuse).
Meanwhile, two one-time gyms–that in better days hosted boxing rings for prisoners–have served as "temporary" dorms since the mid-'90s. Today they house more than 200 inmates apiece. Prisoners are stacked on row after row of triple bunks, with three feet of floor space separating one bunk frame from another. Nobody expects the gyms to return to their intended function anytime soon.
Safety is also an issue. The top bunks in the gyms are well over five feet off the ground and have no railings around them. It is, according to prisoners, fairly common for slumbering third-tier inmates to roll off their narrow metal beds onto the hard floor during the night.
But the sounds of sleeping men falling aren't the only noises heard after dark. During the long hours of the night, two correctional officers walk the floor and one more stands watch on a raised tier with a gun at the ready. Prisoner representatives from every race sit awake, perched atop their bunks, grimly scanning the walkways in case a rival from another race-based gang decides to launch a small-hours attack.
In the summer, large industrial-scale fans never stop whirring, and when the voices cease in the hours between lights-out at 10 p.m. and the 3 a.m. wake-up for inmate culinary workers, their whir eats its way into the mind. Add in all of the other sounds of a large, security-based institution, and you have the ingredients for mental chaos.
"The whole time I've been locked up, I've never gotten more than three hours of good, solid sleep," says a 46-year-old inmate who is serving a six-year sentence on methamphetamine charges. "Alarms going off, guys running around, cops yelling. It's been a real eye-opening experience."
When Solano opened in 1984, it was intended to hold 2,610 inmates. Twelve years later, five dormitory buildings were added to the original structure, boosting the prison's capacity by a thousand inmates. No additional buildings have been added in the past 11 years, yet the sprawling, gray concrete and razor-wire institution now holds 6,111 prisoners.
On paper, Solano has some of the best vocational training programs of any prison in California, with a metal shop that makes snowplow blades for the California Department of Transportation and a lens shop that manufactures almost all spectacle lenses for Medi-Cal–the state's more expansive version of Medicaid–and Medicare recipients statewide. The facility also routinely places soon-to-be-paroled workers in free-world jobs, such as in lens labs and opticians' offices, around the state. But on any given day, Solano has thousands of idle inmates because there aren't enough jobs, education slots and drug addiction treatment spots available for the surplus prisoners.
"We do the best with the resources and staff that we have," says Public Information Officer Lt. Tim Wamble, as he sits in his tidy second-floor office, its window overlooking one of the guard towers. "There's no way you can have 6,111 jobs or seats in classrooms. The rest go on waiting lists. Which means they're hanging out in the yard till something opens up for them."
————————-
California's experiment in wholesale incarceration is one of the great policy failures of our times. Thirty years ago, California had 12 prisons and fewer than 30,000 prisoners. Today, after a generation of "tough-on-crime" legislation pushed through the legislature and the initiative process–from three-strikes-and-you're-out to draconian anti-drug and anti-gang legislation–the state has close to 175,000 inmates living in 34 prisons. That means almost one in every 200 California residents is now a prisoner of the state. (And these numbers don't even include the tens of thousands more prisoners in county jails.) The annual cost to taxpayers is about $10 billion per year, just shy of the amount the state annually puts into its vaunted public university system. If current spending trends continue, California will soon be spending more on prisons than on universities.
Despite the massive funding, scandals have rocked the prison system since the '90s. At the Corcoran Supermax, guards organized "gladiatorial combats" between rival gang members on the prison yard and would end the fights by shooting the antagonists apart with rubber bullets. Faced with criminal investigations and a media outcry, correctional administrators promised top-to-bottom reform. They failed to deliver.
The state's youth authority has also been beset by scandals, with videos surfacing that show gangs of officers severely beating juvenile detainees. Large numbers of teens have been held in lockdown conditions that make it impossible for them to attend school. Not too many years ago, close to 10,000 teenagers and young adults under the age of 25 were held in these state-run, youth authority institutions, which were supposed to emphasize education and intensive rehabilitation. In practice, they have become little more than warehouses for young people whom the state has given up on. Today, these institutions hold only 2,500 teenagers and young adults, and current plans envision scaling the number to 1,500. Increasingly, as courts have lost confidence in the state system, juvenile offenders are instead being channeled into juvenile halls run by counties.
What's more, in the past decade, the state signed deeply unpopular sweetheart contracts with the politically powerful prison officers' trade union, the California Correctional Peace Officers Association (CCPOA). (The base salary for a long-time CCPOA member is now $73,000, and with overtime, many officers earn more than $100,000 a year.)
Perhaps most damning, by the early years of the century, California had a return-to-prison rate for parolees near 70 percent, which was worse than any other state. By contrast, as of December 2006, Florida's return-to-prison rate was 53 percent, New York's was 56 percent and Texas' was 25 percent, according to data collected by the Center for Evidence-Based Corrections at the University of California at Irvine.
In response, two years ago Gov. Arnold Schwarzenegger brought in new directors to run the system. He also hired a management consultant team, led by Cal State Northridge Professor Alan Glassman, to reform the way the various correctional bureaucracies functioned and to restore public confidence in their workings. At the same time, the state relaunched a multimillion-dollar research arm of the correctional system. Researchers, led by Professor Joan Petersilia from the University of California at Irvine's School of Social Ecology, had a mandate to study what sorts of programming most positively benefited prisoners.
Such a body had existed in the past and had been seen as being on the cutting edge of American criminology, with its strong emphasis on identifying and promoting rehabilitation strategies tailored to the individual. But it was scrapped during the heyday of tough-on-crime legislation in the '80s. Symbolically, as a part of this tilt back toward programming, in 2005, the state changed the name of the prison system from the Department of Corrections to the Department of Corrections and Rehabilitation.
But, one by one, the system's new reformers, led by Youth and Adult Correctional Authority Director Rod Hickman and Corrections and Rehabilitation Director Jeannie Woodford, resigned, disillusioned with the receding possibility for change. And the system's reputation headed further south, a reality publicly acknowledged by officials from Schwarzenegger to the chair of the state senate public safety committee to prison reform attorneys to Keith Jimenez, president of the CCPOA.
Facing at least the possibility of the entire prison system being placed under court control because of chronic overcrowding, panicked state politicians–urged on by Schwarzenegger–this year approved a $7.3 billion emergency measure, known as AB 900, to expand the system by a mammoth 53,000 beds.
————————-
Over three decades, the combination of political demagoguery and public fear has had a toxic effect on California's criminal justice system. A prime example is the Three Strikes law that passed in 1994 after the high-profile murder of 12-year-old Polly Klass by a violent repeat offender named Richard Allen Davis. Politicians promised the law would ensure that violent predators, rather than petty criminals, would be taken off the streets for at least 25 years. That's not how it has played out.
---

Sasha Abramsky
Sasha Abramsky is the author, most recently, of American Furies: Crime, Punishment, and Vengeance in the Age of Mass Imprisonment.
if you like this, check out:
View Comments