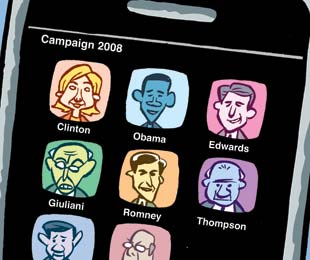 Features » November 26, 2007
iPower to the People
The perils and promise of point-and-click politics
The CNN/YouTube format is more entertaining than the standard, straitlaced snoozefest--a boon if the goal is basic voter engagement.
Grinning like a rock star, Democratic presidential candidate John Edwards strides out to a lighted platform in the center of a townhall gathering at the University of New Hampshire. With his glossy 'do flanked by the neon red-and-blue lightening bolts of the "Choose or Lose" logo affixed to the wall, Edwards nods and pauses to make deliberate eye contact with students in the audience. It's a made-for-MTV moment.
The first in a series of MySpace/MTV "presidential dialogues," the feel and format of this late-September forum stands in stark contrast to the previous night's party-sanctioned Democratic debate at Dartmouth College in New Hampshire. At that one, moderator Tim Russert controlled the debate with a firm hand. But pandering to the youth vote is nothing new–what sets this event apart is the way viewers interact with candidates.
Like other rejiggered debates in this campaign cycle, the ongoing MySpace/MTV presidential dialogues are the product of two forces reshaping voters' engagement with candidates. The first is a growing disgust with the mainstream press, expressed most strikingly by the surging popularity of citizen-generated media. The second is a public call for greater political access in the face of an imperial presidency and a weak Congress. The hope is that participatory politics will counteract voter apathy that results from top-down politics.
If we're to believe the hype, this is a banner moment for unmediated political action.
"Tired of scripted old-style presidential debates?" boasts the presidential dialogue webpage (www.myspace.com/election2008). "MySpace and MTV join forces to empower you to ask questions directly to top presidential candidates and respond to their answers in real time." This rhetoric of self-determination can get bossy: "Declare Yourself!" screams a blinking graphic. "Ask Questions!" advises a widget that allows users to launch MySpace's instant messaging (IM) software. "Spread the Word!" urges a tool that lets users link to the forum from their profile pages.
And, most importantly: "Vote." In the lingua franca of today's participatory politics, clicking on a button translates into democracy.
MTV correspondents Gideon Yago and SuChin Pak work the crowd. Yago announces that there will be "no delays, no censors, no tasers." Washington Post reporter Chris Cilizza fields IM questions and weighs in on live polling data. He seems put out being the mouthpiece for chatroom personae like "LunarGoddess68," who has a question about Edwards' education plan. Edwards answers even the most esoteric of student questions directly, and gamely responds to Cilizza's awkward interjections about real-time viewer response pie charts.
Viewers rate candidate responses with either "like it" (clicking buttons that indicate the candidate answered questions, understands reality or has good ideas) or "don't like it" (buttons that indicate the candidate dodged questions, is out of touch, has wrong ideas). As these things go, Edwards' appearance is a success. By the end, 94 percent of online respondents have given him "like it" ratings. Yet, MTV says, of the 2,300 people who submitted questions online, only three make it into the discussion.
From the point of view of candidates, this format is useful. Why pay for focus groups when you can crowdsource feedback for free? MySpace wins big too, gaining a seat at the table as an arbiter of presidential power. And MTV accrues gravitas to balance its other MySpace-inspired production: "A Shot at Love with Tila Tequila" (which promises viewers "hair pulling … ball-busting and, er, even some butt waxing").
But what about voters? Are we feeling empowered yet?
Democracy in the Internet age, baby
For decades, broadcast outlets have been both voters' main conduit to the candidates and the major financial beneficiaries of political campaigns. By the time the 2008 election rolls around, politicians and their allies will have spent $3 billion on advertising in traditional broadcast media, according to an April report from Wachovia Capital Markets.
But with user-driven digital platforms now quick at the heels of broadcasters, legacy journalism outlets are partnering with search engines, video-sharing sites and social networks in an attempt to remain relevant while still retaining the driver's seat.
July's CNN/YouTube presidential debate (www.youtube.com/debates) offered a hybrid of new media and old gatekeepers. YouTube users submitted nearly 3,000 video questions for Democratic candidates–including one from a climate-change obsessed snowman. Moderated by journalist Anderson Cooper, the debate featured 39 of them.
Critics like Matthew Yglesias, a blogger and associate editor at The Atlantic Monthly, complained that mainstream outlets are violating the open spirit of online communication. "Instead of delivering some sort of Politics 2.0," Yglesias wrote in the July 25 Guardian, "the [CNN/YouTube] debate only provided a further level of mediation between citizen and politician. The professional journalists portrayed themselves as liberated from any need to serve higher analytic functions … The questions themselves, meanwhile, tended to differ from the norm only by being more absurd and featuring performances of folksiness."
But the debate's broadcast was only part of the story. The submission of thousands of videos signaled the rising expectation that politicians can–and should–answer voters' questions.
After the broadcast, Community Counts, a site made up of volunteers who met on YouTube (www.communitycounts.us), launched a campaign to pressure candidates to respond to unanswered videos. Led by high school physics teacher David Colarusso, the site invited users to rank the questions. Several candidates answered the top-ranking ones, and users are already voting on videos submitted for the Nov. 28 CNN/YouTube Republican debate.
As James Koteki (YouTube name: EmergencyCheese) notes in the launch video for the Community Counts site, "It's democracy in the Internet age, baby."
Not your mother's media
Media and campaign professionals are right to be nervous about these new formats. Bloggers, podcasters and vloggers have served as reporters and commentators for several years, and now they are edging up as debate moderators. In mid-September, Yahoo! co-organized a "Democratic Candidate Mashup" with The Huffington Post and Slate (debates.news.yahoo.com). The mashup gave users a seat in the producer's chair, letting them choose from pre-recorded questions that journalist Charlie Rose and talk-show host Bill Maher posed to candidates.
The remixed debates are proving popular. While the selection of questions may limit the range of political discussion, the CNN/YouTube format is more entertaining than the standard, straitlaced snoozefest–a boon if the goal is basic voter engagement. According to Nielsen Media Research, the two-hour July broadcast delivered a higher viewership among adults between the ages of 18 and 34 than any other debate in cable history. And the on-air broadcast of the Edwards MySpace/MTV presidential dialogue was the number-one program for cable viewers aged 18-24 for that time slot.
But while these experiments open the floor for new voices and new questions, it's not as though citizen journalists have suddenly gained a mass audience, or that voters have traded broadcast consumption for face-to-face access to candidates. Instead, a fresh set of corporate powerbrokers is now mediating the relationship between audience and politician.
MySpace (owned by conservative media baron Rupert Murdoch), YouTube and Blogger (both owned by Google), and other similar platforms, are large commercial websites that harness citizen-driven media to draw ad share and position themselves in a hot investment market. While everyday people may be producing political media out of their own passion and sense of civic urgency, corporate sites are cashing in on their labor. And the ever-more-precise tailoring of Web content to consumer interests is raising privacy concerns.
Corporations such as Microsoft, Yahoo!, Time Warner and Google were among those spending more than $33 billion in "an ad industry-focused merger and acquisition spree," writes Jeff Chester of the Center for Digital Democracy in a recent article in The Nation. They've dropped "big bucks to acquire firms that collect, analyze and target us largely via stealth and highly sophisticated interactive ad technologies."
This Web 2.0 bubble is still far from bursting. More than half of all Americans between the ages of 12 and 17 use some online social networking site such as MySpace or Facebook, according to a survey by the Pew Internet and American Life Project. In late October, Microsoft announced that it would pay MySpace rival Facebook $240 million for a mere 1.6 percent stake in the site. This may not be your mother's media, but it's still big business.
Some foundations are getting into the digital mix, underwriting both for-profit and nonprofit media experiments that offer more open-content models. Leading the charge is the John S. and James L. Knight Foundation, which, in 2006, awarded MTV $700,000 for its plan to place a young reporter in every state to create weekly cell-phone videos on the election and other political issues.
Knight also partnered with MTV (and its corporate owner Viacom) on a "Young Creators" award (www.youngcreatorsaward.com), which will give up to $500,000 to innovators under 25 who have a winning proposal for a digital news project that helps to build community. The contest closed in mid-October.
---
Help In These Times Continue Publishing
Progressive journalism is needed now more than ever, and In These Times needs you.
Like many nonprofits, we expect In These Times to struggle financially as a result of this crisis. But in a moment like this, we can't afford to scale back or be silent, not when so much is at stake. If it is within your means, please consider making an emergency donation to help fund our coverage during this critical time.

Jessica Clark
Jessica Clark is a writer, editor and researcher, with more than 15 years of experience spanning commercial, educational, independent and public media production. Currently she is the Research Director for American University's Center for Social Media. She also writes a monthly column for PBS' MediaShift on new directions in public media. She is the author, with Tracy Van Slyke, of Beyond the Echo Chamber: Reshaping Politics Through Networked Progressive Media (2010, New Press).
View Comments