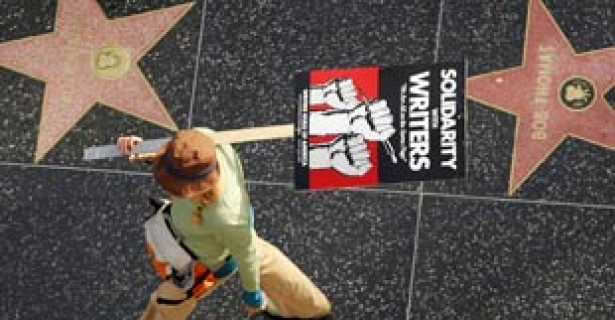 Features » December 12, 2007
Lights! Camera! Collective Action!
The Writers Guild of America strikes to secure a piece of the pie in the Digital Age
Starting on Nov. 5, 2007, America's television and movie writers left their solitary desks for the collective sidewalks of Los Angeles and New York, carrying placards ranging from the prosaic ("Writers Guild of America: On Strike") to the quirky ("They Wrong: We Write").
Actors, like Alec Baldwin, joined the pickets demanding a fair contract from entertainment producers for the Internet era. Or, like Susan Sarandon, they acted without intelligible dialogue in writer-produced "Speechless" Internet videos designed to underscore the importance of writers. Some entertainers provided food: doughnuts courtesy of Jay Leno, free meals at a restaurant near picket lines paid by comedian–and libertarian–Drew Carey.
Fans–like a "Battlestar Galactica" delegation–were also there, joining strikers in body and spirit. Polls from Pepperdine University, Survey USA and Variety showed that overwhelming majorities (roughly two-thirds of the general public and the entertainment industry) back the strikers. These same polls showed single-digit support for the industry, reflecting the convincing case Guild writers made: They wanted only a modest share of the bounty from new technologies.
With its celebrity patina, highly literate and occasionally well-paid strikers, high-tech controversies, and mobilization of support via the Internet, the strike by 10,500 members of the Writers Guild of America (both East and West) is unusual–and not only because strikes themselves are rare these days. But for all its distinctiveness, the strike revolves around issues familiar to most American workers: Management's use of new technology to disempower and underpay workers; executives' avoidance of unions through legal finagling; corporations' increasing concentration of power; a "winner-take-all" system of compensation that is grossly unequal; and corporate strategies that try to divide workers on minor issues to win on the bigger ones.
Ultimately, the Writers Guild struck for two reasons: Will it represent all writers in the film and television entertainment industry? And will those writers be fairly paid for all of their work?
The money writers seek includes residual payments for re-use or sale of material, regardless of the technology for distributing and viewing it–cable and broadcast TV, film, DVD, Internet, cell phone, game player, personal digital assistant or whatever next big thing develops.
"The Writers Guild strike is not all that complicated," says Cornell University's Jeff Grabelsky, who has worked with the entertainment unions. "'We wrote it. Are we going to make money off it?'"
Dude, where's my residual?
The Writers Guild, which organized as a real union in the '30s, has gone through similar conflicts with each change of technology–television, cable TV, videocassettes and DVDs. In 1960, the Guild struck for 151 days to win residual payments for films run on television and to establish a pension fund.
But in 1985, the studios outfoxed the Guild, whose two-week strike collapsed from its own internal divisions, and won much reduced residual payment for videocassettes and cable, arguing that they were new, untested technologies. Despite promises to do so, the producers never raised the residual rate–about a nickel on a $20 DVD–thus depriving writers of approximately $1.5 billion, according to the Writers Guild.
Now, both writers and the film industry face the rapidly expanding influence of the Internet, which has already roiled the music and news businesses. Increasingly, Internet users expect to find every kind of content they want for free, raising questions about how the creators of that content get paid. Users also want to provide their own material and to interact more with others on the web, not just watch a spectacle.
The entertainment industry has responded by selling programs through Apple's iTunes, posting TV shows on its own and other websites (with inescapable ads), and producing "Webisodes"–new, usually short material that appears exclusively on the Internet. But the Alliance of Motion Picture and Television Producers (AMPTP), the industry consortium that negotiates with entertainment unions, argues that it's unclear how companies will make money from the Internet. (It seems advertising, perhaps coupled with subscription fees, offers the most promise.)
The companies pay no residuals on Internet programming that they claim is just promotional. They pay minimal DVD residuals for some downloads, and they often pay nothing for short work written expressly for the Web. The Guild wants the same 2.5 percent of distributors' gross revenues as residuals on new media as it has had on traditional media.
Despite the Internet turmoil, Guild research shows growth in gross revenues in all business segments of the major entertainment companies, healthy profits and rising share prices.
As a Guild video clip of top executives' comments illustrates, the industry expects "golden opportunities" from the Internet. ABC already makes about $1.5 billion out of its $35 billion annual revenue from digital content, according to Robert Iger, president of Walt Disney Company, which owns ABC. Viacom Chairman Sumner Redstone says that his company "will double its revenues this year from digital." And CBS President Leslie Moonves says, "We will get paid for [content] regardless. …We're gonna get paid no matter where you get it from."
And the writers expect to get paid no matter how the companies decide to distribute their work. "We are agnostic about [what the new business model might be]," says Guild Assistant Executive Director Jeff Hermanson. "It doesn't matter what it is, if there's a percent of revenue formula for residuals." Such an arrangement would give producers the flexibility they claim to need.
Just before the strike, the Guild dropped its demands to double DVD residuals (now around one-third of a cent for each dollar of revenue), calculating that DVD sales will likely decline as downloading grows.
But when negotiations resumed after Thanksgiving, the industry still took a hard line. The studios offered only $250 a year for streaming an hour-long television program on the Internet (and nothing for theatrical films or any programming they consider promotional). Yet the Financial Times reports that TV networks are likely to make $120 million through the web streaming of programs for 2007.
With the likelihood that much–if not all–of the film and television industry production will be distributed over the Internet in years to come, the Guild sees establishing writers' claims on new media as central to their future, both as writers and as a union.
"In about five years, everything will be streamed digitally into a computer with no production costs," says striker Collin Friesen, who has written for both film and television. "The Writers Guild said, 'Really, we're not going to get screwed again. We may be writers and not that smart at business, but we can figure that out.'"
But the issue is not just pay and residuals on the Internet. There's also the question of who will be in the union.
Divided and conquered
Twenty years ago, the Writers Guild of America represented 95 percent of film and TV writers. Now it represents about 55 percent. The industry expanded non-union operations with cable TV, then reality television, talent shows and animation series.
The Guild has organized much of the high-budget cable writers, as well as some writing for animation (like "The Simpsons") and, just last year, most of Comedy Central programming. However, writers for much of cable TV have no contractual protection.
In supposedly improvised reality shows, writers also play a central role. "The host's copy is always written in very traditional ways," Hermanson says. "Jokes are written for the judges on competition shows. Even so-called reality elements are designed ahead of time and edited after the fact by someone who is a storyteller."
Writers are almost unanimous in wanting to be covered by Guild contracts, Hermanson says, and a survey prepared for the Guild gives an idea of why: 91 percent of the roughly 1,000 writers for reality TV said they received no overtime pay, even though they worked on average 16 overtime hours per week. Contrary to producers' claims, the California Labor Commissioner recently ruled that a reality show writer was entitled to overtime pay. That could make employers liable for nearly $100 million in unpaid wages.
But corporate opposition and jurisdictional disputes with another entertainment union have stymied organizing of writers in reality and animation shows.
The 100,000-member International Alliance of Theatrical Stage Employees (IATSE) represents entertainment industry technical employees, and has long represented both editors and animators.
On reality TV shows, editors work alongside story producers to develop the stories. Hermanson says the Guild offered to organize the jobs jointly with IATSE, but IATSE expressed no interest. In fact, IATSE undermined a strike by story producers at "America's Next Top Model" who wanted to join the Guild. After they struck, IATSE intervened and claimed to represent both writers and editors. Since the Guild figured that the company would support IATSE's claim before the National Labor Relations Board, the Guild dropped its recognition petition.
ABOUT THIS AUTHOR
David Moberg, a senior editor of In These Times, has been on the staff of the magazine since it began publishing in 1976. Before joining In These Times, he completed his work for a Ph.D. in anthropology at the University of Chicago and worked for Newsweek. He has received fellowships from the John D. and Catherine T. MacArthur Foundation and the Nation Institute for research on the new global economy. He can be reached at davidmoberg@inthesetimes.com.