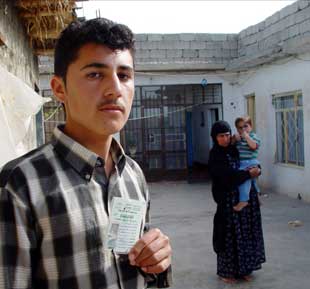 Features » April 21, 2008
They Can't Go Home Again
With their country ravaged by Bush's war, Iraqi refugees find the United States indifferent to their plight
On a rainy March morning, in a drab office complex off one of Metro Detroit's many expressways, I met Mona and Fadi Rabban.
In broken English, they greeted me graciously, keeping their heads slightly bowed. The diminutive Fadi was dressed in black jeans and a beat-up leather jacket. His beautiful middle-aged wife donned a thin, black cardigan and black slacks, which seemed less suitable for the Midwest winter.
Just six months earlier, the Rabbans had been in Jordan awaiting resettlement to the United States. Their arrival in America capped a journey that began in early 2006, when insurgents forced them to flee their Baghdad home.
Fadi, who was an accountant for 35 years, worked for a company that occasionally did business with American firms – which, in today's Iraqi capital, is a dangerous venture. "When they send you a threat, you have to do [as they say], otherwise they will kill you," he says. "They are serious about it, it's not like a joke."
In a war and occupation that has wrought innumerable, horrific consequences, the Iraqi refugee crisis is among the most disheartening. More than 4 million Iraqis – including the Rabbans – have been externally or internally displaced since the American invasion, and while their stories are ignored in much of the West, their forced migration constitutes a humanitarian and political crisis that has yet to be adequately addressed.
Iraqis flee
In the upcoming book War Without End: The Iraq Debacle in Context, Michael Schwartz, a sociologist at the State University of New York at Stony Brook, writes that Iraq has undergone three waves of displacement since the war began.
First, de-Baathification of the Iraqi government, the disbandment of the Iraqi military and the closing of state-owned industries in 2003 left hundreds of thousands of Iraqis with limited economic prospects. A kidnapping industry boomed shortly thereafter, forcing much of Iraq's moneyed and political elite – many of whom were targeted for ransom – to flee.
The second wave came a year later, when American troops began invading insurgent strongholds in cities such as Fallujah and Samarra. Neighborhoods turned into battlegrounds, further disrupting the lives of residents uninvolved in the conflict.
Finally, beginning in 2005, and escalating over the next two years, ethnic cleansing in Baghdad and elsewhere displaced what Schwartz calls "a tsunami" of citizens – young and old, rich and poor. The infamous February 2006 bombing of Samarra's Golden Dome, an honored Shiite shrine, accelerated the exodus. In all, the number of refugees is staggering, far outstripping the 900,000 Iraqis, primarily Kurds, who were internally displaced during former Iraqi President Saddam Hussein's brutal regime.
While people of all ethnic sects have been affected, Chaldean Catholics – like the Rabbans – have borne a disproportionate burden. Though Chaldeans make up only 3 percent of Iraq's population, conservative estimates suggest that 25 percent have fled to Syria or relocated to northern Iraq. Sunnis and Shiites have bombed Chaldean-owned businesses and Christian churches in Baghdad, Kirkuk and Mosul. And in one of the war's most high-profile kidnappings, Chaldean archbishop Paulos Faraj Rahho was abducted on Feb. 29 and his body found two weeks later, half buried in a shallow grave in Mosul.
"Communities that are not protected by larger groups that have militias, like Christian communities, have been especially hit hard," says Brian Katulis, a senior fellow at the Center for American Progress, whose work examines U.S. national security policy in the Middle East.
The Karanas are another such family. (Editor's Note: The names of both families have been changed at their request. No other facts have been altered.) Although reticent during our interview, Samir and his wife Ikhlas stressed, "the situation over there was not safe."
In 2005, Ikhlas was pregnant with their first son and Samir's jewelry business was tanking. Like many of their countrymen, they decided to pack up and move to Syria for some needed stability.
But life in neighboring nations is far from comfortable. Countries of asylum, particularly Syria and Jordan, are feeling the strain from influxes of Iraqis – approximately 1.5 million to Syria and 700,000 to Jordan since the war began. International nongovernmental organizations (NGOs) report that hospitals are overcrowded, and the Brookings Institution found that apartment rental prices in the Syrian capital of Damascus have tripled since the war broke out.
To make matters worse, many NGOs have been forced to deliver refugee services in major cities (as opposed to rural settings), which is difficult. Because the population is not concentrated in designated camps, refugees are harder to identify and reach.
Jake Kurtzer, a congressional advocate for Refugees International, notes that without protective status or strong humanitarian community support, refugees face enormous obstacles. "The personal dynamics of running out of resources," Kurtzer says, "have left Iraqis really in a very dire humanitarian situation."
For the Rabbans and their two sons, now 18 and 24, a $200 per month apartment in Jordan became a financial burden when no one in the family could find work. The problems didn't stop there.
"You're not allowed to take your kids to school, you have no medical insurance," Fadi says, "and they count you as an illegal resident, so if they catch you, they will throw you [back] over the border."
It's not much easier for the 2 million people who have relocated within Iraq's borders. Many Iraqi refugees live in substandard or overcrowded shelters, only 22 percent report regular access to food rations, 14 percent have no access to healthcare, 33 percent cannot access the medications they require and 31 percent report that their property is occupied, according to a January report by the International Organization for Migration. And the crisis is deepening.
Bureaucratic purgatory
Not surprisingly, a growing number of Iraqis – many of whom are running out of savings and weary of conflict – have attempted to resettle outside of the Middle East entirely. For those seeking refuge in the United States, southeast Michigan has become a popular destination.
Jumana Salamey, curator of education at the Arab American National Museum in the Detroit suburb of Dearborn, says that Christians from Syria and Lebanon began immigrating to Detroit at the turn of the 20th century, looking to establish economic security abroad by selling textiles or working in the burgeoning auto industry.
Another wave of Muslim and Christian Arab immigrants arrived after World War II, some hoping to continue their educations and others lured by their well-established families. Wars and political tension in Lebanon, the Palestinian territories, and Iraq led a third generation of expatriates to Detroit in the '70s, '80s and '90s.
Today, more than 150,00 Chaldean Americans and 300,000 Arab Americans call Metro Detroit home. For many, they considered this the Arab capital of the United States, home to Arab-owned businesses, mosques and the Arab American National Museum.
While in Jordan, the Rabbans had dreams of resettling in Detroit, both to join the vibrant Chaldean community and to reunite with their daughter, who had previously married and moved to the Detroit suburb of Farmington Hills. Gaining such a coveted resettlement allocation was a grueling process. Over a span of 18 months, the Rabbans were interviewed seven different times, first by representatives from the U.N. High Commissioner for Refugees (UNHCR), then by FBI agents.
"The interviews were very detailed and very hard," Fadi says. "They were so serious, they were taking every single bit of information from us." Field agents spared no details, verifying the consistency of their accounts, administering physical exams and running background checks. "You want to make sure all of the information is correct," he says, "but because the situation is so hard in Jordan, you feel that you want to make [the process] shorter."
The Karanas had a similar experience in Syria. Two years passed between the day they submitted their UNHCR application and their resettlement date in the Detroit suburb of Oak Park. They acknowledge they were lucky – only 10 percent of applicants who register for relocation qualify, according to the Christian Science Monitor – but that didn't make their time in bureaucratic purgatory move any faster.
Motor City blues
When the families arrived in Michigan, they found a community willing to help them assimilate, a unique regional attribute.
"The community is established already," says Rafat Ita, my translator and community resources coordinator for the Lutheran Social Services of Michigan (LSSM). "They walk in, they speak the language, and they feel like they are home."
LSSM, a state-funded nonprofit agency, helps refugees from across the world obtain housing, food, transportation and employment. It also provides refugees with translation services, English as a Second Language classes and some financial assistance.
---
Adam Doster
Adam Doster, a contributing editor at In These Times, is a Chicago-based freelance writer and former reporter-blogger for Progress Illinois.
View Comments