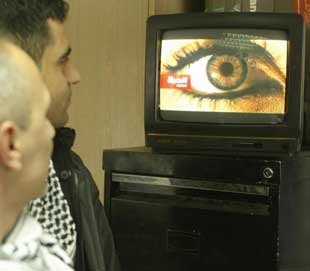 Features » June 4, 2008
No Strings Attached?
How U.S. funding of the world press corps may be buying influence
Domestic propaganda campaigns like the "Pentagon Pundits" fiasco have been exposed and decried. Mainstream media outlets hired high-ranking military officers to provide "analysis" about the war in Iraq. Turns out they had ties to military contractors with a vested interest in continuing the war.
Below the radar, another journalism scandal is brewing: the U.S. government is secretly funding foreign news outlets and journalists. Government bodies – including the State Department, the Department of Defense, the U.S. Agency for International Development (USAID), the National Endowment for Democracy (NED), the Broadcasting Board of Governors (BBG) and the U.S. Institute for Peace (USIP) – support "media development" in more than 70 countries. In These Times has found that these programs include funding hundreds of foreign nongovernmental organizations (NGOs), journalists, policy-makers, journalist associations, media outlets, training institutes and academic journalism faculties. Grant sizes can range from a few thousand to millions of dollars.
"The bottom line is that we are teaching the mechanics of journalism, whether it be print, television or radio," USAID spokesman Paul Koscak says. "How to do a story, how to write with balance … all of those types of things that you would expect in a professional piece that is published."
But some people, especially those outside the United States, see it differently.
"We think that the real issues here are the foreign policy objectives behind these media development programs," says a high-level Venezuelan diplomat who asked not to be identified. "When the objective is regime change, these programs have proven to be instruments for the destabilization of democratically elected governments that the United States doesn't support."
Isabel MacDonald, communications director at Fairness and Accuracy in Reporting (FAIR), a New York-based media watchdog nonprofit, is also critical. "This is a system that, despite its professed adherence to norms of objectivity, has often worked against real democracy," she says, "by stifling dissent and helping the U.S. government spread misinformation serviceable to U.S. foreign policy goals."
Show me the agency
Measuring the size and scope of independent media development is difficult because similar programs exist under different rubrics. Some agencies consider "media development" to be its own field, while other agencies categorize it under "public diplomacy" or "psychological operations." That makes it hard to figure out how much money goes into these programs.
In December 2007, the Center for International Media Assistance (CIMA) – a State Department-funded office at the National Endowment for Democracy (NED) – reported that in 2006, USAID doled out almost $53 million for foreign media development activities. According to the CIMA study, the State Department spent an estimated $15 million on such programs. NED's budget for media projects was an additional $11 million. And the small Washington, D.C.-based U.S. Institute for Peace may have contributed up to $1.4 million more, according to the report, which did not examine Defense Department or CIA media funding.
The U.S. government is by far the largest funder of media development in the world, giving more than $82 million in 2006 – not counting money from the Pentagon, the CIA or U.S. embassies in recipient countries. To complicate matters, many foreign NGOs and journalists receive media development funding from more than one U.S. government source. Some receive funding from various U.S. subcontractors and "independent international nonprofit organizations," while others receive money directly from the U.S. embassy in their country.
Three foreign journalists who receive U.S. media development funding told In These Times that such gifts do not affect their behavior or alter their reporting. And they deny that they practice self-censorship. None, however, would say this on the record.
Gustavo Guzmán, a former journalist and now Bolivian ambassador to the United States, says, "A journalist who receives such gifts is no longer a journalist, but becomes a mercenary."
A twisted history
The U.S. government's funding of foreign media has a long history. During the mid-'70s, in the aftermath of Watergate, two congressional investigations – the Church and Pike committees, after Sen. Frank Church (D-Idaho) and Rep. Otis Pike (D-N.Y.) – delved into covert U.S. government activities in other countries. They confirmed that, apart from CIA-funded journalists (both foreign and American), the U.S. government also subsidized foreign print media, radio and television outlets – something the Soviets were also doing. For instance, Encounter, an anti-communist literary magazine published in England from 1953 to 1990, was revealed to be a CIA operation in 1967. And, as is the case today, benign-sounding organizations, such as the Congress for Cultural Freedom, have also been CIA fronts.
Congressional investigations found that clandestine U.S. funding of foreign media often played a decisive role abroad, but nowhere more so than in Chile in the early '70s.
"The CIA's major propaganda operation, through the opposition newspaper El Mercurio, probably contributed most directly to the bloody overthrow of the Allende government and Chile's democracy," says Peter Kornbluh, senior analyst at the National Security Archive, an independent nongovernmental research institute.
In These Times asked the agency if it still funds foreign journalists. CIA Spokesman Paul Gimigliano responded, "The CIA does not, as a matter of course, publicly deny or confirm these kinds of allegations."
Enemies of the State Department?
On Aug. 19, 2002, the U.S. Embassy in Caracas, Venezuela, sent a cable to Washington. It read:
"We expect Mr. Lacayo's participation as an IV grantee to be directly reflected in his reporting on political and international topics. As he moves upward in his career, our improved ties with him would mean a potentially important friend in positions of editorial influence." [Editor's Note: Mr. Lacayo's name has been changed to protect his identity.]
The State Department had chosen the Venezuelan journalist to visit the U.S. under what is known as an IV grant – a cultural exchange program started in 1961. Last year, the department brought some 467 journalists to the United States at a cost of about $10 million, according to a State Department official who requested anonymity.
FAIR's MacDonald says that the "visits serve to build ties between the visiting foreign journalists and institutions that … are extremely uncritical of U.S. foreign policy and the corporate interests it serves."
The State Department funds media development through several of its bureaus, including the Bureau of Educational and Cultural Affairs, Bureau of Intelligence and Research (INR), and the Bureau of Democracy, Human Rights, and Labor (DRL), as well as through its regional bureaus and embassies worldwide. It also funds foreign journalists through another section called the Office of Public Diplomacy and Public Affairs. Most importantly, the State Department usually decides where other agencies, such as USAID and NED, should invest their media development funds.
(The State Department did not respond to In These Times' requests for information about its media development budget, but the 2007 CIMA study shows that in 2006, DRL, for instance, received almost $12 million for media development alone.)
The case of Bolivia is a revealing example of a country in which the United States has been funding media development. According to DRL's website, the bureau sponsored 15 workshops in Bolivia on freedom of the press and expression in 2006. "The country's journalists and journalism students discussed professional ethics, good reporting practices and the media's role in a democracy," the site says. "These programs were sent out to 200 radio stations in remote areas throughout the country."
In 2006, Bolivia elected Evo Morales, its first indigenous president, whose rise to power the U.S. government and Bolivia's mainstream press has repeatedly tried to impede. Morales and his supporters allege that the U.S. government is backing a separatist movement in Bolivia's gas-rich eastern states, and they allege that part of that backing involves media development meetings, according to journalist and former presidential spokesperson Alex Contreras. USAID's Koscak denies the charge.
This is the BBG
The Broadcasting Board of Governors (BBG), is most famous as the funder of the Voice of America. According to its website, BBG is "responsible for all U.S. government and government-sponsored, non-military, international broadcasting" that brings "news and information to people around the world in 60 languages."
---
What do you want to see from our coverage of the 2020 presidential candidates?
As our editorial team finalizes plans for our coverage of the 2020 Democratic primary, we want to hear from you:
What do you want to see from our campaign coverage, and which candidates are you most interested in?
It only takes a minute to answer this short, three-question survey, but your input will help shape our coverage in the months to come. That's why we want to make sure you have a chance to share your thoughts.
Jeremy Bigwood
Jeremy Bigwood is an investigative journalist and photojournalist with a background in science. He has written for the American Journalism Review, the Village Voice and many other publications. As a photojournalist covering the Central America civil wars from 1984-1994, his images were published worldwide.
View Comments