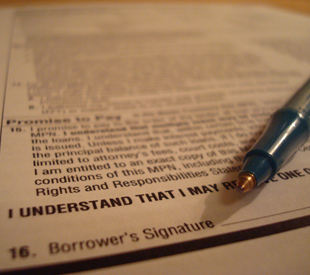 Act Locally » June 30, 2008
Hard Times for Student Borrowers
Kelly Lynch, a former Columbia College Chicago film and video major, is paying educational loan lender Sallie Mae $600 a month, about 1 percent of his total student loan debt of $60,000. Though Lynch, 21, never received his degree from Columbia and barely survives with freelance film and video work, he considers himself lucky.
Lynch consolidated his loans through Sallie Mae a few months before the nation's largest student loan lender suspended its student loan consolidation program in April. The policy shift left many other young borrowers with inflated interest rates.
"To leave college and enter the real world with such grave debt is a setup for failure," says Lynch. "What good are well-educated kids who, right out of the cradle, have major financial obligations before most own a house, a car or know where the nearest grocery store is?"
Sallie Mae's decision came in the midst of what many in the student loan industry call a crisis. From August 2007 to May 2008, at least 103 lenders stopped or suspended writing student loans, according to Finaid.org, a student-loan resource website. The companies that have stopped include Nelnet, the College Loan Corporation and CIT Group – among the nation's largest lenders.
In May, the Wall Street Journal reported that the private student loan market grew by as much as 25 percent a year for a decade. That momentum has evaporated. For the first time in 40 years, no bonds backed by student loans were purchased in the first quarter of 2008, according to Forbes.
"Lenders are just having difficulty raising the capital," says Kevin Bruns, executive director of America's Student Loan Providers, an industry trade group. "We're going into the summer months, when about 75 percent of the student loans are processed. So that means about 75 percent of $60 billion will be processed this summer, [but] there isn't $45 billion in capital in the system right now because lenders can't raise it."
And the government knows it.
The Department of Education is beginning to buy back student loans from companies that cannot sell them to other investors, and it will double the amount of money available for the federal government's direct loan program. But for students who already have loans and are having trouble consolidating, the recent legislation provides no reprieve.
Brett Novak graduated from Full Sail University in Orlando, Fla., with about $100,000 in Sallie Mae student loans. He no longer has the option to consolidate his loans. Beginning in June, he must start making his $1,000 monthly loan payment.
Novak, who works full time at a production company in Hollywood, Calif., says the six months he had before his repayment started went by faster than expected.
"At least my interest rate [at 9 percent] isn't as high as my girlfriend's, which is, like, 14 percent," says Novak.
Lynch and Novak are not alone. And organizations are springing up to raise awareness of the problems in the industry, which has taken a pounding since 2006, when scandals about kickbacks between universities and their preferred lenders surfaced.
On May 6, the nonprofit Mobilize.org released a report detailing the industry's effect on millennials, generally defined as those between 16 and 30 years old.
Cristina Gagnier, one of the report's authors, says most legislation ends up benefiting lenders, not the students affected by the problem.
She says that one area of particular interest to many millennials is the rapidly rising cost of higher education, which has soared in the past decade. The National Student Loan Debt Clock, a project of Student PIRGS (Public Interest Research Groups), calculates that as of May 27, U.S. students are $535 trillion in debt – and counting.
Support Progressive Journalism
Donations from readers like you make up a full third of our annual income—that's how critical our end-of-year fundraising drives are. If you want to continue to read independent, progressive journalism in 2019 and beyond, we hope you'll consider chipping in whatever you can today.
For a limited time, anyone who makes a donation of $5 or more to In These Times will get a free copy of Verso's best-selling 2019 Radical Diary and Weekly Planner.
James H. Ewert Jr.
James Ewert Jr., a former editorial intern at In These Times and graduate of Columbia College Chicago, is currently working as a freelance journalist in Chicago. His work has appeared in several Chicago and national publications.
View Comments