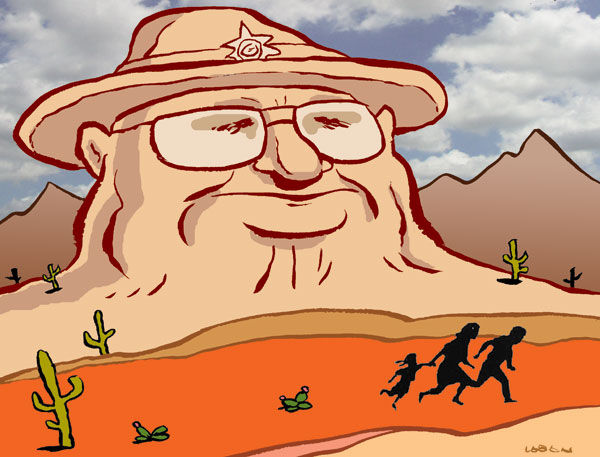 Features » November 12, 2008
The Selma of Immigration Rights
In Arizona, immigrants protest Sheriff Joe's nativist agenda
Many locals fear the sweeps might be test case for Operation Endgame, a 2003 ICE directive to 'remove all removable aliens' from the United States by 2012.
The battle began in front of a furniture store.
Like hundreds of other street corners, the intersection at 36th Street and Thomas Road in Phoenix was where immigrant workers arrived before dawn, hoping that someone would pick them up for a day's work in construction. But last October, the parking lot of Pruitt's furniture became more than a pick-up spot. First, the store's owner hired off-duty sheriff's deputies to act as security guards, claiming that the laborers were causing a disturbance.
Later that month, Maricopa County Sheriff Joe Arpaio, the self-proclaimed "toughest sheriff in America," decided to act on a handful of complaints he had received. He made Pruitt's parking lot the centerpiece of a neighborhood sweep. Arpaio's deputies began arresting undocumented immigrants in the neighborhood and turning them over to Immigrations and Customs Enforcement (ICE) for deportation proceedings.
In response, civil and immigrants' rights activists began gathering every Saturday outside the store, protesting what they believe were racially and ethnically motivated crackdowns. Soon, nativist groups from across the southwestern United States – with names like the Patriots Border Alliance and Mothers Against Illegal Aliens – arrived to counter-demonstrate. Waving American flags, the anti-immigrant crowd stood across the street, holding signs that declared support for the mass arrests, the closing of the Mexican border and the immediate deportation of all "illegal aliens."
The circus-like scene made for good TV, and Arpaio, a media hound by most accounts, seemed egged on by the protests. In a Dec. 5 sheriff's office press release, Arpaio said, "I will not give up. All the activists must stop their protest before I stop enforcing the law in that area."
Finally, in January, after more than 67 undocumented immigrants had been arrested, the owner of Pruitt's agreed to stop hiring off-duty officers.
Arpaio, however, wasn't done.
Modern-day Selma
The next few months saw several more sweeps – what Arpaio calls "crime suppressions" – in different parts of Maricopa County, netting about 240 arrests, according to a sheriff's department spokesperson. However, in a pattern of obfuscation that characterizes the Maricopa County Sheriff's Office (MCSO), the department claims it wasn't keeping arrest logs for the first four sweeps, so it isn't sure how many of those arrested were in the country illegally.
On June 27, during a typical sweep in the town of Mesa – also in Maricopa County – only 28 of 72 people arrested were undocumented immigrants, according to the sheriff's office.
An April raid in the dusty town of Guadalupe has become one of the most controversial. The town of 5,732 people, mostly Latinos and Native Americans, has no police force, so it contracts out its policing needs to the MCSO.
The two-day sweep netted 47 arrests, including nine undocumented people. And like the other pre-announced operations, the action brought hundreds of protesters into the streets.
The increased police presence has also scared residents from leaving their homes. Santino Bernasconi, a pastor at Our Lady of Guadalupe Catholic Church, says that some women were afraid to bring their children to confirmation ceremonies. His parish's mental health agency, Centro de Amistad, has seen a rise in anxiety disorders in children – fearful for themselves or, if they were born in the United States, fear they will lose their parents.
"I don't compare it in terms of what the Jews went through in Nazi Germany," says Bernasconi. "But a lot of our people are beginning to feel that syndrome like Anne Frank, of 'Who knows when the next knock on the door is the sheriff to cart off everybody?' "
Meanwhile, he adds, real crime in Guadalupe has gone unaddressed.
"[Arpaio's] got time to be stopping people because you got a broken headlight," Bernasconi says, "but he doesn't have time to provide the services that are much more serious. … And when we call them they don't show up."
During the sweeps, Guadalupe Mayor Rebecca Jimenez told Arpaio that she believed the arrests were instances of racial profiling and that she would begin looking into getting out of the contract with the MCSO and find another source for the town's law enforcement needs.
At first, Arpaio refused to back down, announcing in an April 4 press release that, "Even if they do [cancel the contract], the Sheriff still has jurisdiction here and I will still enforce the illegal immigration laws in that town."
However, in September, he decided to cancel the contract with Guadalupe himself. The sudden move resulted in lawsuits that accuse him of retaliating against Jimenez's free speech.
This stark divide now defines Maricopa County, which local activist Rick Romero calls the "Selma, Ala., of the immigrant rights movement."
Anti-immigrant cowboy
"Sheriff Joe" first gained fame after he created a tent-city prison in 1993 to prove that he could always find room for criminals, rather than release them early because of a lack of space.
In 110-degree heat, prisoners wear county-issued pink underwear, are allowed only a handful of educational TV channels, and are denied access to coffee, cigarettes, salt and pepper, and other vices that cost taxpayer money.
In 1995, Arpaio started a male chain gang, and an all-female chain gang soon followed. Sheriff Joe's prison philosophy – "If you don't like it, don't come back" – made him a hero with the tough-on-crime crowd.
When Arpaio decided to make immigrants his new target in 2005, he adopted some of the more extreme views of the anti-immigrant movement. Press releases from the Maricopa County Sheriff's Office refer to people smuggled into the country as "co-conspirators." It's a charge the office has levied on undocumented immigrants since 2005, when Arizona's human smuggling law, the toughest in the country, went into effect.
The MCSO has arrested more than 1,000 people under the law, which allows for Class 4 (two and a half years in prison for the first offense) felony charges to be filed against both the coyote – who smuggles people in – and those who are being transported.
In 2006, Arpaio had 160 of his deputies trained by ICE. The training, conducted under a federal agreement called 287-G, allowed deputies to arrest anyone they think is illegal and then refer them to ICE. If the deputy who pulls over a suspect isn't trained under 287-G, he or she can call for backup, so that a qualified officer comes to the scene.
Maricopa County isn't the only local U.S. agency training under 287-G – there are 63 active agreements with state and local agencies nationwide – but it's certainly the one most aggressively using it. Out of the 840 officers nationwide who have undergone 287-G training, nearly 20 percent are from Maricopa County.
Chief among Arpaio's enemies is Phoenix Mayor Phil Gordon, who wrote the FBI and Justice Department in April, asking them to investigate the sheriff for racial profiling and other civil rights abuses. (Arpaio told In These Times that the letter was "garbage.")
In response, anti-immigrant forces launched an effort in May to recall Gordon, but they failed to collect enough signatures to make the November ballot.
Gordon says Arpaio's consistent re-election over the past 16 years and high approval ratings are irrelevant.
"Whether the majority of the people support that individual is not the question with respect to whether the actions are legal," Gordon says. "The sheriff shouldn't be measuring what he's doing on the basis of polls."
Gordon says that a third of his community is Latino, and "if [the people are so] terrorized, legal or not legal, that they are afraid to come out and testify because the sheriff is going to arrest them, it is counterproductive to the safety of this community."
Magdalena Schwartz, assistant pastor at Iglesia Communidad de Vida church in Mesa, recounts stories about her parishners, many of whom are undocumented. There's the mother of six honor-roll students who was held in detention for three days, unable to call and tell her family where she was. There's the 17-year-old son of a permanent U.S. resident, ready to graduate high school, who was sent back to Guatemala, where he hadn't been since he was 3.
Worst of all was the girl who called the police to report that her boyfriend was abusing her. The police arrested her undocumented boyfriend – and also the girl.
"They asked [her] for ID, and she showed a Mexican ID, and they immediately said 'You are illegal here. OK, let's go,' " Schwartz recalls. "So what kind of confidence [can] we have now to call the police or the sheriff to report a crime?"
Operation Endgame
Compounding the sheriff's sweeps is that the MCSO hasn't collected any data about the detained. Sheriff's office spokesman Paul Chagalla told In These Times that the department doesn't keep data on the ethnicity of arrestees.
It wasn't until the fifth "crime suppression operation" that the MCSO began compiling arrest logs from each operation – a move that came only after repeated demands for information by the press and the public. That lack of hard numbers presents obstacles for legal tactics like a class-action lawsuit filed in July by the ACLU, Mexican American Legal Defense and Education Fund, and others that charges the MCSO with racial profiling.
"We have to be really smart about collecting the data that we need in order to put a stop to this," says Lydia Guzman, who founded Respect/Respeto – an organization with a 24-hour hotline for immigrants. Since its founding in January, Guzman's group has been receiving up to 50 calls per day.
Rick Romero, the chief organizer of the Citizens Walk for Human Dignity, a weeklong protest march from Tucson to Phoenix, says he has been asked for proof of citizenship several times – including once at a hospital, as a condition of admission for treatment. He says his wife has also been stopped and questioned.
"I learned because I've been pulled over so many times for various reasons that the only thing that really settles the argument is if you have a Social Security card," says Romero, who was born and raised in Arizona.
Many who joined Romero on the 120-mile journey focused their daily press conference comments on Operation Endgame, a 2003 ICE directive to "remove all removable aliens" from the United States by 2012. Some fear the major ICE raids this past summer in Iowa and Mississippi – and an increasing number of smaller raids throughout the country – could be a step toward Endgame's unattainable goal.
One of Endgame's written objectives, according to documents obtained by the Massachusetts ACLU, is to "enhance partnerships with local law enforcement agencies to develop, implement, and maintain an integrated system to share information, intelligence and resources, and to coordinate enforcement actions."
Cooperation between the MCSO and ICE certainly meets this objective, and many Arizonans believe their home state is a test case for whether the removal strategy can work on a national level.
---
Help In These Times Continue Publishing
Progressive journalism is needed now more than ever, and In These Times needs you.
Like many nonprofits, we expect In These Times to struggle financially as a result of this crisis. But in a moment like this, we can't afford to scale back or be silent, not when so much is at stake. If it is within your means, please consider making an emergency donation to help fund our coverage during this critical time.

Andrew Stelzer
Andrew Stelzer, a freelance journalist in Oakland, Calif., is a producer at "Making Contact," a weekly public affairs radio program. His reports have appeared on "The World," "Free Speech Radio News" and "Latino USA," among others. Stelzer has been a contributor to In These Times since 2005, and can be contacted at www.andrewstelzer.com.
View Comments