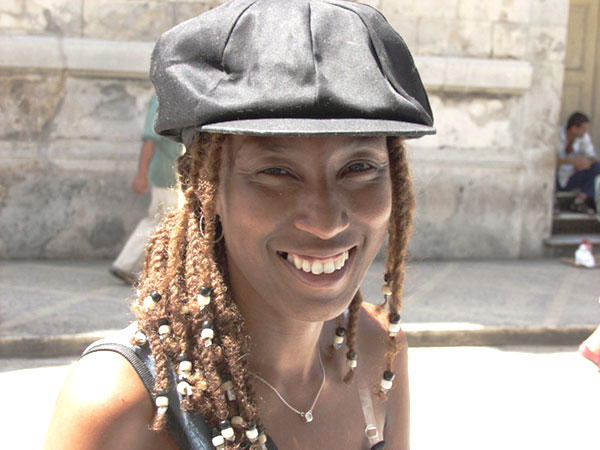 Features » December 9, 2009
INSIDE CUBA: A Day in My Life (Any Day)
The struggle, in the end, is always about money.
What am I wearing? Nothing lucky, that's what. I might as well be naked. And now I have to fight about money; it's always about money.
Today is the day I've decided to write about. I'm sitting on the top bunk in the room I share with my son Bayron, who asks me to change the channel on the TV. My sister asks about the entrance exams for a city college she wants to attend. Today's the day to deal with this blank sheet of paper. I imagine that I picked up a pencil last night, that I fell asleep with it in my hand, and that I'm ready for anything now.
Today's first challenge: my son's father has sent $300 U.S. I'm not the only beneficiary. Here's the note that accompanies the money:
"China (folks call me China):
Here's something to help out a little. Please copy this message for my family so there's no confusion.
–$80 for Bayron (our son), which includes what my mother owes you;
–$70 for my mother;
–$50 for my grandmother;
–$30 for Maribel;
–$30 for Papo;
–$30 for Omni and Zona Franca (our poetry and performance groups);
–$10 for my Aunt Zory, whose son is in prison."
"Momma, I'm hungry," my son says, poking his head out from the bunk below me.
"Then go get in the breadline."
"I don't want to."
"It's always the same with you: you never want to go get the bread. Can't you see I'm busy writing?"
The girl at the Western Union office, which sends the money "fast and secure" according to its slogan, gives me the money in five $20 U.S. bills, and the rest in tens. She asks if I want to exchange them for CUCs, Cuban convertible pesos (we have a third currency too, virtually worthless in our economy, the simple Cuban peso or CUP, which is about 25 to the U.S. dollar and a few more to equal one CUC). I tell her no, that the money isn't all for me.
The girl at Western Union hands me the twenties very carefully; they're torn. But, in the moment, I don't notice. I like her. We're chatting about family health problems: she tells me that a friend took her mother home from the hospital to take care of her, and I tell her how my mother, recently recovering from an ischemia, was put into a non-intensive-care room and was almost given the wrong injection.
I thank the girl and put the money in my day planner, not in my wallet, because I don't want to tempt the muggers. But when I get home and check the money, I realize all of the twenties are torn. I try to tape them up.
My father tells me he had a lot of trouble changing a torn bill. He ran around until he found a bank that would do it, but it took a big chunk as a fee because it was torn. I can't believe it: two percent that the State already deducts, plus another percentage because it's torn.
When I get to the currency exchange, the doorman tells me I probably won't be able to get the bills replaced because I didn't do the original transaction there. He suggests I go back to Western Union and ask the girl there to exchange them, in good faith. When I saw her ancient adding machine, I didn't want to trouble her and didn't ask for a receipt–in good faith!
I run to the bus stop, the money stuffed in my day planner. Once I'm on one of the broken seats, I think about how the girl at Western Union fooled me, how she lulled me with her conversation and then …
"Momma, I'm hungry! I already got the bread!" my son yells up at me again as he gets back in the bunk.
"Do you want me to make you garlic toast?"
My son says yes with a smile.
It's okay, this is how I write: with people talking, the TV blaring, the radio on … I get down, pad to the kitchen, make the toast and bring it in. Then I climb back up and try to find my place.
I'm on the bus thinking about that girl's face, the pitiful face she made when she looked at that old adding machine and didn't give me a receipt. Oh, I was stupid, so stupid!
I'm not afraid, I'm not afraid, I'm not afraid. It's just money for an old woman with cancer, for a young woman with epilepsy. How can I be afraid? My hands sweat when there's an argument, my heart throbs, my throat closes up. I imagine myself taking off my hoop earrings. Am I wearing my lucky elephant earrings? What am I wearing? Nothing lucky–that's what. I may as well be naked. And now I have to fight about money; it's always about money.
The bus leaves me a few blocks from the Western Union. I'm going to write all about this, and depending on how the girl at Western Union treats me, I'll decide if I believe in humanity. I walk quickly. As I hand my bag over to the bag-check woman, I explain why I'm here again.
"You should have checked the money. You're right to come back, though; they charge the family over there a lot to send it," she says to me in solidarity.
I approach the office door. There's no line. Good, because I plan on telling her, "Hey, you have to give me my money, okay? I'm not leaving until you give it to me, even if you call the police." That's what I'll do. This money is for my ex-mother-in-law who has cancer (and whom I hate) and for my ex-sister-in-law who has epilepsy (and whom I hate even more.) I push the door, then realize it's locked and the lights are off inside.
This is what I get for not wearing my wooden elephant earrings. I take a deep breath and look around. I hear the girl's voice from somewhere.
"I'll be there in a minute. I mopped the office and closed it so it could dry."
"China!" my sister calls out to me (as I said, everybody calls me China). "You didn't get the soy yogurt."
"No," I say. "I don't think they had any at the store."
"There's not even any soda; you should have gotten the yogurt."
She goes on, haranguing me, and I keep writing.
The girl at the Western Union office approaches and I look up at her. I'm breathing heavily.
"Do you remember me?" I ask her in a low voice. She nods. "Nobody will change this money for me. It's torn. I've come all the way from Alamar with it."
"Of course I remember you. I asked you if you wanted to change it to CUCs."
She makes me take a seat, then gives me an official-looking paper. It's ordinance #33. It says that currency is coming into the country already in bad condition but it's fine to exchange it if it's torn or written on, so long as the serial number is visible and it's legally determined not to be counterfeit. I don't know what to say, so I just nod. How is it possible that no one else knows about this authorization?
"I'm going to exchange the bills for you, don't worry," the girl tells me. "I just gave you that notice so you could see I didn't do anything wrong."
I leave the office with the money in tens in my day planner, because of the muggers. On my way to work on San Rafael Street, I need to write something down and pull out my day planner. I feel something drop and remember the money. I'm at a park, on the exact spot where the store Fin de Siglo used to be, before it was blown up in act of sabotage in the early days of the revolution. It was never rebuilt; instead there's this park–a hangout for beggars, crazy and indigent people, and male prostitutes too. I look around…

Yohamna Depestre
Yohamna Depestre is the author of the short story collection, D-21, published in Cuba, and a contributor to Havana Noir. "A Day in My Life (Any Day)" is her first work of non-fiction. She is the principal storyteller for Omni-Zona Franca, a hip-hop performance group in the Havana suburb Alamar, where she lives.
if you like this, check out:
View Comments
---