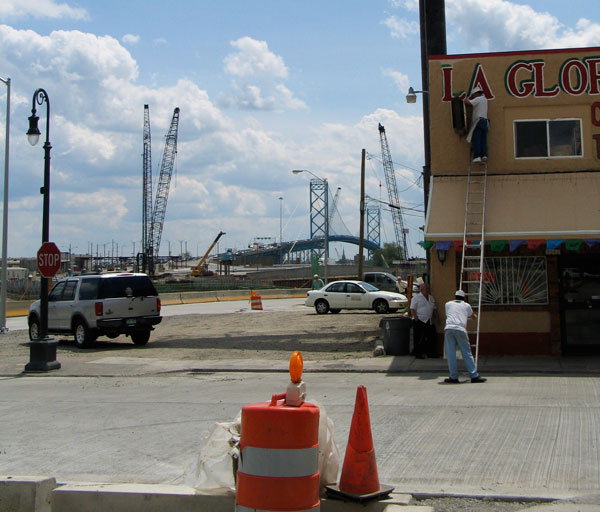 Web Only / Views » June 22, 2010
Another Detroit is Happening—But Which One Do We Need?
At the U.S. Social Forum, thousands of activists are looking for answers to America's biggest problems.
This week, United States Social Forum-goers will see that Detroit showcases not only capitalism's brutality, but also a community's resolve to face it.
Tens of thousands of activists have begun arriving for the June 22-26 United States Social Forum. Detroit is hosting the second iteration of a global justice "movement of movements" revival, bringing together nearly every cause on the American left's radar. But Forum-goers are also focused on the host city at a time when the event's tagline–"Another Detroit is Happening"–is both promising and foreboding.
Soon after taking office in 2009, Detroit's new mayor, Dave Bing, assembled his "crisis turnaround team," a handpicked collection of exiled auto executives, financiers, and PR people. The NBA hall-of-famer and steel executive and his team have acted swiftly to reshape a city they view as a clean slate, a city as vacant as post-Katrina New Orleans.
The new mayor is promising to shrink Detroit and its infrastructure, and has gathered the business community and suburban philanthropies to put downpayments on a dreamscape: a downtown light rail line, a new hockey stadium, shiny charter schools to complement a slimmed down "traditional" district, an industrial farm on the East side, and new housing enclaves.
While the corporate class contemplates new investments, the community has been reminding Bing that Detroit is no empty city. "I think we need to use the Social Forum as an opportunity to say to city officials, look - you're dealing with a population that can mobilize 20,000 people to come to Detroit," says Lottie Spady, a food justice organizer working on the Forum. "Outside of a sporting event, when does that happen?"
Visions of Detroit consistently refer to a sparkling time of industry, shopping, and peace that never really existed. The Motor City's avenues hosted an eight-lane American dream cruise. And when it picked a freeway and left town, the city's persistent class warfare and racial segregation came into stark relief. Shea Howell says Bing envisions a city that would paper over the city's long-standing inequality, not confront it.
"Their focal point is creating these protected enclaves with good schools, good services, safety; all those nice things that everybody wants. Only some people will be able to have them, and the rest of us will be on the outside looking in," says Howell, a teacher, activist and columnist helping to organize the Forum.
City planning documents bemoan city workers and their "large number of labor unions restricting management's ability to properly control and discipline the workforce." Bing has demanded 10 percent wage cuts and an end to defined-benefit pensions for the next generation of public employees. Bing is also moving to discontinue the Public Lighting Department and sell operations to DTE Energy, a company notorious for a string of fatal electricity shutoffs in the city.
Today, much of what's left of the proud auto worker corps is either making close to non-union wages, working non-union jobs, or out of work altogether. A four-month strike by workers at GM-supplier American Axle in 2008 was the rank-and-file's last big stand before the Big 3's government-guided implosion. Axle CEO Dick Dauch cut starting wages in half. Months later, he picked up and moved the whole operation to Mexico. Two stadiums, three casinos, and two medical centers have struggled to fill the gaps, leaving thirty percent of residents without a job. That's the official tally.
Reinvestment and plans to shrink the city might be needed, says Bill Wylie-Kellerman, an organizer of the Forum's Spirituality Committee. "But how do you do it in a way that isn't high-handed, that doesn't write off people's lives and communities?" asks Wylie-Kellerman, a pastor at St. Peter's Episcopal. "How do we create democratic involvement in the process of envisioning the new city?"
Organizers are in town for the five-day Social Forum–which offers a series of workshops, meetings, and action-oriented "People's Movement Assemblies"–to tackle these questions. Some visitors are pasting revolutionary literature on telephone poles, others are jimmying the lights in burned-out apartments. Tent cities on empty lots and in parks are filling up. Forum-goers will see that Detroit showcases not only capitalism's brutality, but also a community's resolve to face it. "For a very long time, there's been an underground, more sustainable version of work being done that has come about out of necessity," says Spady.
That necessary work precedes the Forum, and will continue when it's over. Organizers agree, though, that the June gathering is a golden opportunity to solidify alternative visions of the city at a moment when Bing and company are advancing a very different idea about how Detroit's schools, housing, and empty land should be leveraged, and to whose benefit.
Schoolhouse rocked
State-appointed schools manager Robert Bobb has run up against a legal challenge and neighborhood resistance to his plan to shutter 45 district schools next year. He's stood shoulder-to-shoulder with a foundation-funded plan to "replace, not reform" the public schools by opening 70 new charter schools by 2020 and handing control to Mayor Bing much sooner.
After a student walkout, teachers and alumni of Northwestern High vowed to sit down, chain the doors, and pursue injunctions–whatever was necessary–to keep the historic school open. Bobb kept 18 schools open, including Northwestern, but vowed to shutter 45 schools by 2013 anyway–if a judge allows him to. Many remaining district schools, some put under private management, will function as magnet schools, taking select applicants, not all comers. District schools will adopt the model of their non-union, charter school counterparts, skimming the best and brightest to raise test scores while pushing communities of "low-performing" students further to the margins.
Ismael Duran Galfano and Mary Duran say they won't go along with Bobb's plan for a K-14 "megacampus" that would consolidate three neighborhood schools into one contiguous campus. Bobb asked the long-time residents in the growing Latino neighborhood of Southwest Detroit for some real estate, namely their home, which has been in Mary's family since it was built in 1910. Galfano runs a community arts center and Duran is retiring this year from 30 years of teaching in the Detroit Public schools. The two have lived in their home and tended their garden there for three decades. Ismael says he didn't leave Pinochet's Chile to put up with more dictatorship in his backyard. By email, he told his neighbors he wouldn't be going without a fight.
"Bobb had no idea this guy's a community organizer–he's going to know a thing or two about creating resistance," says Howell. "I think if they asked people to sit in on their property, they'd have a lot of us right there."
Bobb eventually got the message, assuring the Duran family and their neighbors that no homes would be destroyed in the consolidation that would bring six-year-olds onto campus with 19-year-olds. The proposal is questionable, and has become the next focus of organizing in the neighborhood.
World's biggest urban farm?
Bing says he'll demolish 10,000 homes during his term to ready for rightsizing. But even the mayor has switched up his plans, firing a city planner after her proposal to consolidate two East Side neighborhoods hit the press to bad reviews. The phrase "eminent domain," loaded in Detroit's mind after a GM plant wiped out a Polish enclave in 1981, dropped from Bing's vocabulary. His May invite-only land use summit assembled foundations, investors, and city planners, then promptly went underground, promising to return in 18 months with more details.
Organizers for the USSF aren't twiddling their thumbs waiting for his re-emergence. Spady's East Michigan Environmental Action Council organizes around air quality and food justice, engaging Detroit youth with participatory environmental education programs that emphasize media making and civic action. EMEAC has linked with organizations nationwide, hatching plans for a direct action against the city's trash incinerator. They're also hosting a youth-led film screening with media-based environmental justice groups like the Green Guerillas and Outta Your Backpack Media.
EMEAC was part of a collaborative effort to establish a Community Food Justice Task Force to examine the entire food system and evaluate where the community can take ownership to meet its needs, not market needs. While a growing network of city gardens builds long-term toward a self-sustaining food system, a financier has tried to take Detroit's urban agriculture phenomenon large scale. John Hantz has bought hundreds of acres of land on the East Side for what's being called the "corporate farm," a year-round operation producing for wholesale markets. But it's far from a done deal. "When people like Hantz want to come in and plunk down, we're going to have an educated citizenry to say no no no, this is not what we need," says Spady.
---
Help In These Times Continue Publishing
Progressive journalism is needed now more than ever, and In These Times needs you.
Like many nonprofits, we expect In These Times to struggle financially as a result of this crisis. But in a moment like this, we can't afford to scale back or be silent, not when so much is at stake. If it is within your means, please consider making an emergency donation to help fund our coverage during this critical time.

Paul Abowd
Paul Abowd lives in Detroit, where he writes for Critical Moment magazine. His work has also appeared in Labor Notes, Z Magazine, Monthly Review, Truthout, Counterpunch and The Electronic Intifada.
View Comments