Friday, Apr 6, 2012, 12:24 pm
SPLC Sues Notorious New Orleans Jail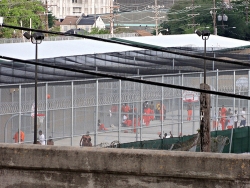 This week, the Southern Poverty Law Center filed a class action suit on behalf of the inmates at Orleans Parish Prison, the notorious facility where inmates were abandoned during Hurrican Katriana. James Ridgeway and Jean Casella report:
As hellholes go, there are few worse places in America than the Orleans Parish Prison.

New Orleans' teeming city jail first hit the radar of most Americans following Hurricane Katrina, when thousands of inmates were abandoned for days in flooded cells without food, water, ventilation, or electricity—some of them "standing in sewage-tainted water up to their chests," according to the ACLU. But OPP's problems did not begin with Katrina, nor end in the storm's wake, when prisoners were shipped back to the jail's surviving buildings. [Mother Jones]
The lawsuit alleges that rapes, sexual assaults, and beatings are commonplace inside OPP:
"It's just complete lawlessness in there," Katie Schwartzmann, the SPLC attorney representing the prisoners, told us in an interview. "The place is full of knives. There are tons of assaults, beatings."
"Look at their hospital transport list," she continues. "For the month of February alone, they had 23 emergency room transports for lacerations, fractures—and that's just the stuff they had to send people to the hospital for. That doesn't even count the stuff they have to handle at their infirmary."
Prison rape is a major problem throughout the U.S. prison system. In 2010, the Bureau of Justice Statistics reported that an estimated 88,500 inmates had been sexually victimized between 2008 and 2009.
Lindsay Beyerstein
Lindsay Beyerstein is an award-winning investigative journalist and In These Times staff writer who writes the blog Duly Noted. Her stories have appeared in Newsweek, Salon, Slate, The Nation, Ms. Magazine, and other publications. Her photographs have been published in the Wall Street Journal and the New York Times' City Room. She also blogs at The Hillman Blog (http://www.hillmanfoundation.org/hillmanblog), a publication of the Sidney Hillman Foundation, a non-profit that honors journalism in the public interest.
More by Lindsay Beyerstein
View Comments