Duly Noted
Monday Apr 23, 2012 8:14 am
Trusting the Press Less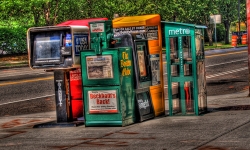 In the wake of Watergate, 70% of Americans said they trusted the press "a great deal" or at least "a fair amount." Today, only about 44% of us report at least a fair amount of trust in the press today. What changed? Jay Rosen of Pressthink explores eight hypotheses.
The first hypothesis is that Americans have become more cynical across the board. Rosen notes that Americans' trust in the church, the banks, the public schools, and the presidency also plummeted during the same period.
Rosen sees a paradox: Americans learn about the failures of other instutitions through the media. So, you'd think that confidence in the press would go up as the media exposed more social rot.
I'm not sure there's a paradox. The biggest failure of the press in recent memory was the uncritical coverage of Iraq's non-existent weapons of mass destruction. The press credulously reported the Bush administration's version of events. Sure, the media eventually reported that no WMDs had been found, but that revelation didn't inspire confidence in the government or the media.
Rosen's second hypothesis is that journalism scandals and trashy tabloid outlets are to blame. In that case, people may not trust "the media" at large, but they might still trust certain prized sources of news.
I would add that the more diverse the media landscape, and the more aware the public is of alternative sources of news, the more difficult it is to trust "the media" as a whole. Outlets will contradict each other. Some of them must be wrong. On this view, declining trust in the press could be a good thing if readers are thinking more critically about the news. On the other hand, it could mean that people are seeking out media that pander to their pre-existing biases--call it the Fox News effect.
I won't list all the hypotheses here, but I encourage you to read Rosen's piece. Definitely food for thought. He argues that all the standard theories of the trust gap--from journalism scandals to "working the refs"--have some merit, but that even taken to together, they don't seem like enough to account for the massive decline. Rosen suspects the full answer has something to do with the professionalization of journalism.
1 comments ·