Duly Noted
Tuesday May 1, 2012 7:19 am
Review: "Into the Abyss" by Werner Herzog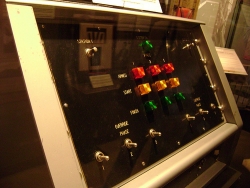 Into the Abyss, Werner Herzog's 2011 documentary about the execution of a murderer from small town Texas, is now available on Netflix streaming.

Herzog picked an open and shut case. Unlike most death penalty documentaries, there's no whodunnit, no race against the clock. We are told in the first scene that the execution is inevitable.
If Herzog can convince us that it's wrong for the State of Texas to kill Michael Perry, he will have produced a powerful argument against the death penalty. He doesn't make it easy for himself.

Michael Perry and Burkett, both aged 19, shot a 50-year-old woman, the mother of one of their friends, in order to steal her Camaro. After dumping her body in a nearby lake, Perry and Burkett lured their victim's son and his friend into the woods and shot them to get their hands on the clicker that would get them back into the gated community where they'd left the Camaro.

Perry confessed and DNA evidence put him at the crime scene. Perry was sentenced to death and Burkett to life prison. As far as we know, they got fair trials.

In his interviews with Herzog, Perry seems intelligent enough and no crazier than you'd expect a person to be eight days before his execution. He is eerily childlike in appearance and demeanor, giggling as the guards take him into the glass box to talk to Herzog. He's now 28 but he still looks 18. His pupils are improbably large. Perry jokes that Herzog had better get out of the state of Texas before they kill him too. He's joking, but for a second, you can feel the menace behind the joke.
Herzog hammers on the pettiness of the crime. Perry and Burkett killed three people for a car they hung onto for less than 72 hours. Herzog visits police impound lot where the wrecked Camaro has been rusting away for years. An officer shows him where a tree grew up through the floorboards of the car. The message: For this, three people are dead? But then you think: For this another person is going to be killed? Perry's despicable, but he's no Tim McVeigh, or Osama Bin Laden. Wouldn't it be better to just lock Perry up and forget about him, instead of letting him star in his own macabre drama. He seems to relish the attention.

The survivors get equal time to describe the devastating impact of the crimes. Herzog also talks to the prison chaplain, two hours before he is to preside over Perry's execution. Herzog asks him why God allows capital punishment, and the chaplain has no answer. The chaplain recalls slamming on the brakes of his golf cart to avoid crushing two squirrels. If he hadn't stopped, they would have died. He says he wishes he could do the same thing for condemned prisoners, but he can't stop the process for them.
A former captain of the Texas execution team describes the process in minute detail. He quit the execution business after presiding over the execution of Carla Faye Tucker, as the cost of his pension.

Jason Burkett is where he belongs, effectively behind bars forever, but Herzog lets us know that continued existence nevertheless serves some positive purpose. Jason's father is serving a life sentence of his own. He tells Herzog that he feels like a complete failure as a father and a human being because he was usually locked up while his kids were raised in poverty by their disabled single mother. He describes how he convinced a jury to spare Jason's life by recounting his son's horrible childhood. "But you can be proud of this moment?" Herzog asks. The father agrees that he can. It's the one thing he's managed to do for his son.

Later we learn from Jason's wife, whom he married in prison, that she is carrying his child. She hints that her unborn son was conceived through a kind of bootleg jailhouse artificial insemination. She's an odd, flighty woman who strenuously denies being a jailhouse groupie, but gives off that vibe. Even so, she's excited about having this baby and she seems like she'll be a good mother. She talks about how she misses her own deceased parents and how she yearns to give all that love back to her child. It's not redemption for Jason, not even close. But at least he was able to give somebody something.

Michael Perry's final act was to spit in the eyes of the families of his victims by announcing that he forgave everyone for the atrocity they were about to commit in murdering him. He was an unrepentant narcissist to the end, utterly unredeemed, but he had a point: His death was an atrocity.
2 comments ·