Duly Noted
Sunday May 6, 2012 3:02 pm
The Unabomber Still Believes in Gravity. Do You?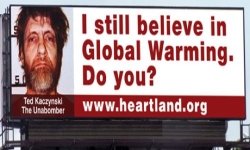 The climate change deniers at the Heartland Institute paid good money to put up this billboard in Chicago. They took it down after only a day, which is a pity because it tells you pretty much everything you need to know about the intellectual and moral fiber of the Heartland Institute.
If you want to learn more about denialism in general, and Heartland in particular, check out these excellent books on global warming denialism.
This book isn't about climate change, but it's a classic work on corporate denialism on issues ranging from tobacco, to lead paint, and asbestos:
1 comments ·