Duly Noted
Monday Jun 4, 2012 10:07 am
NYT: Extra! Extra! Correlation=Causation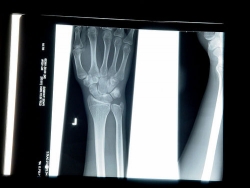 Barry Meier of the New York Times recently published a story blaming prescription painkillers for the rising cost of workplace injuries. The implication is that patients are getting addicted to, or incapacitated by, the drugs. However, Meier allows that when used appropriately, strong painkillers can help people return to work and be productive.
One insurer analyzed its claims database and found that the cost treatment and lost wages for a typical workplace injury was about $13,000, but the cost rose to $39,000 if the worker was prescribed a short-acting painkiller like Percocet, and to $117,000 if the worker received stronger painkillers like OxyContin.
The headline is "Painkillers Add Costs and Delays to Workplace Injuries," which implies that the drugs are causing the bad outcomes. But did this analysis control for the severity of injury?
Maybe some patients received stronger painkillers because they were more badly injured, or because they had preexisting conditions that exacerbated their injuries. For example, depression and pain can exacerbate each other. Suppose Worker A and Worker B have identical back injuries, but Worker A suffers from pre-existing depression, which causes her to experience more pain from the same amount of tissue damage. She honestly tells her doctor that she's in severe pain and gets heavy painkillers, and she stays out longer than Worker B, who's fine with Advil. So, was it the painkillers or the depression that kept her off work longer, or was it just the pain? Usually doctors tell patients to take pain meds as needed. Clamping down on pain killers isn't the easy answer: Untreated pain can exacerbate depression, which also contributes to absenteeism.
Maybe some of the patients finagled stronger painkillers because they were dedicated drug-seekers to begin with.
We're told that in the Cailfornia workers comp system, painkiller prescriptions went up, as a percentage of prescriptions written, and costs went up over the same period. Meier and his sources want us to assume that the increase in painkiller prescriptions caused the increase in costs.
Between 2001 and 2008, narcotics prescriptions as a share of all drugs used to treat workplace injuries jumped 63 percent, according to insurance industry data. Costs have also soared. [NYT]
But health care costs are always rising. Do these figures take the background rate of increase into account? Painkillers accounted for a growing share of prescriptions written, but that doesn't tell us whether doctors were prescribing more of these, or writing fewer prescriptions for other drugs.
Meier identifies a potential confound. Insurers cut back on physiotherapy and other services for injured workers during this period:
In a sense, insurers are experiencing the consequences of their own policies. During the last decade, they readily reimbursed doctors for prescribing painkillers while eliminating payments for treatments that did not rely on drugs, like therapy.

Those policies may "have created a monster," said Dr. Bernyce M. Peplowski, the medical director of the State Compensation Insurance Fund of California, a quasi-public agency. [NYT]
Cutting rehabilitative services like physiotherapy seems like a more plausible culprit in delayed returns to work than painkillers. We can't tell, though, because the two variables changed at once.
It's sexier to blame the pills, as opposed to corporate penny pinching. Also note that many of Meier's sources and numbers are from the insurance industry. It's easier for insurers to blame those irresponsible overprescribing doctors than to own up to the possible consequences of skimping on rehabilitation. If the problem is overprescription, it wasn't their fault, and the solution costs them nothing. If the problem is depriving patients of rehabilitation, it was their fault, and the solution has upfront costs.
Unfortunately, this kind of coverage only makes it more difficult for patients with severe pain to get adequate treatment.
0 comments ·