For years, bus drivers and riders here have looked at each other across the fare box with suspicion and distrust. Riders have been told by the Metropolitan Transit Authority that drivers' salaries were behind the pressure to raise fares. Drivers heard that the only way to keep their jobs secure and make a living was to stick it to riders at the fare box.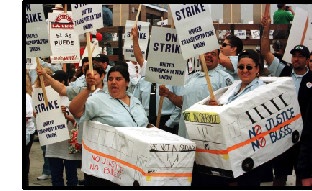 Los Angeles bus drivers rally outside the Metropolitan Transit
Authority's headquarters.
VINCE BUCCI/AFP
But when a 32-day bus drivers' strike ended on October 17, its most remarkable achievement was the new alliance drivers and riders forged against the MTA. That alliance not only was responsible for winning the strike, but it marks a new shift emerging in the city's balance of power.
Los Angeles bus riders are the base of the city's new economy. Overwhelmingly immigrants from Mexico and Central America, riders are the room cleaners in downtown luxury hotels, seamstresses from the garment sweatshops, day laborers who get jobs on the street corner, domestics riding to work in Beverly Hills mansions and janitors taking the late-night run home from cleaning the city's sparkling glass office towers. They are the city's poor, its newest residents.
A majority of the drivers, on the other hand, are African-Americans. Over the past two decades, thousands of blacks watched their jobs disappear as L.A. steel, auto and tire plants closed. Driving a bus is one of the few secure blue-collar jobs left, carrying union benefits and a salary high enough to allow a family to buy a home. But drivers fought an uphill struggle to defend those wages and conditions. As one picketer said, "There's a lot of resentment out there against people of color, especially women, making $50,000 a year."
The city's changing economy has pitted these two sections of the work force against each other. Its political structure is rife with elected officials who exploit the consequent hostility. Overcoming this divide in the course of one of the most bitter labor disputes in recent memory shows a new level of sophistication in both communities.