Figure 8
Elliott Smith
Dreamworks
Ahh, 1994. Heavy guitars were raining down metal grit on Seattle. British shoegazers had ditched the chiming dynamics of U2 for the swirling, electrified wail of My Bloody Valentine. Everywhere you looked, flannel-clad bodies were crowd-surfing and shaggy-haired heads were banging.
And in Portland, Oregon, a rainy Pacific Northwest town collecting moss in Seattle's looming shadow, Elliott Smith was recording the melancholy odes to addiction that would comprise his first record, Roman Candle.
A member of the angst-rock outfit Heatmiser, Smith was a reformed Grunge disciple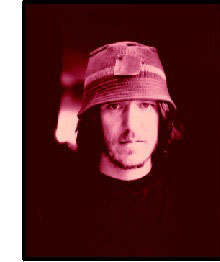 Elliott Smith

exploring the quiet side of depression, a herald of the "Leonard Cohen afterworld" that led Kurt Cobain to unplug around the same time. In a musical landscape where sincerity and humanity were drowned out by fuzzboxes and upper-register wailing, Smith's intimate ballads were a revelation to the few who listened in.

Smith's second album, a self-titled effort released on the Kill Rock Stars label in 1995, brought him acclaim in the fickle indie community, but its raw aesthetic and morbid subject matter made Smith a mere footnote in the national pop scene. Radios weren't ready for the acidic observations Smith offered in tunes like "Needle in the Hay," which could be interpreted as either self-loathing confession or biting critique of a junkie's harrowing downward spiral.

Perhaps playing on this dichotomy present in his songs (which early critics assumed were about Smith's own battles with drug addiction), Smith titled his 1997 follow-up Either/Or. It was on this album that he began stretching beyond the confines of his "punk folkie" label, adding electric accompaniment and stick-in-your-head harmonies to augment his downbeat diatribes. One of Either/Or's many gems, "Pictures of Me," was a prescient account of Smith's revulsion at the prospect of celebrity: "So sick and tired of all these pictures of me / Completely wrong / Totally wrong." The sentiment would mark Smith for the next three years, as critics repeatedly portrayed him as a reticent pop idol who hated the attention foisted upon him by fawning reviewers and fans.

Shortly after Either/Or's release, Smith gained national attention when "Miss Misery," a song he composed for Gus Van Sant's film Good Will Hunting, was nominated for an Academy Award. The surreal Oscar-night performance that followed (which featured Smith, clad in an ill-fitting white tuxedo, playing alongside such adult-contemporary luminaries as Celine Dion and Trisha Yearwood) caught the eye of scouts at Dreamworks' newly formed record division.

XO, Smith's major label debut, shocked many of his fans, who thought the album's sparkling production, soaring string arrangements and multi-tracked harmonies sounded like a bid for Top 40 fame.

On Smith's early recordings (done mostly on 8-track tape in friends' basements), there was a ghostly intimacy that enchanted the listener; you could hear Smith sigh between lyrics or catch the gentle scrape of his fingers on the guitar's strings as he changed chords.

But underneath the DIY aesthetic of his early work were signs of an ambition and talent too vast for the underground to contain. On XO's "Independence Day," an ode to personal transformation built upon the simple metaphor of a butterfly emerging from its cocoon, Smith described his musical evolution even as he predicted the backlash that would inevitably attend it: "Ooh, don't go too far / Stay who you are É Everybody knows / You only live a day / But it's brilliant anyway."

The metaphor begs an important question: Just who is Elliott Smith, exactly? Acoustic folkie? Troubled troubadour? King of pop? Figure 8, Smith's latest effort, finds the artist at a musical peak, yet many fans insist his songs have lost something in the big-budget translation. In one sense, they're right; much of the intimacy of Smith's earlier work has been lost. But what remains is no less satisfying: grand, exquisitely crafted pop tunes that put today's melody-deficient rock acts to shame.

Smith's evolution shouldn't be much of a surprise. From the "Rocky Raccoon"-cribbed intro of Either/Or's "Between the Bars" to the bouncing guitar-jaunt borrowed from Sgt. Pepper's "Getting Better" for XO's "Baby Britain," Smith's Beatles obsession has been a persistent presence in his work. On Figure 8, Smith is finally able to internalize the Beatles' knack for song craft without paying direct homage to specific works. The result is an album packed with innovative arrangements and colored with a diverse tonal palette, such as the haunting piano and echoing drums of "Everything means nothing to me" and the melancholy organ that undermines the optimistic coda of "Happiness."

There is glorious music in Smith's blood, and it pulses stronger than any commitment to the garage-rock aesthetic. Smith seems to be embracing his newfound success with a smile, no longer afraid of the celebrity that surrounds him. As he notes on Figure 8's joyous "L.A.," the future is bright: "Stepping out, out for a change / Good morning all, it's a beautiful day."