You know who didn't win the election. Do you want to know who won? The winners were the folks in the streets all year who called for "no more business as usual." As the politicians duel over counts and court orders, and go tit-for-tat on TV, no one could say this was "usual."
Consider the scene behind the tired-looking TV reporters in Florida. On November 8,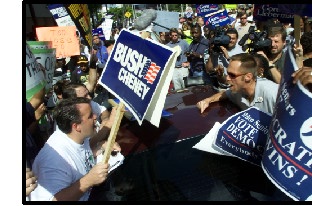 This isn't politics as usual.
COLIN BRALEY/REUTERS

African-Americans, Haitians, Central Americans, Jews, labor unionists, students and seniors rallied for voter justice with hand-lettered, not Democratic Party-printed, signs. In predominantly black and Jewish West Palm Beach, the idea that "butterfly" ballots might have thrown their votes to Pat Buchanan brought people out, if not in hives, then certainly in droves.

At the New Birth Baptist Church in Miami on November 9, an overflow crowd packed the pews and then spilled into a nearby school hall, connected to the congregation via large video screens. In a letter to friends, Catholic activist Mari Castellanos described the scene: "It felt like Birmingham. People sang and prayed and listened. Story after story was told of people being turned away at the polls, of ballots being allegedly destroyed, of NAACP election literature being allegedly discarded at the main post office, of Spanish-speaking poll workers being sent to Creole precincts and vice-versa."