Surveying the cast of candidates who won on November 7 is still muddled since so many victorious candidates emerged from multiparty contests with no clear mandate for action. Thus the search for voters' messages to policy-makers now centers on official tallies from binding referenda in several states. Besides a boost for drug-law reformers and educators, this fall's bounty of up-or-down ballot questions yields few unequivocal signals--or wins--for progressives. The results did, however, deal several major setbacks to conservatives.
In Oregon, where voters confronted 26 statewide referenda in the state's first mail-in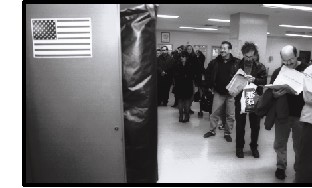 This year's bounty of ballot measures
yielded few big wins for progressives.
SPENCER PLAT/NEWSMAKERS

general election, anti-tax activist Bill Sizemore lost all six of his pet ballot proposals, including two aimed at crippling labor unions. In its fourth attempt to write homophobia into state law, the Oregon Citizens Alliance failed to pass Measure 9, which would have slashed funding to public schools where teachers mention gay people in anything but negative terms.

While rejoicing at the rejection of the Sizemore-backed "paycheck protection" questions, unions also cheered the approval of Measure 99, which opened the door to collective bargaining by home health care workers in the state, many of whom receive low wages and no health insurance.

But Oregonians took a dim view of an ambitious drive to reform campaign finance. They rejected Measure 6, passage of which would have ushered in public funding and spending caps for candidates for state office. A similar measure in Missouri also failed. In California, however, voters approved Proposition 34 by a 3-to-2 margin, giving a resounding go-ahead to modest limits on campaign contributions to candidates for state offices. (California voters also continued the process of undoing the damage of 1978's infamous anti-tax Proposition 13 by lowering the threshold for passage of local school bonds from two-thirds to 55 percent.)

Perhaps the biggest winners in the slew of ballot-measure outcomes were teachers, who stomped statewide voucher proposals in both California and Michigan. Led by Gale Kaufman, the same Golden State consultant who helped sink a notorious anti-union initiative in 1998, the campaign against this year's pro-voucher Prop 38 racked up an impressive 71 percent "no" vote. In Michigan, the reluctance of local conservatives like Gov. John Engler to back Proposal 1 left only out-of-state pols like John McCain to herald the voucher scheme. The measure failed by more than 2-to-1, a margin padded by the 44 percent share of the state electorate that came from union households.

Voters in Alabama removed a constitutional ban on interracial marriage. Proposals aimed at barring the use of certain animal traps and poisons faced mixed verdicts, passing in Washington but losing in Oregon. Anti-sprawl measures failed in both Arizona and Colorado. Background checks on firearms purchases at gun shows won sweeping approval in both Colorado and Oregon. Also in the Rocky Mountain State, voters rejected a mandatory "informed consent" measure aimed at dissuading women from having abortions. The loss, by a whopping 3-to-2 margin, dealt another blow to Focus on the Family, the religious-right powerhouse that also failed to stop the state's medical marijuana measure.

Still, progressives faced some significant setbacks in ballot questions. By razor-thin majorities, Maine voters rejected both physician-assisted suicide and yet another referendum aimed at extending nondiscrimination protections to gay people in the state. In both Nevada and Nebraska, measures to ban same-sex marriage drew 70 percent approval; the Nebraska ban also encompasses domestic partnerships, the first such prohibition by any state. Finally, just two years before Utah hosts the Winter Olympics, two-thirds of voters in the state yanked a welcome mat from under their Latino neighbors by approving a measure making English the official language. All government business will now be conducted in English only.