Ehud Barak likes to keep things under control. So it's easy to understand why the Israeli leader seems unraveled. In the past few months, Barak has overseen a complete about-face in Israel's relationship with the Arab world. Negotiations with Palestinians have flamed into open violence that has all 10,000 of Israel's regular soldiers deployed in the occupied West Bank and Gaza. For the first time since the Gulf War, a full Arab summit was called in October--with the express mission of censuring Israel.
In the midst of all this, Barak is hanging on to his office only by good grace. The ultra-orthodox Shas Party pulled its 17 seats from the government coalition in July, just before Barak headed to Camp David for a summit with Palestinian leader Yasser Arafat. Reports of the concessions that Barak made, including Palestinian sovereignty over Arab neighborhoods in Jerusalem, caused right-wing members of his government to resign in protest. Barak currently has the support of approximately one-third of the Israeli parliament, although Shas has agreed temporarily not to abandon ship. "Many people will tell you that [Barak] is a bright person," says Israeli journalist Danny Rubenstein. "But he is a lousy politician. The only reason that he is still in power is because it is a state of emergency. Those on the side of the peace process say that he asked for a total end to the peace process. The situation is one that can't be dealt with like that. It is a slow process that must be taken step-by-step."
Israel's right faults Barak for trying to give too much to a Palestinian leadership they say is ill-willed. "Arafat was never a peace partner," says Helen Bohrer of Beit El, a settlement north of Ramallah. "The Arabs were never a peace partner. They have their own agenda."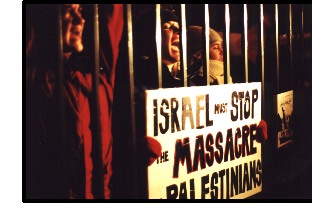 Ehud Barak and Ariela Sharon visited Chicago in mid-November
to attend the General Assembly of United Jewish Communities;
2,500 people turned out to protest.
STEVE ANDERSON
Even the Israeli military has criticized Barak--who was once a general himself. When a lone Palestinian shot and killed one Israeli security guard and wounded another on October 30, Barak ordered air strikes on official buildings in the Palestinian areas. But army officers called the helicopter strikes ineffective, according to the Israeli daily Ha'aretz, because they did little real damage, while at the same time escalating the tension in the West Bank and Gaza.
Barak has tried to stave off his political demise by forming a national unity government with right-wing leader Ariel Sharon. Talks broke down, however, when Sharon insisted on approving all decisions in the new government. "There will be no veto over the prime minister," Barak replied.
Instead, it appears that both Barak and Sharon will eventually be overtaken by former Prime Minister Benjamin Netanyahu, who recently was cleared of allegations of financial irregularities. Current polls show Netanyahu would defeat Barak in a two-way race to lead the country, despite Barak's overwhelming defeat of the hawkish leader in the last Israeli elections. Netanyahu was also more popular than Sharon.
Perhaps the only thing that Barak will be remembered well for is getting Israel out of Lebanon. Making good on a campaign promise, the prime minister unilaterally withdrew from south Lebanon in July, a move that was met with resounding Israeli applause. Public support for the 18-year occupation had dwindled due to the high number of Israeli casualties.
But Lebanon still plagues Barak. The Lebanese government does not accept the lines to which Israel has withdrawn, and Hezbollah has vowed to continue its attacks until Israel is all the way out. In early October, Hezbollah dramatically rose in stature in the Arab world when it captured three Israeli soldiers and a man they say was a spy. In exchange for their release, they are demanding that Israel free the Lebanese in its own jails. At some point, Israel will have to respond.
For now the Barak government is making do with quelling the unrest in the occupied territories. Public demonstrations have been augmented by Palestinian fighters firing M-16s at the Israeli settlements in the West Bank and Gaza. The Israeli military has responded with attack helicopters, ground missiles and tanks in Palestinian civilian areas. Nearly 200 Palestinians and more than a dozen Israelis have been killed. Amnesty International has condemned the Israeli use of force as "possible war crimes."
At the funeral processions of Palestinians killed in the clashes, marchers are carrying a new flag-- the yellow banner of Hezbollah. Palestinians are looking to the group for inspiration--only repeated military strikes on Israeli targets pushed Israel to withdraw from Lebanon, they say. Even if the bloodshed stops, both sides see little hope for negotiations. "After this, I can't imagine peace," says Mustapha Abu Aker, whose Bethlehem-area home was hit by rounds of Israeli machinegun fire. "Who will pay for the martyrs and the strikes?"
Rubinstein concurs. After the attacks from areas under Palestinian control, he says that Israelis will never agree to further troop withdrawals from the West Bank and Gaza, as called for in current peace agreements. Instead, he believes that the low-level warfare will continue. "We are going to be like Lebanon," he says in frustration. It seems that instead of getting Israel out of Lebanon, Barak has brought the northern front a little closer to home.
Charmaine Seitz is managing editor of Palestine Report.