Streams in Kentucky and West Virginia flowed black this fall after a coal waste dam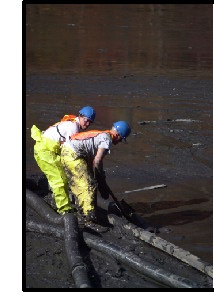 A crew attempts to remove toxic sludge from Coldwater Creek near Inez, Kentucky.
SAM RICHIE/LEXINGTON HERALD-LEADER

collapsed near Inez, Kentucky on October 11. More than 250 million gallons of slurry--a thick, toxic mix of coal dust, water and processing chemicals--poured into abandoned mine shafts. With incredible force, the slurry tide broke through a hillside and spilled into Coldwater Fork and Wolf Creek, tributaries of the Tug Fork of the Big Sandy River. Homes were damaged, sludge piles blocked driveways and yards were ruined.

Ecologists are calling the spill one of the Southeast's worst environmental disasters. Fish and other aquatic life were wiped out in more than 100 miles of streams. Snakes, turtles, frogs, salamanders and other amphibious animals turned up dead in the spill's path. The slurry, which contains toxic arsenic, mercury, lead, copper and chromium, choked water supplies for riverside communities. Experts say it will take more than six months to clean up the immediate damage and years for the watersheds to recover.