In the Mood for Love
Directed by Wong Kar-Wai
All the things that we had come to expect from Wong Kar-Wai, the maestro of Hong Kong new wave cinema, and his signature neon-gashed, boy-meets-girl stories, were already showing signs of implosion in Happy Together, his story of a love affair between two Chinese men and its agonizing death in the streets of Buenos Aires. Going, though not quite gone, was the seedy, lonely outlaw world of Hong Kong's Chungking Mansions, a world that Wong had made his own in Chungking Express and Fallen Angels. If Fallen Angels was an ultra-violent coda to Chungking Express and a farewell to the "heroic bloodshed" genre that had given Wong his start with 1988's As Tears Go By (his unofficial remake of Mean Streets), Happy Together was the staking out of new territory.
The solitary nature of urban life was always served up by Wong in a feast of hard-boiled wonderland hipness: The boys were cool and the girls were pretty, the handheld camera work often frenetic, blurred and tilted, and the bleached colors that cinematographer Christopher Doyle managed to put on film were always beautiful. But Wong was aware of becoming too recognizable. As he told Sight and Sound's Tony Rayns: "Too many other directors are doing Wong Kar-Wai these days, so I have to do something different." Happy Together, while still vintage Wong Kar-Wai, was a purgative for its director, slowing him down to a tango, allowing him to confront human emotions in a raw and explicit but much less dizzying way.
If Happy Together was a tango, then Wong's latest film, In the Mood for Love, is the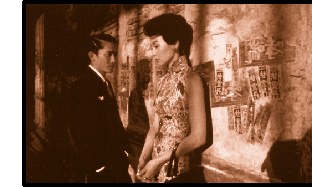 " I hate to think of your husband coming home."

slowest and most elegiac of waltzes, and represents another surprising departure. Wong explores the lost world of Hong Kong in 1962, a world far removed from the skyscrapered city of today, a world that is tranquil and courteous but also incredibly claustrophobic.

Chow Mo-Wan (Tony Leung), a journalist, rents a room in an apartment building inhabited by the recently exiled Shanghai middle class. By chance, he moves in the same day that Su Lizhen (Maggie Cheung), a secretary to the boss of a shipping company, moves in next door. Mrs. Suen, their landlady, is an endearingly overbearing matriarch who hosts all night mah-jong sessions. Coincidentally, both Chow and Lizhen move in without the help of their respective spouses; Chow's wife is a hotel receptionist who is working her shift at the hotel, while Lizhen's husband is away on business.

There's a feeling of incredible, physical compression in Chow and Lizhen's lives: They work in tiny office spaces, they slide by each other in cramped hallways, and when they do finally find themselves at home, alone, the voices from next door are intrusive. Within the confines of this world their schedules prevent them from seeing their spouses: Chow's wife never remembers to tell him when she's off early; and Lizhen's husband always seems to be away on business.

Though Chow and Lizhen never really talk, they see more and more of each other. When Lizhen goes on her nightly walks to the local noodle stand, Chow finds himself retracing her footsteps. What is it that draws them together? Is it just mutual loneliness? They finally meet properly in a diner, and Chow discovers something that Lizhen had suspected: their respective spouses are having an affair with each other.

For a filmmaker so ravishingly visual as Wong, so much of In the Mood for Love takes place off screen. He shows neither spouse, though we do see the back of their heads; we hear their lovemaking, their phone conversations and we see of course the devastating consequence of their actions. Exactly how and why they were cheated on--"I wonder how it began ... who made the first move?"--becomes a mystery story for Chow and Lizhen, which they re-enact in order to solve. Their second dinner date becomes a role-play, where Lizhen notes: "You have my husband down pat. He's a real sweet talker." Later they rehearse what they will say to their spouses when they confront them with what they know.

Inevitably, though, something larger is in bloom. They find excuses to spend more time with each other, though they have to be very discrete. They agree to collaborate on a martial arts adventure for Chow's newspaper. Ultimately, their feelings change: "I hate to think of your husband coming home," Chow says. Chow and Lizhen might eventually make love, though this, like much else in this film, is shrouded in ambiguity.

A film of whispered secrets, lost love affairs and a heartbreaking jab of a question--what might have been?--In the Mood for Love has a strange power. It has a far gentler pace than Wong's previous films, unfolding like a series of still shots, noirish tableaux vivants. Put bizarrely, it's like watching a beautiful novel; its power creeps up long after it finishes. Days later, one recalls how the exquisite Maggie Cheung is framed, lying plaintively on her bed while Tony Leung sits opposite; or Cheung's high-necked floral cheongsam as she walks to the noodle stand in slow motion, Michael Galasso's slow, throbbing score in accompaniment, while Leung, who has one of cinema's most emphatic faces, passes by. Leung and Cheung are icons of Far Eastern cinema, and In the Mood for Love confirms them as one of Hong Kong cinema's greatest couples.

The feeling of emotional and spatial confinement (even imprisonment) is often overwhelming--the camera catches glimpses through a salon door or a mirror's reflection, revealing fragments of things past. The color of scarlet red is palpable as well; it's a red rarely seen in cinema, which helps give the film its eerie, lost-world flavor. Likewise, Cheung's dresses, Nat King Cole's songs and Formica tabletops compound the feeling that a time capsule is being opened. "That era has passed. Nothing that belongs to it exists anymore," we are told at the end of the film.

Wong has said that this was the hardest film he ever made; indeed, the emotional pain and beauty on screen recalls the agony Truffaut conveyed in Two English Girls. It also reminds us why Wong is a filmmaker--one of the last few--worth going to the ends of the earth for.
Carl Bromley is the editor of Cinema Nation: The Best Writing on Film from The Nation 1913-2000.