Here Comes the Judge 7.8
Some jurists are hangin' judges, others are just into B&D. Here are some highlights from the National Law Journal's annual survey of deviance in the halls of justice, drawn from state judicial misconduct commissions across the country:
• Judge Ellis "Beaudron" Willard of Sharkey County, Mississippi was suspended for fabricating evidence. Among other irregularities, Willard conducted court proceedings out of a business he owned, Beaudron's Pawn Shop and Tire Center. And he once arrested a clerk who insisted on going home at 11:30 p.m., subsequently sentencing her to probation.

• Truancy Court Judge Marvin Dean Mitchell of Amarillo, Texas quit the bench, but avoided prosecution for "official oppression." The judge, who was known to telephone kids on probation to check up on them, called one 15-year-old truant and demanded that she talk dirty to him, according to a complaint the girl filed. Three other teens came forward with similar stories.

• Robert E. Hollman, a Texas judge, resigned after his secretary complained to the EEOC of Hollman's propensity to tie her up. "Judge Hollman would bind [the secretary's] hands behind her back, tie her ankles together and gag her with a scarf," according to the complaint. "Judge Hollman would sometimes carry [her] bound-and-gagged ... around the office; other times, Judge Hollman would leave [her] tied to a chair or lying on the floor for long periods of time." While she struggled to free herself, Hollman would often watch bondage videos. His lawyer claims these antics were consensual.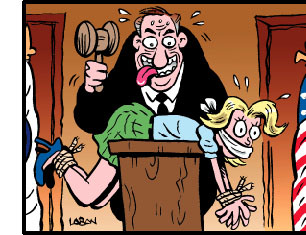 TERRY LABAN
Greg Brady, Union Buster 4.1
You may remember him as Greg, the tidy and courteous elder son on The Brady Bunch. Or you may remember him as the washed-up TV star whose memoir changed forever the way you think of Florence Henderson. Barry Williams is many things to many people. To enemies of organized labor, he is a poster child.
Williams is embroiled in a bitter dispute with the Actors Equity Association (AEA) over his role in a non-Equity production of The Sound of Music. The union has fined him $52,000 for starring in the play, while Williams maintains that he resigned from AEA before signing on for the production. Union activists have picketed the show, carrying signs proclaiming "Greg Brady is a Scab" and chanting "Who let the scabs out?"
"In an attempt to make actors think twice about exercising their rights, AEA union bullies are making an example of Barry Williams," huffs Randy Wanke, director of legal information for the National Right to Work Foundation, in a press release on that organization's Web site. The foundation, a notorious antagonist of unions, is providing legal assistance to Williams' case against AEA before the National Labor Relations Board.
Chip of the Beast 5.8
The Digital Angel purports to be a godsend to the parents of abduction-prone children everywhere. It is a microchip that can be detected by military satellites no matter where it is, anywhere in the world. Implanted between the muscle and the skin of the forearm, the Digital Angel can tell you not only the whereabouts of your kidnapped loved one, but other key information, such as whether he/she is still alive. (That's a key bargaining advantage during ransom negotiations.)
Applied Digital Solutions, a Florida-based company, hopes to begin marketing the Digital Angel in October, according to a report in London's Independent. The company has one public relations hurdle to clear, however. The American Family Association, a prominent Christian group, has suggested that the Digital Angel is a portent of End Times. The chip, they say, is the "mark of the beast" mentioned in the Book of Revelation. For the time being, the company has prudently chosen to emphasize a wristwatch version of the chip.