Yasser is an 11-year-old boy who lives along Gaza's border with Egypt. I met him in April after the Israeli army had razed the homes of more than 400 Palestinians, including his own. Tanks entered the refugee camp near midnight, forcing the families from their beds and bulldozing the houses in their wake.
"So we hate you," he says matter-of-factly when he learns that I am American.
Like most Palestinians, Yasser believes it is the United States that allows this to happen. I try to explain that many Americans don't even know what his life is like. And then I hear him say, almost to himself, "Yes, because if they knew, they would have to do something."
In these southern regions of the Gaza Strip, daily life defies such logic. It was here on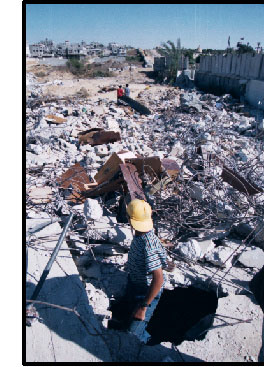 Wreckage in Rafah.
CHRIS SMITH

May 22, just hours after Israel's defense minister "ordered the army to cease fire and to follow regulations for opening fire that are activated when lives are in danger," that Israeli troops made three incursions into areas under Palestinian Authority control, demolishing one house and bulldozing Palestinian fields.

The next afternoon, 45 Palestinians, many of them young children, were injured near the border town of Rafah as Israeli tank gunfire and shell blasts pierced the stifling desert heat. Cease-fire or not, residents say this was a normal day. "It is difficult to work, to move, to sleep," says 66-year-old Hasan Tahrawi. "What can you say when you see airplanes shooting, and tanks? There is nothing I can say or do."

Israel has occupied Gaza since the 1967 Six Day War, when it defeated the Egyptian army here. Peace agreements with Palestinians have created areas of Palestinian Authority control, while leaving more than 6,000 Israeli settlers on the remainder of the land. But since the September start of the Aqsa Intifada--the Palestinian uprising against continuing Israeli occupation and growing settlements--Israeli incursions into Palestinian Authority areas have become commonplace.

On June 23, just 10 days after CIA Director George Tenet personally set into motion a plan that called for several weeks of "calm" before a return to talks, Israeli tanks again invaded the Rafah refugee camp at 3 a.m., bulldozing another 20 homes. An Israeli army spokesman described the demolitions as "engineering works," claiming it was a response to shooting from the houses. But those who live there, while admitting that Palestinian shooters do fire at Israeli positions, were adamant that they certainly have not done so from these residences.

The Israeli incursions have met with feeble international protest. The only time that Israeli troop movements in the Gaza Strip incurred U.S. condemnation was in the week after the demolition of Yasser's home--when the Israeli military invaded three swathes of Palestinian-controlled territory, cutting off Palestinian population centers from one another. The soldiers appeared to be preparing to stay, and only then did Secretary of State Colin Powell issue a bluntly worded statement. The army was gone in hours.

Since mid-April, however, the army has carried out similar incursions, invading and then bulldozing Palestinian land more than a dozen times. Other invasions have lasted just minutes and effectively weakened the lines of Palestinian control set down in previous peace agreements. "There appears to be no genuine security justification [for these demolitions]," says Richard Falk, a member of a U.N. commission to the area, "and even if there were, Israel could proceed in a far less inhumane manner: giving notice, providing alternative housing, offering compensation and making a demonstration of security needs."

The town of Rafah feels encroached upon. To its east are Israeli settlements that have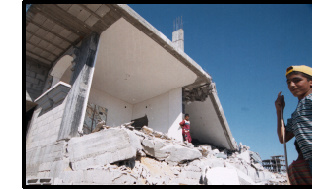 Wreckage in Rafah.
CHRIS SMITH

sprouted military hardware and bunkers since the start of the Intifada. To its west on the border, Israeli tanks patrol and sometimes come into the camp to carve an ever-larger security zone out of the Palestinian homes. "All of my city is just a strip on the border, surrounded on all sides by Israelis," says Rafah Mayor Said Zaru. "If they want to demolish all of the houses along the border, they will demolish the very center of the town."

In one of these invasions, Naima Awada, a kindergarten teacher and mother of six, lost all she owned. On May 2 at 2 a.m., Israeli troops opened fire on her house in the Brazil refugee camp, manning bulldozers to demolish 18 homes. Naima and her husband grabbed their children and fled. She points to her blue velveteen robe and bare feet. "This is all I was wearing. Everything was destroyed."

But there is another memory, one she is almost ashamed to admit. "When my husband counted the kids, he found Muhammad missing," she says, wiping tears from her eyes with the ends of her scarf. "He went back for him, and Muhammad was lying there, sleeping in his bed. Five minutes after he pulled him out of the house, it was demolished where they stood."

Along the edges of the camp, houses are now crumbling or without a rear wall, exposing visitors to the Israeli army positions only meters away. Personal belongings--a photo, a woman's robe, a broken bowl--lie in the rubble.

For the people who live here, the ever-present army means a growing number of deaths. "Any father would be sad," says Jalal Mahmoud Sha'ar, whose 8-year-old, Bara, was killed by tank fire in the sand just outside his home. "But we are sad for all our children. There's no family here without someone who has died. But the shelling continues, the problems go on."

Thirteen-year-old Muhammed Abed pulls up his shirt to reveal a thick, braided scar down his belly. He and three of his friends were playing by the Brazil Camp mosque when they found an object he says was "shaped like a cup." Trying to see what it was, the boys started to hit it. "Then it exploded and I saw my stomach and my intestines come out," he remembers. Now he dreams of a loud noise and seeing his innards in front of him. His friend, 13-year-old Yahiyye Al Ayyan, died in the blast.

In the face of all this, Mayor Zaru feels overwhelmed: "Citizens are really shocked by what the Israelis are doing here. We need 10 years just to treat the spirit of the kids." It should be no surprise that Palestinians in Gaza and elsewhere blame the United States for what is happening to them. In public opinion polls, more than 90 percent of Palestinians say that the United States, which purports to be an "honest peace broker," is actually wielding the hand of the Israelis.

Palestinian officials were initially heartened by a report issued in mid-May from a fact-finding committee led by former U.S. Sen. George Mitchell, which criticized Israel for the use of excessive force and the continuing construction of settlements in the West Bank and Gaza Strip. The report fell short of referring explicitly to international law on which Palestinians base their claims.

Perhaps even more problematic, the report called for a return to Palestinian-Israeli security cooperation, a prospect that grassroots factional leaders object to out of hand. Over the years of interim peace deals, close coordination between the Palestinian security services, Israeli intelligence and the CIA against Islamist opponents to Israeli-Palestinian accords have resulted in numerous well-documented human rights abuses, from detention without charge to torture. "I think that security coordination is finished with this Intifada, according to the formula they used to work by," says Marwan Barghouti, the West Bank leader of Yasser Arafat's faction. "I think that chapter has closed in the history of the Palestinian people."

Israel, too, had strong reservations. Prime Minister Ariel Sharon's administration is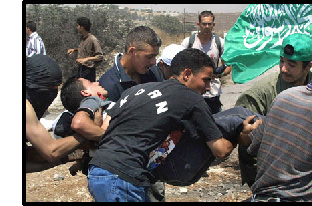 A Palestinian youth wounded by a rubber
bullet is carried away during clashes
with Israeli troops in Ramallah.
JAMAL ARURI/AFP

based on a coalition that refuses to halt settlement construction, as recommended in the report. But both sides accepted the report, not wanting to be the party blamed with killing the initiative. Israel then took things one step further, declaring its "policy of restraint," in which the army would only open fire "when lives are in danger."

Then on June 1, 22-year-old Said Al Hutari blew himself up in a crowd of Israeli young people waiting to enter a Tel Aviv nightclub. Twenty-one Israelis were killed and more than 70 injured in the bombing, blamed on Hamas. Almost immediately, the Palestinian Authority issued a statement against the "killing of civilians, Israeli or Palestinian."

The Israeli government did not respond with a severe military strike, and international pressure forced Palestinian concessions. Arafat declared a cease-fire and set about convincing Islamist parties that this was not the time to continue attacks inside Israel.

But as international diplomacy progressed, it strayed further from the intentions of the Mitchell report, separating Israel's security issues from the causes of the Intifada. Tenet declared that political issues would be dealt with only after several weeks of calm. And when Powell visited the region in late June, he made it clear that the Sharon administration would decide just when it is calm enough.

That approach has pulled the rug out of Palestinian support for the Mitchell report. "Tenet's ideas have adopted the Israeli understanding of Mitchell's report," explains Palestinian commentator Ghassan Khatib. "Tenet has been working first on getting the Palestinians to implement those articles in the Mitchell report that Israel wants to see implemented, before discussing what Israel is supposed to do."

Inasmuch as the United States continues to arm Israel, providing more than $3 billion in foreign aid annually, the Bush administration cannot rightfully claim a non-interventionist approach. By not saying much of anything, Washington is aiding the Israeli government in its efforts to crush the Palestinian uprising with great and unwarranted force. The long-term results of that policy will only be seen when--
and if--Palestinians like Yasser grow up.