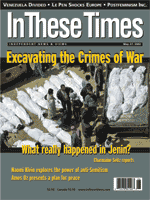 April 26, 2002
Studs Terkel turns 90.
An interview with RAWA's Sahar Saba.
A Commentary of the Nader 2000 Campaign.
Inside a shadowy banking system that secretly moves trillions of dollars around the world.
Twenty-five Years of In These Times
Experimental medical research on inmates is on the rise.
What really happened in Jenin?
The left must confront anti-Semitism head-on.
Every One of Us Has a Teaspoon
Hugo Chávez is back in power. Now what?
Jean-Marie Le Pen's strong showing shocks the French left.
Too Cruel for School
Students stand up for workers rights.
Editorial
Dictatorship or Democracy?
Manufacturing postfeminism.
75,000 gather in Washington.
Crunch Time
Can Nevada derail Yucca Mountain?
To fund "clean elections" Mass. judge orders state property sold.
Workers Wronged
The NLRB is stacked against labor.
In Delaware, Not Easy Being Green
In Person: Alan Muller
Words To Live By
BOOKS: Ben Marcus' Notable American Women.
MUSIC: Wilco returns.
FILM: Not your ordinary Teacher.
Accuracy Watch