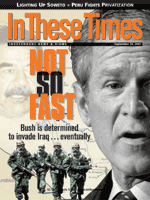 August 30, 2002
What America can learn from its Muslims.
The White House hasn't learned any of them.
Labor takes on Chicago's hospitality industry.
If you're a thieving dictator, you can always count on Switzerland (and Liechtenstein).
Ten to watch in 2002.
The November forecast looks gloomy.
Bush will invade Iraq—eventually.
Ankara's impending "regime change" of its own.
Drop Dead
For health insurers, the problem isn't them, it's us.
Toledo in Trouble
The peruvian president's credibility is at an all-time low.
Fujimori's Legacy
The dictator sold off Peru's major assets. Can it ever recover?
Guerrilla electricians resist privatization.
Editorial
Alone at the top.
The end of the illusion.
Estranged bedfellows.
Appall-o-Meter
Judges lambast Justice Dept., but 9/11 detainees still sit in jail, or worse.
Mazen Al-Najjar Deported
Afghanistan struggles out of the rubble.
Not Quite Millions
Reparations movement marches on after D.C. rally.
You Can't Do That
Court blocks anti-environmental rule changes.
In Person: Reg Weaver
Always Running
BOOKS: Why the "New Americans" are Crossing Over.
MUSIC: Hip hop is dead. Long live hip hop.