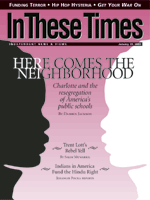 December 20, 2002
The labor movement grows more skeptical of Bush's plans for Iraq.
Who are the real globalizers?
BOOKS: Daniel Ellsberg's Secrets.
The cinema that survives.
Can a moment of anti-war anger become a movement?
Charlotte and the resegregation of America's public schools.
How to Save the Airline Industry
In a word, regulate.
Dalits face a new threat from India's Hindu nationalists.
Plus: Indians in America fund the Hindu right.
Elections in Gujarat send India reeling further right.
Rebel Yell
Navel-gazing news..
Viewpoint
Pee first, ask questions later.
Appall-o-Meter
Investigating the role of Saudi banks.
Venezuelan elites go on strike.
As Israeli opinion shifts, despair is a constant.
Caught Speeding
Volkswagen forces Czech workers to slow production.
In Person: Doug Rokke.
An interview with Get Your War On creator David Rees.
The Bad News Bears
BOOKS: Dead Cities is a revelation.
BOOKS: Bob Woodward, publicist.
MUSIC: Murder, Islam and Eminem.