The ITT List
Monday, Jul 15, 2013 • 3:25 pm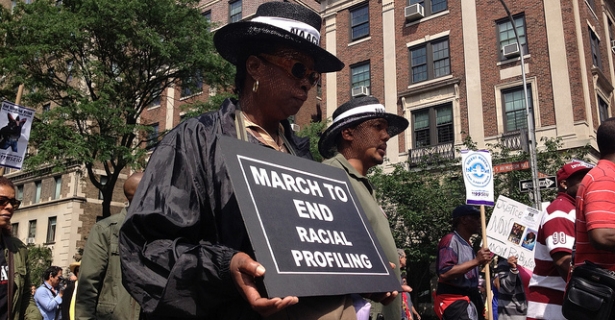 The verdict in the Trayvon Martin case was a reminder of the dangers posed by racism and abuses of power in our country's criminal (in)justice system. I, too, received my own personal reminder of those dangers when, one night on my walk home from the subway a few weeks ago, I was arrested by a group of uniformed NYPD officers for exercising my right to film a young black man being stopped-and-frisked.
As someone who organizes restaurant workers in New York City, I am used to dealing with abuses of power—usually in the employment context where, for example, it is surprisingly common for restaurant employers to illegally steal workers' wages. At the Restaurant Opportunities Center of New York (ROC-NY), where I work, we help our members—who are New York City restaurant workers—organize to challenge those abuses.
More »
1 comments ·
Friday, Jul 12, 2013 • 5:28 pm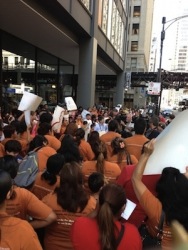 Early Thursday morning, approximately 200 residents of Chicago's Brighton Park neighborhood demonstrated in front of the Chicago Board of Education. Theirs was the latest in a wave of resistance to a spate of upcoming budget cuts to neighborhood schools that will go into effect this fall. According to a statement from the Brighton Park Neighborhood Council (BPNC), which coordinated the event, "there will be a loss of over $7.5 million in funding, 40 teaching positions, and two dozen non-teaching positions in the Brighton Park community for all schools for the next year."

Last month, Chicago Public Schools (CPS) released draft budgets to schools that are based on a new, per-pupil funding formula. Though the draft budgets have yet to be finalized, they've ignited opposition from Local School Councils and community members. Critics say that the cuts are based on faulty enrollment formulas and will deepen the pain of black and Latino communities, who are already impacted disproportionately by the school closings announced earlier this year. Brighton Park demonstrators chanted, "Rahm, let's face it, these budget cuts are racist!"
Yesterday's protests mobilized specifically around the loss of Thomas Kelly High School's renowned band program, and band members were in attendance and played from their repertoire throughout the demonstration. They also led the march around the block to the CPS Office of Access and Enrollment. Mark Jungo, a 10th grade student at Kelly, isn't in the band, but he said he was nonetheless concerned about the broad effect of cuts, worrying that cutting extracurricular programs might make fellow students more susceptible to gang activity.
More »
1 comments ·
Wednesday, Jul 10, 2013 • 5:30 pm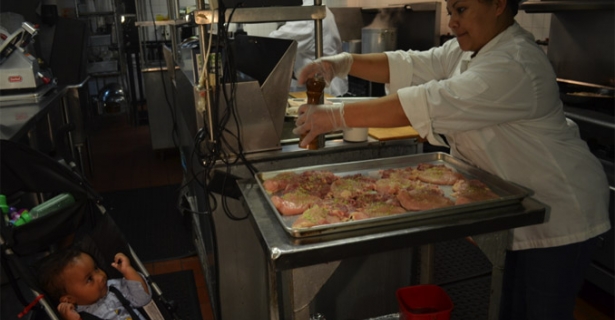 The New York Times ran a story this Sunday about the growing ranks of white, middle-class professional women who are choosing flexible work arrangements over a fast-track up the career ladder. "I never miss a baseball game," one mother told the Times reporter—a record that's achievable because she works from home some days. Work-life balance has been an area of growing concern as daughters of the New Left have grown up, gotten jobs and had families. Books such as Lean In, by Facebook COO Sheryl Sandberg, advise women that they can have it all—family and success at work—if they take more risks in their careers.
Unfortunately, mothers working in low-wage jobs, many of them women of color, don't have the option to step up into risky ventures with high opportunities for growth. As government support for children and families have shrunk since the 1980s, many women have been pushed into low-paying service jobs and can barely keep step with the economic demands placed on them. Restaurants employ 10 million workers in this country; half are women, and two million are mothers. The Bureau of Labor Statistics predicts that the service sector will grow to 80 percent of our economy in the next decade.
The Restaurant Opportunities Centers United (ROC-United) has released a new report, "The Third Shift," documenting the challenges that mothers working in restaurants face in balancing their precarious work, for which some earn subminimum wages, with little to no child care support. (Full disclosure: I am ROC-United's research director and worked on the report.) The title references the famous study by sociologist Arlie Hochschild describing the "second shift" of housework that women must do after clocking out and returning home. The mothers interviewed in our report must also work an unpredictable "third shift," thanks to the erratic schedules endemic to our new service economy. Working mothers are a floating and flexible workforce, always on call, without any control over their jobs or their hours.
More »
1 comments ·
Tuesday, Jul 9, 2013 • 4:06 pm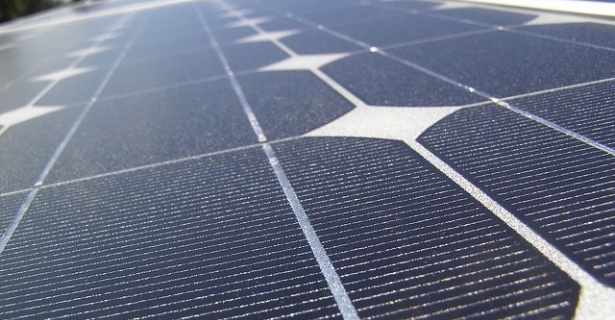 Less than two weeks after President Obama unveiled his much-hyped climate action plan, the federal government has rolled out a new regulation that could help clear the way for solar energy development. The move could exemplify the type of small-scale executive action on climate change that the administration is planning to pursue for the remainder of its second term.
On July 5, the Bureau of Land Management (BLM) issued an order that withdrew more than 300,000 acres of federally owned land in six Western states from any new mining claims. The bureau's Public Land Order applies to land in California, Nevada, Arizona, Utah, Colorado and New Mexico that falls in the so-called "solar energy zones," 17 areas identified by the federal government last fall as being particularly well suited for solar energy development.
More »
2 comments ·
Friday, Jun 21, 2013 • 3:30 pm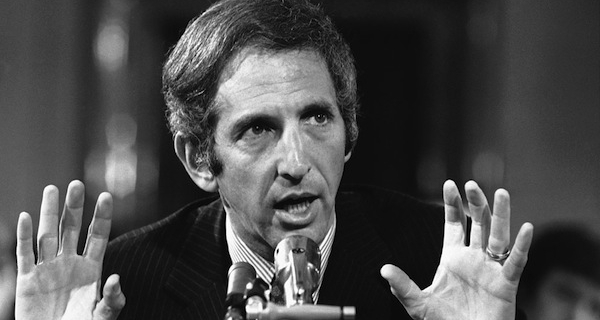 History changes based on where you're sitting. Some high school students have been fortunate enough to sit in the right place at the right time to have Howard Zinn's A People's History of the United States as their textbook; their worldview was challenged by a presentation of the United States that encompassed the fullness of its imperial project.
Over at Portside, in "Camouflaging the Vietnam War: How Textbooks Continue to Keep the Pentagon Papers a Secret," Bill Bigelow, a former history teacher, exposes the minimal treatment of the Pentagon Papers in today's corporate history textbooks. Unlike in A People's History, "none grapples with the actual import of the Pentagon Papers," says Bigelow.
More »
0 comments ·
Wednesday, Jun 19, 2013 • 10:40 am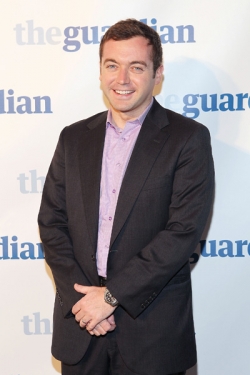 Last winter, Michael Hastings emailed me asking me out for beer. I was beyond shocked—Hastings was a hero of mine for taking down Gen. Stanley McChrystal in his Rolling Stone classic "The Runaway General". Why in the world a famous war reporter like Hastings would want to get beer with a lowly labor reporter like myself was beyond me, but he did. Somehow, through the miracle of Twitter, Hastings had become a fan of my work on organized labor.
Hastings and I got pretty drunk that night and I remember he told me that he felt there were only two ways to be successful as a reporter: either suck up to your sources, or be feared. Hastings told me he always preferred to be feared.
It was the most shit-kicking thing I have ever heard any reporter say, but it didn't seem like blustering bullshit coming from him. Hastings had laid one of the biggest journalistic achievements of the last decade—the takedown of Stanley McChrystal—by using that same mentality.
More »
6 comments ·
Thursday, Jun 6, 2013 • 5:00 am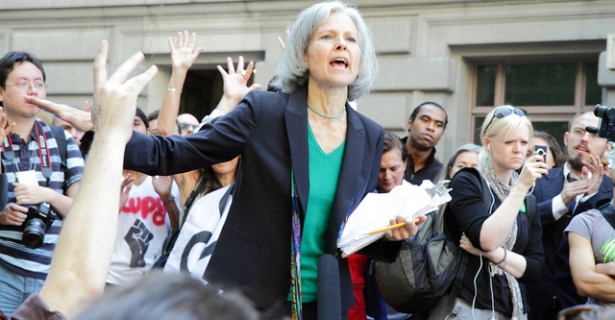 In the June issue of Z Magazine, Scott McLarty, media coordinator for the Green Party of the United States, takes 350.org founder Bill McKibben to task for his reliance on the Democratic Party, rather than a third party, as the political vehicle to address global warming. In a TomDispatch piece in April, McKibben wrote, "The narrow window of opportunity that physics provides us makes me doubt that a third party will offer a fast enough answer to come to terms with our changing planet."
McLarty rejects this notion, given the Democratic Party's move to the right and its acceptance of contributions from large energy companies. He also rejects the claim that third parties spoil elections. Drawing on recent disappointments, he dismantles the argument that progressives should put their faith in the Democrat
More »
4 comments ·
Tuesday, Jun 4, 2013 • 4:18 pm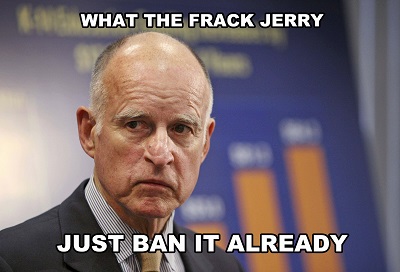 The West Coast is having a rough week. Genetically modified wheat was found in Oregon (where an active campaign currently fights GMO corn) and on Thursday, Joshua Frank posted on CounterPunch about the scramble to frack the oil out of California. Documentaries, community groups, farmers, and even judges around the world are communicating the dangers to air and water, and thus people and the environment, from the practice of fracking. Frank highlights the wishy-washy response from Governor Brown, who has tried to address these dangers while allowing fracking to move forward. Any irony in the state with the iconic smog of L.A. allowing oil fracking? Bueller? Bueller?
More »
0 comments ·
Wednesday, May 29, 2013 • 1:00 pm
It's been a frightening few weeks for journalists concerned with protecting their sources—and for Americans concerned with protecting their privacy. On May 13, the Associated Press revealed that the Justice Department secretly obtained two months of reporters' call logs. Citing the Espionage Act, which prohibits the disclosure of classified information, the Justice Department had subpoenaed Verizon Wireless for the call logs of more than 20 AP phone lines. Within a week The Washington Post reported that in 2010 the DOJ had subpoenaed emails from Fox News' chief Washington correspondent James Rosen's personal Gmail, also with the motive of prosecuting leakers.
The revelations have caused a furor over whether national security interests should trump civil liberties. AP President and CEO Gary Pruitt called the DOJ surveillance an "unprecedented intrusion." Michael Clemente, Fox News executive vice president of news, released a statement calling the DOJ's surveillance of Rosen "chilling" and an "outrage." He wrote, "We will unequivocally defend [Rosen's] right to operate as a member of what up until now has always been a free press."
And a Pew survey showed a plurality of voters, 44 percent, disapproved of the DOJ obtaining AP phone records. Thirty-six percent, on the other hand, approved of the department's obtaining the records.
What's been largely overlooked, however, is that, subpoenaed call logs aside, the government may be recording your actual phone calls. And your emails. And all that data may be a mouse click, not a subpoena, away.
While that may sound paranoid, it's been implied by the offhand comments of an NSA insider.
More »
2 comments ·
Friday, May 24, 2013 • 4:42 pm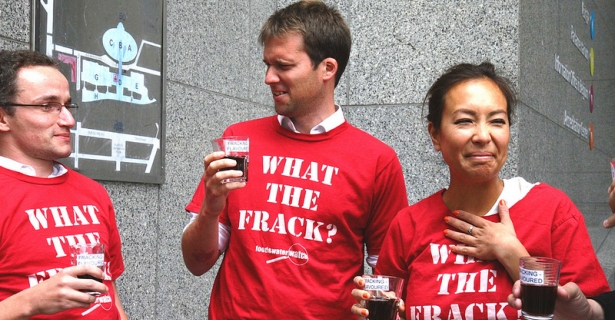 Hydraulic fracturing, or fracking, captures the attention of U.S. citizens far less than it should, considering that its byproducts include carcinogens that make their way into drinking water and cause air pollution. The practice is pervasive, due in part to the "Halliburton Loophole," which, according to Don Lieber's PlanetSave.com article "Fracking Waste: Too Toxic, Even for A Hazardous Waste Site," gets the natural gas industry out of a slew of regulatory and reporting requirements in the Safe Drinking Water Act. We can thank former Vice President Dick Cheney for that loophole.
More »
1 comments ·