Wednesday, May 7, 2014, 3:40 pm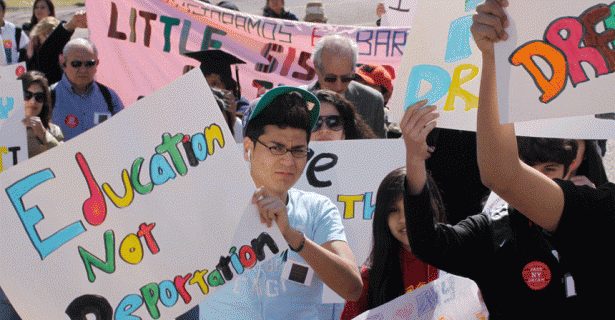 "My name is Sharanitha and I am undocumented, unafraid, unapologetic, and I too am UIC."
Applause erupted for Sharanitha in the quad at the University of Illinois, Chicago, during a "Coming Out of the Shadows" rally, where she and other undocumented students addressed the crowd. The event served as a stage for UIC students to publicly share their immigration statuses with the wider university community and to call for an end to deportations.
The Immigrant Youth Justice League, a Chicago-based activist group led by undocumented young people, collaborates with undocumented student groups to organize a series of such events every spring on campuses across Illinois, from NIU to IIT. But the UIC rally was a poignant reminder of the organization's roots on the campus where the IYJL was born.
The IYJL was founded in 2009 when UIC junior Rigo Padilla was served an order of deportation following a DUI arrest. An honors student with an otherwise clean record, Padilla hadn't been outside of the U.S. since his parents brought him from Mexico to Chicago at age six. With the support of fellow undocumented UIC students Reyna Wences and Tania Unzueta, Padilla began to fight his deportation order.
Thursday, Apr 17, 2014, 3:00 pm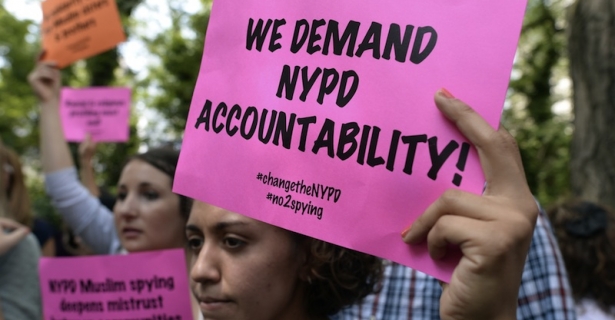 Like many other college students around the country, Soofia Tahir was an active member of a student organization while attending Rutgers University in New Brunswick, N.J. But unlike most college students, as a member of Rutgers' Muslim Students Association (MSA) from 2004 to 2008, Tahir and the rest of her group were being carefully monitored by a secret unit of the New York Police Department (NYPD) for at least three years. In 2012, students from MSA groups all over the New York area—and even a few from elsewhere in the Northeast—discovered thanks to an Associated Press story that the NYPD had targeted them as part of a broader covert spying program aimed at identifying terrorist threats.
On June 6, 2012, Tahir and ten other Muslim residents of New Jersey filed the first lawsuit against the city of New York for its Muslim surveillance program. With assistance from Muslim Advocates and the Center for Constitutional Rights, the group alleged in Hassan v. City of New York that the NYPD had illegally used ethnicity and Muslim religious identity to determine law enforcement targets. They contended that the subsequent surveillance negatively affected their careers, businesses and religious practices.
In response to the suit, the City of New York filed a motion for dismissal in December 2012. And on Feb. 20, 2014, the U.S. District Court judge granted the city's motion and dismissed the case, placing the blame for any negative consequences of surveillance on the journalists who had uncovered the program in the first place.
Friday, Apr 11, 2014, 1:52 pm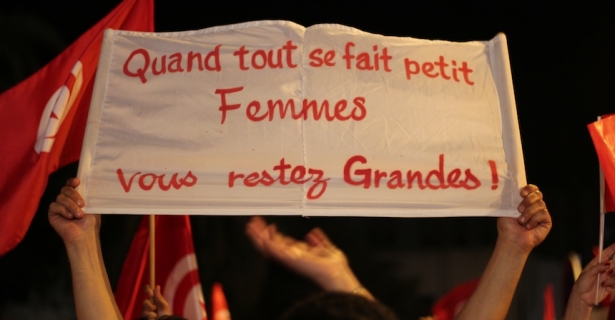 After more than two years of arguments and concessions between Islamic and secular parties, on January 26, the Tunisian National Constituent Assembly ratified the country's new Constitution.
When it was signed, assembly members spontaneously started to chant the national anthem and congratulated each other for the achievement. Indeed, there was cause for celebration. Tunisians signed one of the most progressive Constitutions in the Arab world, one that includes a commitment to gender equality. Yet, the celebratory media coverage failed to mention that other Arab countries, such as Algeria and Morocco, have also committed to gender equality in their Constitution.
Article 45 of the Tunisian Constitution guarantees "equality of opportunities between women and men to have access to all levels of responsibility and in all domains" and Article 46 seeks parity "between men and women in elected assemblies." In an interview for UN Women, Sana Ben Achour, women's rights activist, explained that the Tunisian Constitution is the first one in the Arab world to ensure equal access to the presidency. Additionally, Article 20 states: "All male and female citizens have the same rights and duties. They are equal before the law without discrimination." This accomplishment would not have been possible without the work of feminist activists and women's organizations that have advocated for gender equality.
Tuesday, Apr 8, 2014, 2:20 pm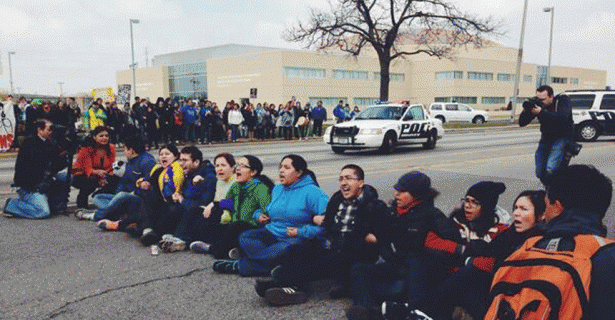 Crying "not one more," Chicago-area undocumented immigrants and their allies instigated a human blockade of the Broadview Detention Center in Broadview Ill., earlier today as part of a national call to action to end deportations. Eleven activists were arrested for their participation in the act of civil disobedience that halted traffic at the intersection of Roosevelt Road and 25th Avenue outside of the immigrant detention center.
The immigration statuses of the 11 arrestees are still unknown.
Friday, Mar 28, 2014, 5:05 pm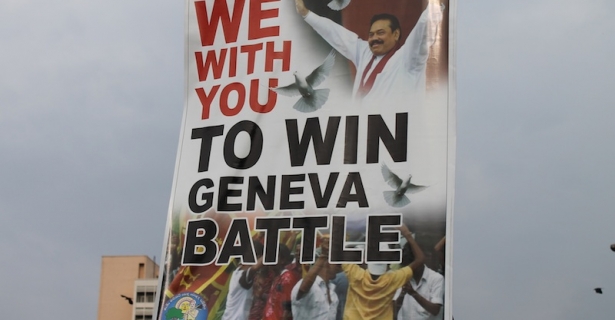 International news stories about Sri Lanka tend to fall into two categories: gee-whiz travel pieces or sports articles involving the country's national cricket team.
But during the last few months, a third topic has popped up on Google News: the fate of a U.S.-sponsored resolution in the UN Human Rights Council (UNHRC) calling for "a comprehensive investigation into alleged serious violations of human rights and related crimes by both parties" during the final years of Sri Lanka's long civil war, which after more than 25 years, came to a decisive and brutal conclusion in 2009. In May of that year, following a deficit-fueled military build-up and 18 months of fighting, the government annihilated the armed rebels of the Liberation Tigers of Tamil Eelam. Since the 1980s, the Tigers had sought to carve out a separate state for the ethnic, religious and linguistic minority Tamils in northern Sri Lanka, largely through the use of violence.
On Thursday, despite intense lobbying by the Sri Lankan government against the resolution, the 47-member UNHRC approved the resolution, which calls for an international criminal probe. It's a major victory for both human rights advocates and for the UN itself, which is trying to repair its credibility on the Sri Lankan civil war after UN officials remained silent while abuses were occurring in 2009. (In December 2013, it passed a "rights up front" policy requiring UN officials to immediately reports human rights violations, partly as a result of its failure to clearly speak out in 2009.
But coming years after the war's end and the initial reports of atrocities, it's unlikely that soldiers, generals and the politicians who pushed them into action will be held accountable any time soon. Thursday's vote was a milestone, but it doesn't guarantee anyone will be brought to justice, And it certainly doesn't bring the war's two sides—the Sinhalese-dominated government, and the minority Tamil population who reside mostly in the island's north—any closer to reconciliation. Indeed, it may do the opposite.
Monday, Mar 17, 2014, 2:50 pm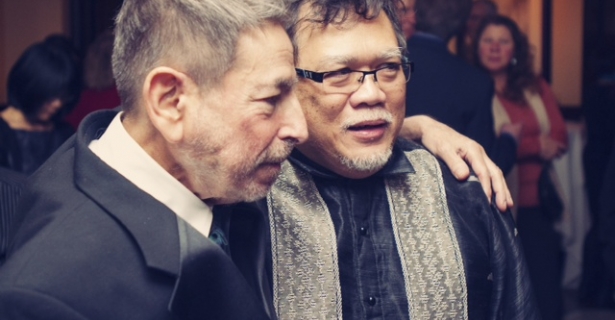 Ron Dorfman, a Chicago journalist and secretary of the In These Times Board of Directors, who died on February 10, spent his final months doing what he had done for most of his life: He fought for a worthy cause as he maintained a wry, good-humored perspective on the complex turns of injustices in the world.
Dorfman's work as a journalist—reporter, editor and journalism watchdog—was fair-minded and impeccably professional. But it also grew out of his political views, including personal support for movements promoting civil rights, civil liberties, unionization of workers, an end to the Vietnam War and gay rights.
Friday, Mar 14, 2014, 12:21 pm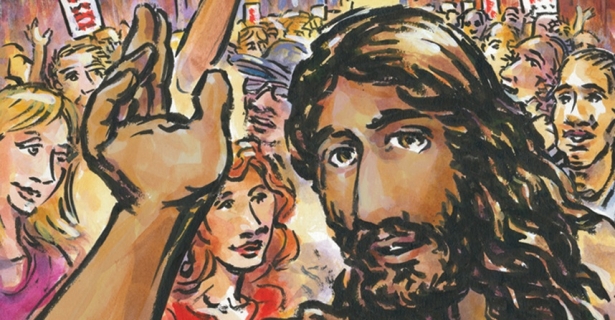 A comic book might be the last place you'd expect to find Jesus. But a recent book edited by Paul Buhle provides just that opportunity, albeit not the Jesus you'd recognize from right-wing Christian depictions. Using vivid imagery and lively storytelling, Radical Jesus: A Graphic History of Faith rediscovers Jesus as a radical leftist thinker. The authors and artists trace the long history of change-makers inspired by Jesus' teachings of peace, justice and equality, moving from biblical times to the 16th-century Radical Reformation to modern-day movements like civil rights.
The excerpt below, written by Dave Wagner and illustrated by Gary and Laura Dumm, recounts the fleeting peace forged by Pennsylvania Quakers and the Delaware tribe in the 17th century. Although the peace eventually disintegrated, Radical Jesus paints a rare picture of a diverse society based on mutual respect and interdependence.
Wednesday, Mar 12, 2014, 12:10 pm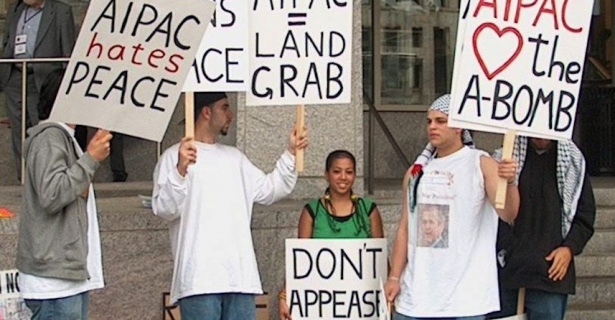 A poll released last week suggests that the power of the American Israel Public Affairs Committee (AIPAC), the American pro-Israel lobbying group, could be on the wane in Washington.
In the past, AIPAC has been so successful at garnering the support of politicians and passing pro-Israel legislation that in 1998 and 1999 Fortune Magazine named it the second-most-powerful group in Washington. AIPAC still runs an extensive lobbying operation; it spent $2.2 million on lobbying in 2013 and frequently sends lawmakers on expensive trips to Israel.
The global civic network Avaaz and Zogby Analytics conducted the poll of 165 DC insiders, including congressional staffers, leaders of NGOs and think tanks, leaders in the federal government, and members of the DC media. By a margin of 3 to 1, respondents thought AIPAC should have less influence over politics, rather than more. And 30 percent of those who had an opinion believed AIPAC's influence is indeed falling, compared to 47 percent who think it's staying the same and 23 percent who think it's rising.
Tuesday, Mar 4, 2014, 10:07 am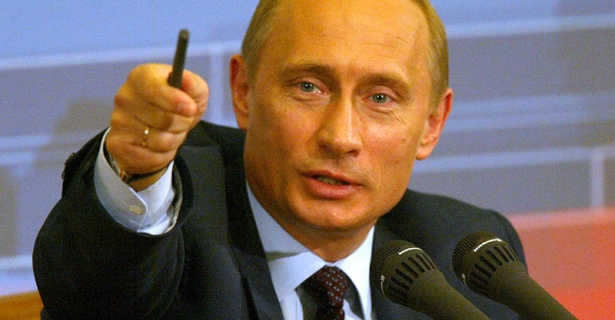 On the heels of Vladimir Putin's Olympic proclamation that (foreign) gays will be welcome in Russia as long as they leave the kids alone, America's homegrown anti-gay coalition is headed to the courts to unfurl their "scientifically-endorsed" gays are bad for children banner. A challenge to Michigan's constitutional ban on gay marriage started last week and "the kids" are center court.
By stoking associations like homosexual = pervert = sex offender = child molester, Putin and Team Anti-Gay Marriage USA are stirring a simmering cauldron that many LGBTQ people try hard to avoid.
Thursday, Feb 27, 2014, 2:32 pm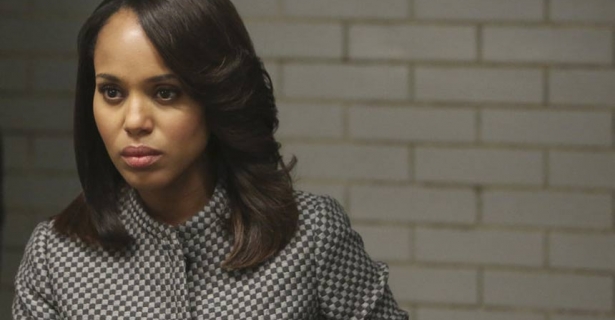 There is no question that Shonda Rhimes—the first African-American woman to create and executive produce a top 10 network series (Grey's Anatomy)—is a trailblazer when it comes to diversity on television. Her use of colorblind casting brought us a hospital drama in which half of the doctors are played by minorities (Grey's Anatomy) and a rare series with an African-American female lead (Scandal).
Rhimes has also received acclaim for her portrayal of bold and powerful women. And indeed, on the surface, the women of Grey's and Scandal are intelligent, successful, ambitious and career-oriented. But scratch that surface, and the female characters in Scandal fall short of Rhimes' successful depiction of empowered women in Grey's.
The differences manifest in the way the characters manage their personal lives. In Grey's, the female characters are independent and powerful in every sphere of their lives: They are passionate, but not blinded by their passion, and most importantly, they refuse to compromise their values and integrity for anyone who isn't willing to do the same for them. For instance, when surgeon Miranda Bailey (Chandra Wilson) was told by her husband that she had to decide between a prestigious pediatric fellowship and their marriage, it took Bailey no time to pick the fellowship, "cause a marriage that results to ultimatums, it's not a marriage."
By contrast, Rhimes' female characters in Scandal behave in ways that contradict the strength and independence they strive to embody. They show a willingness to take emotional abuse and they keep getting burned in the same ways, failing to learn from their mistakes. Susceptible to manipulation, they often compromise their ambitions and standards for undeserving people. Despite this stark departure from her previous model, Rhimes has managed to receive often-uncritical praise from media and fans alike, who have embraced Scandal as a source of female empowerment.