The ITT List
Wednesday, Mar 13, 2013 • 6:13 pm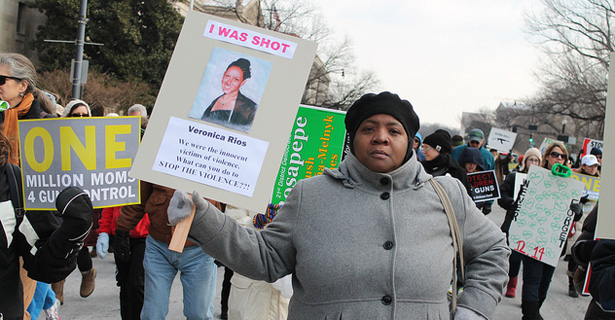 Four writers criticize the many attempts at gun control within our militaristic, undemocratic and Darwinian society in "Twin Madnesses, et al," a forum in the February issue of Z Magazine.
The authors—David Swanson, David Rovics, Tom Diaz and Lawrence S. Wittner—all support gun control in itself, but they hold different perspectives about how to effectively reduce gun violence by addressing larger problems in U.S. society and policy. The writers say hypocrisy dominates the gun violence narrative, from the National Rifle Association blaming movies and video games for violence while they promote gun use in film, according to Diaz, to pursuing gun control and a militaristic foreign policy simultaneously, writes Swanson.
And gun violence does not take place in a vacuum, reminds Rovics. People engage in violence for a reason, whether it be insanity, desperation, poverty, or something else, so regulating guns alone does nothing to address the social inequalities that make violence an option. Further, he says, gun control without democratic accountability and submission to the will of the citizenry will not drop violence down to the level of other developed countries. These authors demonstrate that, yes, guns kill people, but so do people with guns. Only addressing guns is insufficient; not addressing guns is unacceptable.
More »
3 comments ·
Saturday, Feb 23, 2013 • 7:00 am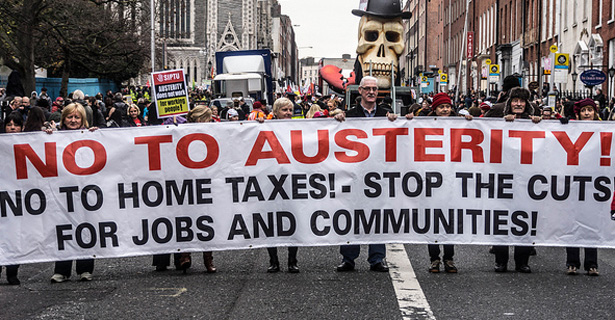 The austerity-based economic policies of the Obama administration and obstructionist Republicans have led to an economic recovery where "only the rich got richer; the poor got poorer," write Kevin Zeese and Margaret Flowers in "The Grand Bargain Returns: The Leeches are Back and are Urging the Wrong Prescription," at CounterPunch.org.
Critiquing a report by Alan Simpson and Erskine Bowles calling for deeper austerity, the authors argue that more budget cuts built into any proposed grand bargain threaten a double-dip recession that neither party, in their service to corporate interests and the banks, have any interest in avoiding. The U.S. economy is stagnant and trading partners across the world, most notably Europe, are close to or in recession as well. And another economic collapse could cost the United States more than a year's GDP, just as the 2008 financial crisis did.
Zeese and Flowers close with an example of a tangible alternative to austerity policies: Ecuador, which is growing in the midst of a world economic slump. Regulatory reforms in Ecuador, including government control of banks and increased taxation of the financial sector, led to economic growth, increased government revenue and a decrease in unemployment and poverty.
More »
1 comments ·
Friday, Feb 15, 2013 • 1:25 pm
For several years, Friends of the Earth Australia has been exposing the weak-to-non-existent regulation of nanomaterials in common consumer goods, from cosmetics to food. In the November 2012 issue of its magazine, Chain Reaction, Friends of the Earth Australia provide a trio of stories that demonstrate corporate deceit and government collusion in masking the potential risks of this unregulated and unproven technology in Australia.
If corporations are hiding the use of nanoparticles in their products in Australia—which they are—and the government is intentionally avoiding regulation and even controlling media spin in favor of nanotechnology—which it appears to be—then the glaring question is why? As important, if it is happening in Australia, which is a close partner of the United States across a host of policy areas, what is (and more importantly, is not) happening in the US around nanotechnology?
More »
0 comments ·
Thursday, Feb 14, 2013 • 12:55 pm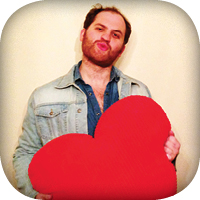 Dearest Reader,

Times have been tough for labor journalists. Our own labor reporter Mike Elk was recently reduced to taking on a second job—emceeing a chili cookoff at a D.C. bar—to make ends meet.

To our surprise, Elk has now taken to writing romance novels. We need your support to help get him back on the labor beat full-time by donating to In These Times today.

The reviews of his new book 50 Shades of Denim have been decidedly mixed, with one critic saying, "Similar to the HBO Series Girls, Elk captures the pain of twenty-somethings in a turbulent economy, but the love scenes just aren't as good".
More »
1 comments ·
Tuesday, Feb 12, 2013 • 11:25 am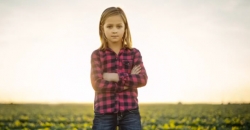 Dad got up every day before the crack of dawn. He would go out and work until around noon when he would take a break, make a plate of scrambled eggs (one of the two dishes he mastered) and turn on the radio to listen to the markets. He would eat his eggs, maybe with a side of fresh tomatoes covered in sugar, and read his paper as the radio voice announced funeral services, weather reports and Paul Harvey's "The Rest of The Story."
He retired a couple of years ago, finally prying himself away from the farm, and moved to town with Mom. I use the word "prying" because old farmers—if they don't die on their tractors—all wrestle with leaving the farm. But in the end it was time, and so he turned over the land to my brother, just like Grandpa did with him.
So it was my dad, then, and my time on our farm too, that made me tear up during RAM's "God Made a Farmer" commercial on Super Bowl Sunday. It's a haunting voiceover, a speech by Mr. Harvey to a National Future Farmers of America convention in 1978. I felt proud when I heard those words. I felt like that was my story, my family's story.
And then I watched it again.
More »
1 comments ·
Thursday, Jan 31, 2013 • 11:15 pm
In response to the conversation about gun control sparked by Newtown shooting, the National Rifle Association chose its usual line of defense: offense. "The only thing that stops a bad guy with a gun is a good guy with a gun," said NRA Executive Vice President Wayne LaPierre just one week after the Newtown shooting.
Driving the point home, the NRA released an ad asking, "Are the president's kids more important than yours?" The implication: Obama, whose "kids are protected by armed guards at their school," is a hypocrite if he does not wish the same for all American children. (Of course, President Obama's students have an armed guard because of their high profile--a 10-year-old's likelihood of being shot at increases exponentially when their parent becomes president.)
In a January 30 Senate Judiciary Committee hearing on gun violence, LaPierre doubled down, saying, "It's time to throw an immediate blanket of security around our children." This was part of his promotion of a new NRA program called the School Shield Program, which aims to train armed guards and place them in every school in the nation.
More »
5 comments ·
Thursday, Jan 31, 2013 • 11:45 am
Who is Jim Summerville? If you ask him, he might say he's a civil rights leader fighting the movement's "last battle."
But most Tennesseans know him better as the Republican state senator who introduced a series of bills on January 10 intending to eliminate state diversity programs. Together the bills would, according to Summerville, abolish the job category of "diversity officer" at public colleges and universities; end race, gender, and ethnicity considerations in hiring at K-12 public schools; and prohibit the state government from keeping statistics on race, gender and ethnicity.
More »
1 comments ·
Tuesday, Jan 29, 2013 • 5:27 pm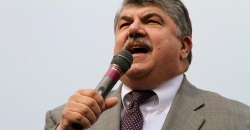 Unions are putting their full weight behind the push for immigration reform, according to the leader of the country's largest labor federation.
AFL-CIO President Richard Trumka told Yahoo News on Tuesday that organized labor is "entirely behind" immigration reform and will embark on a "full-fledged campaign" to ensure Congress passes effective immigration policies. White House officials have acknowledged organized labor as one of the key supportive groups backing immigration reform.
More »
1 comments ·
Tuesday, Jan 29, 2013 • 11:28 am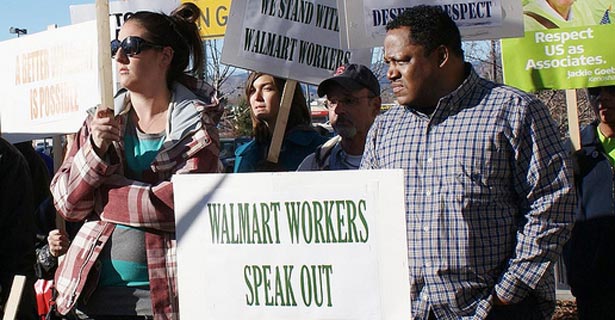 The state of California has ordered a Southern California merchandise-processing warehouse to pay 865 workers more than $1 million in stolen wages.
Workers at Quetico, LLC, a warehouse complex in Chino, Calif., are responsible for labeling, tagging and packing apparel and shoes for major retailers including Wal-Mart, Levi's, Maidenform and Puma. On Monday, the California Division of Labor Standards Enforcement cited the complex for more than $1.1 million in back wages and unpaid overtime, plus an additional $200,000 in penalties.
More »
1 comments ·
Monday, Jan 28, 2013 • 12:18 pm
In the latest from a state legislature notorious for draconian anti-immigrant measures, Arizona Republican state Rep. Steve Smith has proposed a bill requiring hospitals to check the immigration status of patients. The law, titled H.B. 2293, also mandates that hospitals report undocumented patients to the authorities. Last Thursday, Smith told ABC15 of Phoenix that he has "no clue" as to whether hospitals would enforce the rule, but maintained that the bill would serve principally for "data collection."
Critics of the law argue that the measure might dissuade undocumented immigrants from seeking emergency medical attention, and that hospitals do not have the jurisdiction or capability to be embroiled in the state's crusade against undocumented workers.
From Salon:
"When does this begin or end?" asked Pete Wertheim of the Arizona Hospital and Healthcare Association to the Arizona Daily Sun. "What other industry should be screening their customers for citizenship verification?"

"We cannot detain them," he said of those suspected of being illegal immigrants. And he said not every one of the 1.2 million uninsured in Arizona — people who would lack the evidence of valid health insurance that triggers what Smith's bill would require — are here illegally.
More »
0 comments ·