Thursday, Dec 8, 2011, 1:15 pm
It's Official: Mumia Abu-Jamal Will Not Receive Death Penalty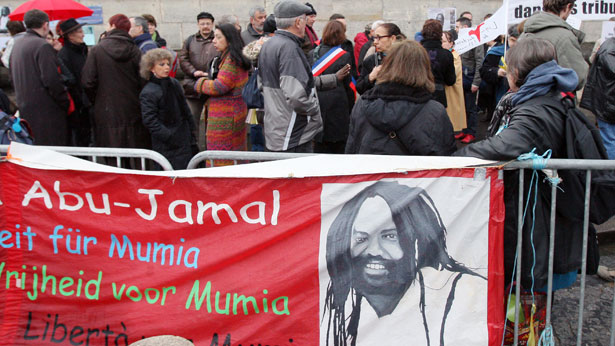 Mumia Abu-Jamal, on death row in a Pennsylvania prison since 1982, won an important but small victory yesterday in his 30-year battle against his murder conviction.
Philadelphia District Attorney Seth Williams announced that he will not pursue the death penalty in a new sentencing hearing for Abu-Jamal. The hearing was granted by a federal appeals court in 2008 after ruling that the original jury was given potentially misleading instructions. The Supreme Court declined to weigh in this October, as In These Times' Patrick Glennon reported that month.
"I believe that the appropriate sentence was handed down by a jury of his peers in 1982," Williams said at a press conference. "While Abu-Jamal will no longer be facing the death penalty, he will remain behind bars for the rest of his life, and that is where he belongs."
Judith Ritter, who represented Abu-Jamal in recent appeals, said, "there is no question that justice is served when a death sentence from a misinformed jury is overturned."
Abu-Jamal was convicted of murdering police officer Daniel Faulkner in 1981 after his brother was pulled over for driving the wrong way on a one-way street. Abu-Jamal was shot in the chest by Faulkner during the incident.
Abu-Jamal, who writes and broadcasts from prison, has filed appeal after appeal over the years, citing a racially biased jury and court. His case has sparked international protest and debate about both the death penalty and the fairness of the justice system.
Faulkner's widow, Maureen, has advocated for Abu-Jamal's execution and called the judges who overturned the death sentence "dishonest cowards," but agreed to Williams' decision to accept life in prison as his new sentence.

Lisa Klein
Lisa Klein is a fall 2011 In These Times editorial intern.
More by Lisa Klein
View Comments