The ITT List
Thursday Jan 12, 2012 4:55 pm
Chicago Poised to Become First City to Condemn Torture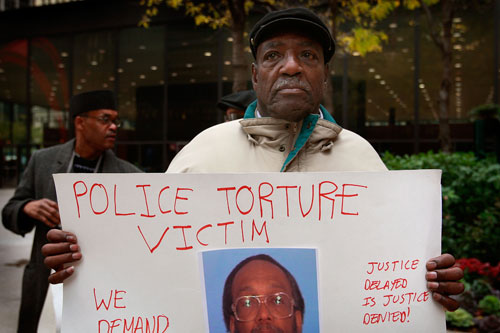 As protests around the country yesterday marked the 10th anniversary of the arrival of detainees in Guantanamo prison, the city of Chicago--where torture also hits closer to home--is considering a new anti-torture resolution.
Just a year ago, former Chicago police commander Jon Burge was sentenced for torturing hundreds of suspects from the 1970s through the 1990s, often with the same methods used at Guantanamo and elsewhere: mock executions, sleep deprivation, electric shocks on suspects' genitals. Many of those who gave confessions under those circumstances are still in prison.
So it may be appropriate that this city is poised to become the first in the nation to officially condemn torture, both within its borders and around the world. The Chicago City Council on Thursday held hearings on a resolution proposed by Alderman Joe Moore that would declare the city a "torture-free zone."
At a press conference before the hearings, Moore said, "We must live up to the values that make us great—values we often fall far short of."
The resolution is supported by a number of advocacy organizations, including Amnesty International and the Illinois Coalition Against Torture (ICAT), which collected over 3,500 signatures in favor of the measure. "Torture on all levels must be ended," said ICAT's Margaret Power. "Those who torture are criminals."
But law enforcement officials within Illinois currently cannot be prosecuted for torture explicitly. Instead, they are usually charged with the more generic crimes of battery or assault, which often have short statutes of limitations. As a result, Burge could only be convicted of having lied under oath during the torture investigation, and sentenced to just four and a half years.
To close this loophole, Chicago-area congressman Danny Davis (D-IL) has previously proposed a federal law making torture a federal crime against humanity with no statute of limitations.
In addition to that measure, Flint Taylor, an attorney who has worked on the issue of torture, says there is a lot more to be done, including an official apology for torture committed by city police officers and funding for treatment and compensation for the survivors.
Though the City Council resolution would be largely symbolic, Debra Erenberg, Amnesty International's Regional Director for the Midwest, said that it is still an important step towards justice. Referring to the upcoming G8 and NATO summits, she said, "In May, Nobel laureates, including some victims of torture, will come to Chicago." If the measure passes, "the whole world will see that Chicago is a fitting host for these beacons of human rights."
Mary L. Johnson, the mother of a Burge torture victim who is still imprisoned, also expressed gratitude for the resolution, but begged the city to do more. "They say at the end of the pledge, 'Justice for all.' So we're pleading with you, please help us get that justice we've never had."
0 comments ·