Tuesday, Feb 7, 2012, 12:35 pm
Prop. 8: Appeals Court Strikes Down California Gay Marriage Ban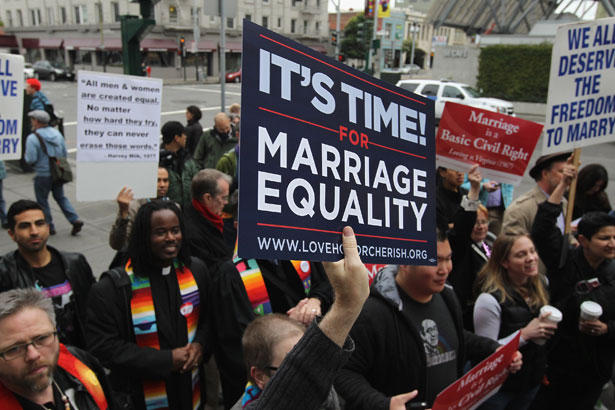 The 9th U.S. Circuit Court of Appeals declared the controversial Proposition 8 unconstitutional Tuesday morning, marking a major victory in the fight for marriage equality.
The panel of three judges stated that California's ban on same sex marriage "served no purpose, and had no effect, other than to lessen the status and human dignity of gays and lesbians in California."
The ruling upholds the decision of former San Francisco Chief U.S. District Judge Vaughn Walker in August 2010, who found the proposition unconstitutional. Judge Walker ruled that Prop 8 violated due process and equal protection under the laws as defined by the 14th amendment. Despite his ruling, the ban has remained in place pending appeals. The American Foundation for Equal Rights (AFER), the sole sponsor of the court case, said it will now urge the 9th Cicruit to lift the stay on same-sex marriages.
ProtectMarriage, the proponents of Proposition 8 in the Perry v. Brown case, vowed to appeal, clearing the way for a potential Supreme Court ruling as early as next year. Prop. 8 backers could also ask a larger panel of the 9th Circuit to rehear the case.
Theodore B. Olson and Theodore J. Boutros, lawyers for the foundation, said during a press conference following the decision that they expected the ruling to be upheld if it went to the Supreme Court because the case was in line with Supreme Court law and precedent.
The panel in a separate ruling agreed with District Court Judge James Ware, who denied a motion by Prop. 8 advocates to overturn Judge Walker's decision because he did not disclose that he was in a long-term relationship with a man. Walker, an openly gay Republican appointee, never publicly stated an intention to marry.
Proposition 8 was passed in November 2008 as an amendment to the California constitution that stated, "Only marriage between a man and a woman is valid or recognized in California."
Chad Griffin, the president of AFER, said during the press conference:
Today the United States Court of Appeals has affirmed a simple fundamental truth: How we are born and how we choose to love should not be basis of discrimination in this country. . .What the court did today affirms that you cannot single out one group of people and deny them the dignity and respect that all citizens deserve.
Equality Illinois, the largest and oldest LGBT civil right groups in the state, applauded the decision and called for similar action in the state of Illinois, which began recognizing civil unions in 2011.
While we support the implementation of civil unions in Illinois in 2011, it still falls short of achieving full marriage equality on the state level and does little to guarantee the federal rights and privileges that marriage provides opposite-sex couples. . .Lawmakers need not wait for the ultimate disposition of the California case and other legal rulings to do the right thing in Springfield and Washington, D.C. to end marriage discrimination.
Alyssa Meza
Alyssa Meza is a Winter 2012 In These Times editorial intern
View Comments