The ITT List
Monday Apr 16, 2012 3:37 pm
Israeli Authorities Thwart 'Flytilla' Protest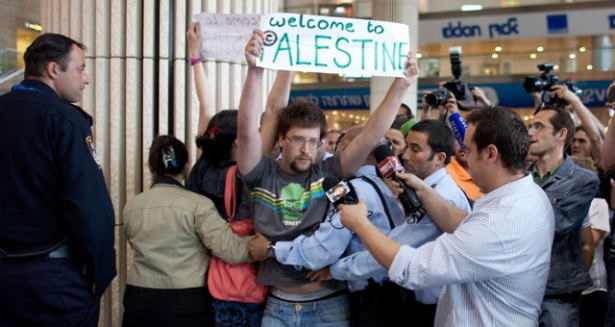 Over 1,500 pro-Palestinian activists were set to stage a fly-in, or "flytilla," to the Ben Gurion Airport in Tel Aviv on Sunday, but Israeli authorities have detained demonstrators before their feet even left the ground.
Deploying hundreds of police and security personnel to prevent what they feared would become a mass confrontation at the country's main international gateway, Israel thwarted what had been billed as the "Welcome to Palestine" campaign, organized by activists intent on shifting attention back to accusations of Israeli injustice in the West Bank and Gaza.
Organizers arranged for the 1,500 activists to arrive at the Ben Gurion Airport to protest Israel on Sunday, but by Saturday, over 60 percent of the activists were informed their tickets had been cancelled, according to +927 blogger Mya Guarnieri, who embedded herself with the demonstrators.
A majority of the activists were stopped from boarding their Israel-bound flights at European airports, after Israel transferred a list of 500 blacklisted people to foreign airlines, according to the Jerusalem Post.
Only about 100 arrived to Tel Aviv and authorities refused entry to 78, according to Ynetnews. Most of those denied entry were detained and were awaiting deportation as of Sunday night. Only a handful of activists eventually arrived in Bethlehem.
As the Jerusalem Post reports, Israeli authorities were quick and deliberate in their crackdown. Pro-Israeli activists were also on the scene:
The activists came in pairs, brandishing "Welcome to Palestine" signs every few hours. They were instantly spotted by police and whisked away on each occasion, trailed by a handful of pro-Israel activists who waved the national flag and shouted: ;Why don't you go to Syria, hypocrites!' Organizers of the 'Welcome to Palestine' event, also dubbed 'the fly-in,' estimated that several hundred activists from 15 countries, most of them European, had been barred from boarding flights, but did not have the exact numbers.
In the aftermath of the showdown, both activists and Israeli authorities declared victory.
Organizers said Israel's crackdown focused attention on claims of injustice in the West Bank and contradicted Israel's claims of being the only democracy in the region. And, according to Noam Sheizaf with +972, peaceful protests like the fly-in put Israeli officials on the defensive, which was a success for activists.
Prime Minister Benjamin Netanyahu has responded by charging that focusing human rights campaigns against Israel while ignoring Syria and Iran represents the hypocrisy of the Palestine solidarity movement. Netanyahu accused the activists of treating the Jewish state with a double standard. "If they want to examine the issue of human rights, they should go to Syria … they should go to Gaza … they should go to Iran," he said in a statement. The prime minister's office on Saturday reportedly said it planned to send a letter sarcastically thanking activists for "choosing" Israel as the focus of their humanitarian concerns.
For the pro-Palestinian activists, however, Israel was a deliberate target. According to the Christian Science Monitor, the fly-in was the second effort to coordinate a demonstration at the Ben Gurion Airport in the last two years:
The actions were inspired by efforts by pro-Palestinian activists to break an Israeli blockade on the Gaza Strip, which forced the Jewish state to ease measures after international pressure kicked up in June 2010 from a deadly clash with pro-Palestinian activists.
In an exchange captured by the Jerusalem Post, activists took explicit issue with the prime minister's attempt to frame the protest in broader terms and thereby diminish its overt political intent. "It is a diversionary tactic," one activist said. "People are not that stupid," another echoed.
Nevertheless, Netanyahu thanked officers and commanders of the Israel Police for their "determined and successful operation" in foiling the activists' efforts in a statement sent by the Prime Minister's Office late Sunday night.
As tensions cool, a handful of Isreali diplomats have spoken out against the crackdown.
According to Ynetnews, former Foreign Ministry Director-General Alon Liel said the mass security deployment shamed Israel. He cautioned that the reaction to what he called "a bunch of students and elderly ladies from Europe, who only wanted to hoist a sign in favor of a Palestinian state," was disproportionate.
"I don't understand what's the big deal," he said. "Why are we so afraid of these people?"
Though others in the Israeli government, like the prime minister, disagree, Liel maintained his objections.
"Trampling over the right to say 'I support Palestine' is exaggerated and undemocratic," he said.
0 comments ·