The ITT List
Monday May 21, 2012 3:31 pm
22 Attorneys General Support Brief Against Citizens United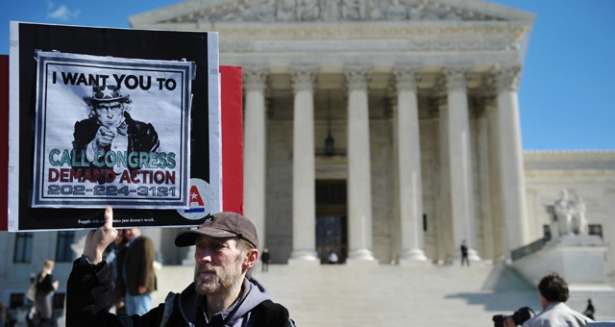 At the behest of a massive grassroots effort organized by Democracy for America, a whopping 22 Attorneys General have signed on to support a brief urging the Supreme Court to reconsider its controversial 2010 Citizens United decision, DFA announced today.
Support for the brief, championed by Montana Attorney General Steve Bullock, was thought to be minimal, a DFA statement said, but organizers are hailing the endorsements as a major victory in the struggle against the Supreme Court's decision, which said limits to independent political spending violated the First Amendment.
Bullock's brief specifically defends a century-old Montana law which directly contradicts Citizens United by restricting corporate spending in elections. Late last year, the Montana Supreme Court upheld the state's law, which Bullock defended. The U.S. Supreme Court later stayed enforcement of the Montana law while the case is appealed.
DFA, the Democratic political action committee founded by former Democratic National Committee Chairman Howard Dean, celebrated their role in convincing the attorneys general to support Bullock's brief.
"Democracy for America has taken steps to chip away Citizens United," a DFA statement said, "first by collecting over 200,000 signatures supporting Sen. Bernie Sanders' Constitutional Amendment and now turning their efforts to the court. During the campaign, DFA collected 105,640 member signatures and made over 1,200 member phone calls urging their Attorneys General to support Attorney General Bullock's fight."
The DFA campaign is one of many in a broader movement against Citizens United, which paved the way for unprecendented political spending in the current election cycle. Municipalities, both liberal and conservative, have voted across the country to endorse a challenge to the decision. And a 2011 poll found 79 percent of Americans sharply disapproved of the decision and supported a constitutional amendment to overturn the Court's ruling.
1 comments ·